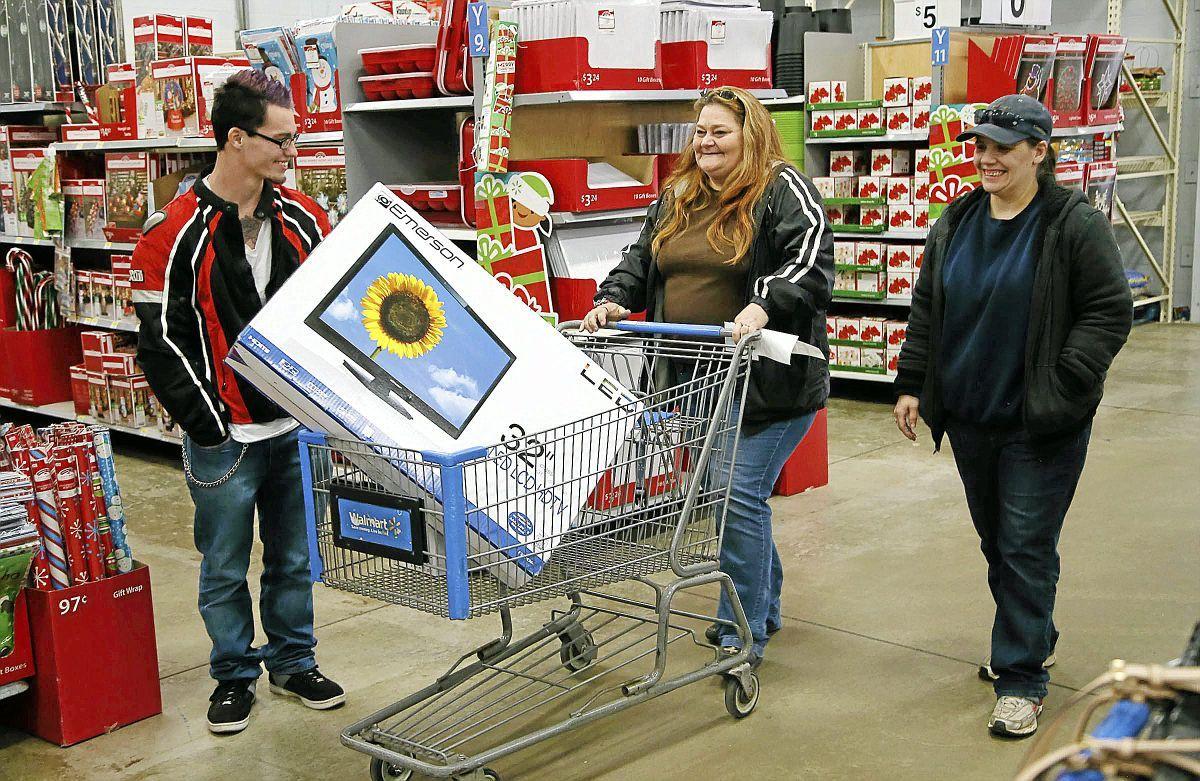 Tonya Ramsey teared up a little when someone asked her how Christmas was shaping up before she got the call.
Ramsey, of Tulsa, had put some presents on layaway at a local Wal-Mart but was having trouble paying for them.
"I was going to put back money, put back money and bills kept coming, kept coming, kept coming ... I didn't think I was going to be able to do it," Ramsey said.
Then someone from Wal-Mart called her Thursday about her layaway items.
"I was wondering why Wal-Mart would be calling me," Ramsey said to a handful of media.
It turns out that an anonymous donor had paid off Ramsey's layaway balance and the same for 113 other area families, who had purchased items at the Wal-Mart Supercenter at 2019 E. 81st St.
In addition to paying off the balances on the soon-to-expire layaway items, the donor gave each family $100 in Wal-Mart gift cards, store and Salvation Army officials announced Thursday during a press conference at the south Tulsa store.
The donations cost the benefactor $37,775, said Maj. Jim Taylor, area commander for the Salvation Army in Tulsa.
"He just contacted us yesterday and we called the store and they said tomorrow is the last day to pay off layaways before everything goes back on the shelf," Taylor said. "So we were able to get together with Wal-Mart and the donor and pay off the layaway costs and now all of those individuals will be contacted."
Taylor said the donor did not want to be identified.
"All I want," Taylor said, quoting the man, "is for people to do good things for other people."
The individual also gave $5,000 to the Salvation Army to buy gifts for the organization's Angel Tree Program.
"I'm looking forward to giving these families this wonderful news," store co-manager Jessica Gonzalez said in prepared remarks. "Just being a part of this is making Christmas more meaningful."
Ramsey, the first to pick up her family's items, thanked the anonymous donor.
"My kids and my grandkids are going to have an awesome Christmas now," Ramsey said.
This is the second consecutive year the same person has paid off layaways for Wal-Mart customers.
In a nearly identical scenario, the man in 2014 paid the balance owed for 127 individuals who had purchased items on layaway at the Wal-Mart at 207 S. Memorial Drive, gave $100 gift cards to each of the families and provided funds for the Angel Tree Program.
Curtis Killman 918-581-8471