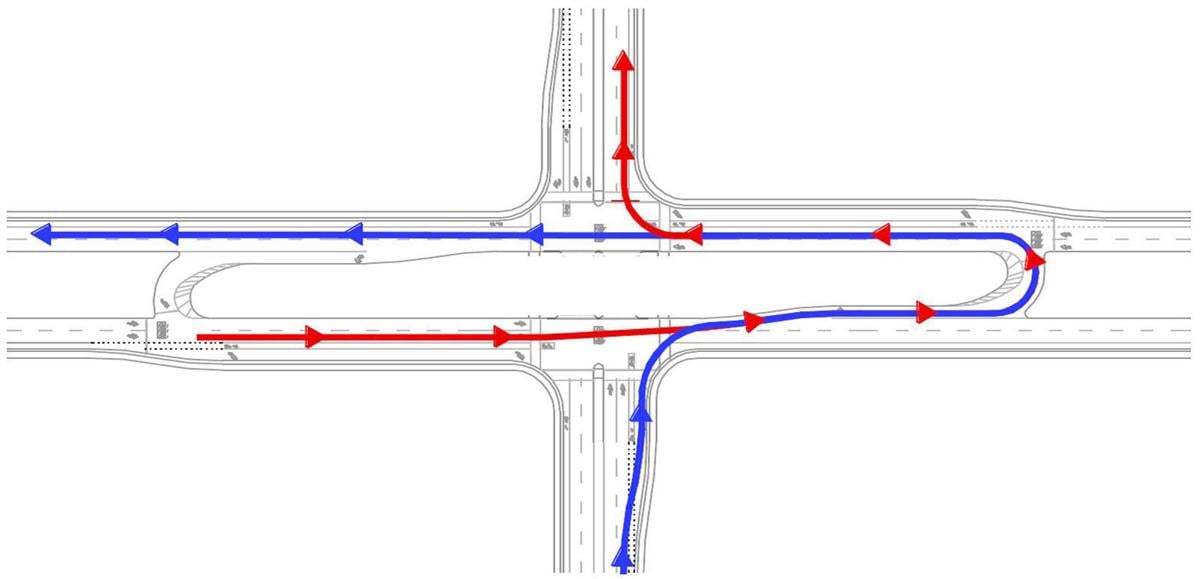 The Cherokee Nation and the Oklahoma Department of Transportation on Monday announced completion of a highway safety improvement project on U.S. 75 near Ochelata, where five traffic deaths occurred in five years.
The intersection improvement plan called for the construction of "J-turns" and a southbound deceleration lane to reduce the number of traffic conflict points and help improve safety.
Instead of crossing fast-moving lanes of traffic, drivers on Washington County Road 2900 who wish to turn left onto U.S. 75 will instead turn right onto the divided four-lane highway, merge into the left lane and then make a U-turn in the direction they intend to travel. Drivers on the highway who wish to turn left onto the county road will instead drive past the intersection, make a U-turn and then turn right.
Between 2012 and 2017, 37 collisions occurred at the intersection, killing five people. The intersection is about 35 miles north of Tulsa.
"This was a bad intersection to start with," said Cherokee Nation Community Services Executive Director Michael Lynn. "We've had a lot of accidents, so this is a major step forward for the Cherokee Nation to keep citizens as safe as we can."
Cherokee Nation Principal Chief Chuck Hoskin Jr., Deputy Chief Bryan Warner and District 12 Tribal Councilor Dora Patzkowski met with Oklahoma Secretary of Transportation Tim Gatz and other tribal, county and state officials last week to cut the ribbon on the $678,000 project.
"This intersection provides important access to Cherokee Nation's Cooweescoowee Health Center in Ochelata, where tens of thousands of patients are seen each year," Hoskin said.
"The Cherokee Nation is always proud to work with the Oklahoma Department of Transportation, especially when our work helps prevent collisions and makes a route safer. This is a great example of the strengths of a partnership between the Cherokee Nation and the state of Oklahoma."
The Cherokee Nation used $411,000 in Tribal Transportation Safety Funds, which are set aside by the federal government each year to address transportation safety issues in Indian Country. Funds are awarded to federally recognized tribes through a competitive program.
"We are deeply appreciative of the continued partnership with the Cherokee Nation, which helped accelerate the start of this project by at least two years," Gatz said. "These safety improvements will be a great benefit for the drivers in the years to come, especially as traffic continues to grow in this corridor."
Aside from providing access to the Cooweescoowee Health Center, U.S. 75 also is a direct route for visitors to the Washington County Cherokee Association's new community building, which was recently built near the Ochelata health facility. With the construction of the new community building, traffic is expected to grow at the intersection.
"I feel this project is invaluable to this community," Patzkowski said. "There have been several accidents, so I pray that this will alleviate a lot of that, and I think it is a godsend."