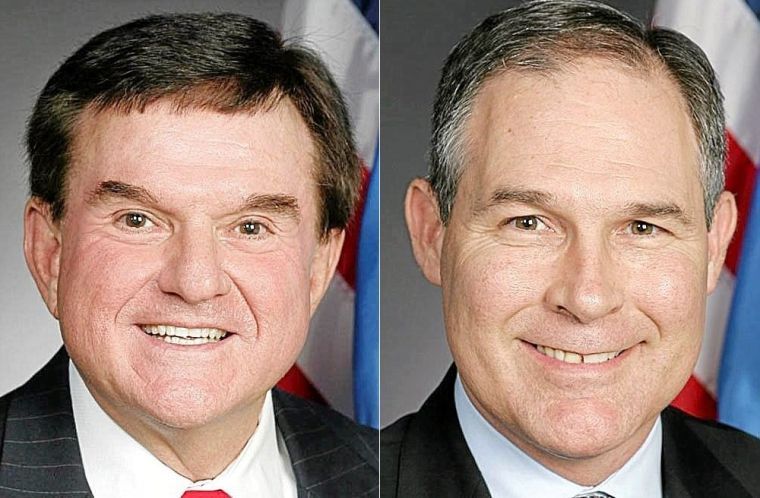 OKLAHOMA CITY — Some Oklahoma lawmakers disagree with Attorney General Scott Pruitt's decision to file suit over Colorado's legalization of marijuana.
Rep. Mike Ritze, R-Broken Arrow, said the lawsuit filed last month by Pruitt and Nebraska Attorney General Jon Bruning undermines states' rights.
In their lawsuit, filed in the U.S. Supreme Court, Pruitt and Bruning are asking that the Colorado law be deemed unconstitutional and tossed out, and they are asking the nation's highest court to force the federal government to enforce federal law prohibiting the sale of marijuana. They also seek to recover their legal costs for filing the suit.
Pruitt, who has pushed back in other cases against what he calls federal intrusion into states' rights, responded in a statement Monday that the lawsuit challenges "only that portion of Colorado's law that does invoke our state's rights: the interstate trafficking of an illegal drug under Oklahoma law."
Colorado passed its law as a ballot initiative on Nov. 6, 2012. The lawsuit alleges that since the implementation of the Colorado law, Oklahoma and Nebraska have seen "a significant influx of Colorado-sourced marijuana," which increases state costs for things such as apprehension, incarceration and prosecution.
Thirty-two states and the District of Columbia allow the use of marijuana for medical purposes. In 2005, the U.S. Supreme Court ruled that the federal government has the right to outlaw the drug, but it did not overturn existing state marijuana laws.
Since then, Colorado and a few other states legalized marijuana sales to the general public, with limits on the quantity sold.
The Obama administration has said it will not attempt to enforce federal marijuana laws that conflict with state laws.
"This is not about marijuana at its core," Ritze said. "It is about the U.S. Constitution, the Tenth Amendment, and the right of states to govern themselves as they see fit. If the Supreme Court can force Colorado to criminalize a substance or activity and commandeer state resources to enforce extra-constitutional federal statutes and United Nations agreements, then it can essentially do anything, and states become mere administrative units for Washington, D.C."
Pruitt was not available for an interview Monday but said in his written statement that "the representative is right to be concerned about any effort by a state to challenge the authority of another state to legalize marijuana within its own borders."
"I appreciate his concern, and I agree with him," Pruitt continued. "However, Oklahoma's lawsuit does not challenge in any manner or form Colorado's legalization of marijuana for use and possession for intrastate purposes.
"Rather, we are challenging only that portion of Colorado's law that does invoke our state's rights: the interstate trafficking of an illegal drug under Oklahoma law. We will continue to work with the representative and others to ensure this critical distinction is communicated so as to hopefully address any confusion over the lawsuit's objectives."
Ritze and six other lawmakers sent Pruitt a letter asking him to "quietly drop the action against Colorado, and if necessary, defend the state's right to set its own policies, as we hope other states would defend our right to govern ourselves within constitutional confines.
"We also do not feel that attempting to undermine the sovereignty of a neighboring state using the federal courts, even if inadvertently, is a wise use of Oklahoma's limited state resources."
The six others who signed the letter are Rep. Lewis Moore, R-Arcadia; Rep. John Bennett, R-Sallisaw; Rep. Mike Christian, R-Oklahoma City; Rep. Dan Fisher, R-El Reno; Sen. Ralph Shortey, R-Oklahoma City; and Sen. Nathan Dahm, R-Broken Arrow.
Barbara Hoberock 405-528-2465