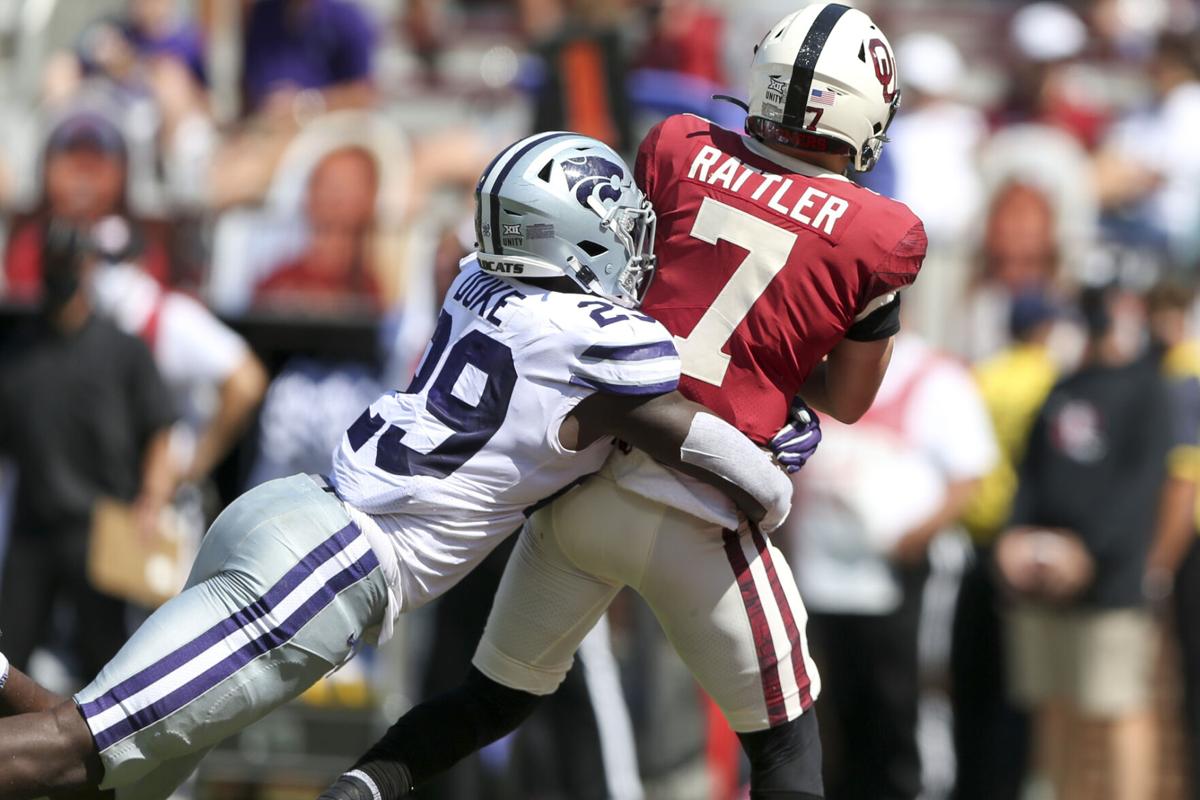 Unpacking what happened to Oklahoma during Saturday's 38-35 loss to Kansas State is a hefty chore.
The Sooners finished minus-4 in turnover margin, the worst mark in Lincoln Riley's 70-game history of guiding the offense. It's a stretch that goes back to 2015.
The defense allowed 24 unanswered points in the game's final 17 minutes. The Wildcats averaged 12.3 yards per play during five scoring drives, including back-breaking pass plays of 77 and 78 yards that led to touchdowns.
Special teams also failed. Oklahoma had a punt blocked for the first time since the 2013 Bedlam game against Oklahoma State.
Disappointment and frustration were the emotions following the unexpected Big 12 setback.
"They never really drove the ball consistently down the field, but whenever you give up four or five explosive plays, have a punt blocked and fail to get a turnover, you put yourself in that position," OU safety Pat Fields said.
Here are three things we learned following OU's second consecutive loss to the Wildcats:
Rattler has ups, downs
Spencer Rattler faced the same situation that former Oklahoma quarterbacks Baker Mayfield, Kyler Murray and Jalen Hurts saw over the past three seasons.
The former players all faced fourth-quarter deficits and were asked to make magic happen. All three suffered losses following comeback attempts (Mayfield to Iowa State in 2017, Murray to Texas in 2018 and Hurts at Kansas State last season).
Once K-State took a 38-35 lead, Rattler had two chances to guide his team to a tie or lead. The first possession ended with a three-and-out and the second with a game-ending interception.
To be fair to Rattler, he wasn't given much time in the pocket. Riley said the quarterback was "uncomfortable" while setting up.
It was definitely a learning experience for the redshirt freshman. While the other three quarterbacks had experience under their belts, this was only Rattler's second start. He'll grow from it, but it will be a hard lesson to absorb.
"I didn't think he was very comfortable there the entire day. Moved around, missed a few things, missed a couple throws," Riley said. "Made a lot of big plays, had several big plays taken back by penalties. Again there's going to be several decisions that we are going to want back. That's kind of the nature of playing that position. He did a lot of good things too.
"No question. It's a young guy in his second start. We're going to continue to build on it. He'll continue to build and get better."
Get more defensive
Oklahoma had to make defensive plays down the stretch in 2019 home wins against Iowa State and TCU.
When the Sooners held a 21-7 halftime advantage over Kansas State, defensive coordinator Alex Grinch brought those two games up. OU held healthy leads in both games but had to make plays late to hang on.
"We did actually bring up those two games at halftime, which now I wouldn't have," Grinch said. "Unfortunately, we got to continue to learn the same lessons because we're not learning them. And obviously credit goes to Kansas State for making those plays, a collection of individual plays that obviously aren't acceptable and they lose you football games. We were guilty of that."
There was plenty of reason to feel positive about Oklahoma's defense … up until the final 17 minutes.
The Sooners controlled the Wildcats and only allowed two "explosive" plays up to that point. But things quickly unraveled, which led to 24 consecutive points by K-State.
"It's a four-quarter football game. We talked about it all week. The only quarter you can win a game is the fourth quarter," Grinch said.
"Obviously our message is not getting across, so we've gotta do a better job as a coaching staff. But tough to find positives right now, and I certainly think there are probably some guys who had individual good performances and you can find stretches of time, but it's a results business and we failed."
Finding run game necessary
OU only averaged 3.7 yards per rush Saturday. The statistic was only 3.5 yards per rush in the season-opening win against Missouri State.
Take it back to last year's final two games against Baylor (2.9) and LSU (3.5) and the absence of a rushing attack can become glaring.
When Riley arrived in 2015, the "Air Raid" label came with his offense. But it's been his rushing attack which has anchored the prolific offense. OU led the nation in yards per rush in 2018 (6.6 yards) and ranked fifth last season (6.0).
OU is still trying to find itself after the loss of Kennedy Brooks (opt out), Trey Sermon (transfer to Ohio State) and Rhamondre Stevenson (suspension).
Through two games, a running back doesn't have a 15-yard gain. Last season, Oklahoma had six rushes that covered at least 30 yards in the first two games.
Riley was asked about the run game against K-State. The Sooners ended with 130 rushing yards.
"I thought we ran hard and pretty physical. Both Seth (McGowan) and T.J. (Pledger) did," the OU coach said. "But obviously, we had the one fumble on the ground (McGowan late in third quarter) and then just again, weren't able to shake loose and really pop any. And then when we did, I can think of two of them that we had big penalties on. Running game was definitely more consistent, but was not near as explosive as we needed it to be."
The offensive line didn't have its best game. There were six holding penalties, including some which took away key gains.
"Obviously, the penalties were disappointing. We had a bunch of big penalties on big plays," Riley said. "Even there at the end that was big. Gonna have to go look at it. Kinda like the whole team, there were some positives, there were some negatives and they're going to have to get better just like everybody."
---
Featured Sports Video
Eric Bailey
918-581-8391
Twitter: @ericbaileyTW
Be the first to know
Get local news delivered to your inbox!