An unusual call came into the Los Angeles airport concerning an unidentified man flying a jetpack.
An American Airlines flight was the first to report a "guy in a jetpack" at the plane's' altitude of 3,000 feet above Los Angeles International Airport on Sunday. They said that the man was approximately 30 yards away from the aircraft.
Now, the FBI is looking into the matter.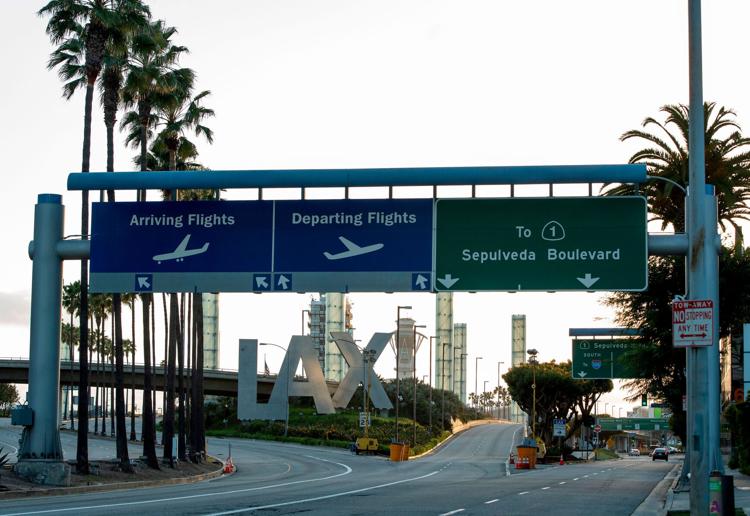 CNN obtained the audio between air traffic control and American and JetBlue flight crews.
"Tower. American 1997. We just passed a guy on a jetpack," the first plane called in. "Off the left side maybe 300 -- 30 yards or so. About our altitude."
About 10 minutes later, another plane spotted the man.
"We just saw the guy fly by us on the jetpack," the crew told the traffic controller.
According to the communications, air traffic control warned a JetBlue flight to "use caution ... person on a jetpack reported 300 yards south."
After the plane acknowledged the instruction, the controller concluded with: "Only in LA."
The Federal Aviation Administration said "officials have alerted local law enforcement to the reports, and is looking into these reports."
The FBI is investigating and is "working to determine what occurred," Los Angeles field office spokeswoman Laura Eimiller told CNN.
CNN's Nakia McNabb, Gregory Wallace and Jon Passantino contributed to this report.
---
More news of the weird from the past week
Connecticut city names sewage plant after John Oliver
DANBURY, Conn. (AP) — A Connecticut town's officials are showing comedian John Oliver what they think about his expletive-filled rant about their city — they're naming the local sewage treatment plant after him.
Danbury Mayor Mark Boughton announced the tongue-in-cheek move in a video posted on his Facebook page on Saturday that shows him at the plant.
"We are going to rename it the John Oliver Memorial Sewer Plant," the Republican mayor says. "Why? Because it's full of crap just like you, John."
The new name comes after a recent episode of HBO's "Last Week Tonight with John Oliver" in which he explored the racial disparities in the jury selection process, citing problems in a few Connecticut towns.
In the segment, Oliver noted Danbury's "charming railway museum" and its "historic Hearthstone Castle."
"I know exactly three things about Danbury," he said. "USA Today ranked it the second-best city to live in in 2015, it was once the center of the American hat industry and if you're from there, you have a standing invite to come get a thrashing from John Oliver — children included — (expletive) you."
It wasn't exactly clear what prompted Oliver to go off on Danbury.
Oliver also made fun of Boughton and other American mayors in 2017 over videos they made seeking to attract Amazon's second world headquarters. In his video, Boughton asks Alexa where the best place for the facility would be, and Alexa says Danbury.
In Boughton's new video, he also mentions that Amazon has decided to open a distribution facility in Danbury, although it's not the second world headquarters.
"And, oh by the way, thanks for showing that Amazon video," Boughton says to Oliver at the end of the video. "We did get Amazon here in Danbury."
A 150-pound runaway tortoise is back home in Tennessee after 74 days on the lam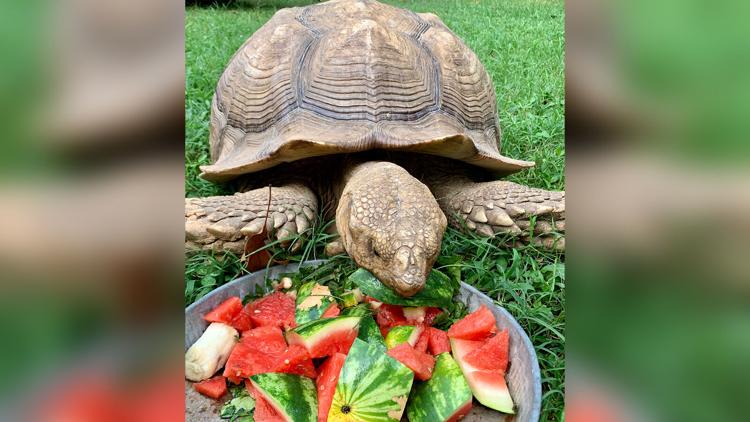 Solomon the tortoise went on quite an adventure during an unplanned summer vacation, even though he didn't go far from home.
The 150-pound Sulcata tortoise managed to escape from his home in Ashland City, Tennessee, on June 8 and roamed around for 74 days, owner Lynn Cole said.
She's had the 15-year-old tortoise since he was a hatchling the size of a ping-pong ball. He's now about 36 inches long and is still growing. Also known as the African spurred tortoise, they can live for more than 100 years.
Cole put up signs and hundreds of fliers and posted Solomon's pictures all over social media in hope that someone would find him. She reached out to zoos and animal rescue groups in the Nashville area with no luck.
Solomon has a heated enclosure at home, and Cole was worried he wouldn't survive once the weather gets colder.
"If you knew the number of searches that were launched by ourselves, and other community groups and individuals," she said. "He just eluded our ability to spot him."
On Thursday Cole got a call from a man who said he saw Solomon at a home construction site just an eighth of a mile from her house.
She and her husband rushed to bring Solomon home.
The tortoise was tired, hungry and caked in mud, but seems to be in good health after his odyssey. He's a vegetarian and was able to eat grass, dandelions and other flowers while he was away.
She said she is taking him to the vet on Monday to be sure he's OK and is watching him like a hawk until then.
Cole said she gave Solomon a big bowl of his favorite foods once he got home, including collard greens, broccoli, cauliflower and watermelon rinds along with some bananas and carrots.
Cole isn't sure how Solomon got loose, but they've reinforced his area to keep it from happening again. She's talked to the Nashville Zoo and a local rescue group about fitting Solomon with GPS in case he does take off again.
For now, it seems that Solomon's wandering days are behind him.
"People are surprised to know that he's very attached to his humans and he's very happy to be home," she said.
4-1/2-ton gorilla statue unveiled in NYC
Bad boy! Dog costs Mississippi officials more than $7,000
LIBERTY, Miss. (AP) — A curious dog got hold of a fiber optic cable that ran between county buildings in Mississippi, chewing it to pieces and costing county officials thousands of dollars in an attempt to get it fixed.
The cable connected a courthouse and a nearby Justice Court building in Amite County, Tim Wroten, the county's sheriff, told the Enterprise-Journal Wednesday. The wire was mostly elevated but dipped to the ground by the front door of the Justice Court building, where the dog chewed it.
The culprit was not caught in the act, but officials saw "his running mate" through the security camera, Wroten said.
The sheriff has a suspect in mind but lacks evidence to hold up his charge. If officials knew who the troublemaker was, the county could seek damages, which amounts to more than $7,000, from the owner, according to Wroten.
His office first spent $4,000 to establish two antennae that send signals to the cables, but it failed. County supervisors then voted Tuesday to spend an additional $3,600 to get a new cable.
Amite County Justice Court Judge Roger Arnold said it's his first time hearing a case like this.
"I did hear the suspect was still at large," he quipped.
Poland zoo elephants to be given CBD oil to help them relax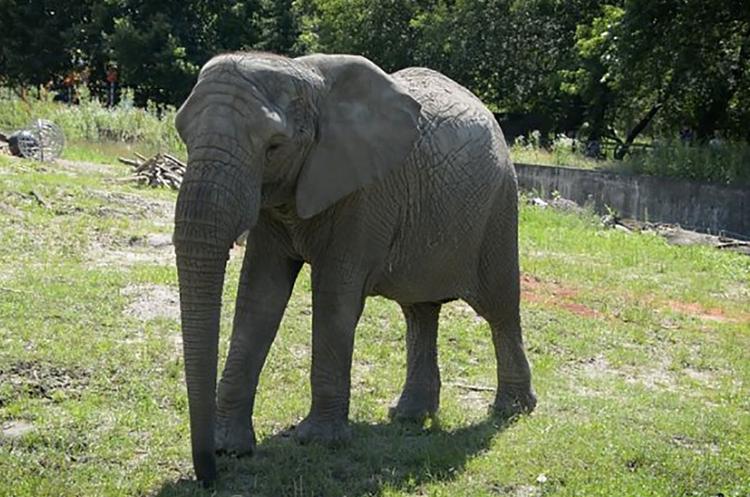 WARSAW, Poland (CNN) — Two African elephants are to be given medical cannabidiol — CBD — to help them relax and stop fighting at a zoo in Poland.
Warsaw Zoo announced on its website Thursday that it would conduct the experiment, which it hopes will improve the mood of the animals, with CBD oil producer Dobrekonopie.
"We have started a project during which we will check the effect of CBD hemp oils on the mood of our animals," the statement read.
"To begin with, the program included Fredzia the elephant, who after the recent death of Erna (the former head of the elephant herd) was a bit stressed and had a bit of trouble finding her position in the herd."
The oil, which does not have psychoactive properties, will be administered to two elephants: Fredzia, who is already being given it, and fellow female herd member Buba.
Warsaw Zoo zookeeper Patryk Pyciński explained in a video posted on Facebook that elephants can struggle with the loss of a herd member "for weeks, sometimes for years."
This has been the case with Fredzia, who has had difficulty readjusting following the death of the head of the herd, Erna, and has begun using a "tough trunk" mentality to try to assert her dominance over Buba.
Meanwhile, Buba, Pyciński said, uses "cleverness" and a more thoughtful approach in her tussle for the top.
"Elephants are extremely intelligent animals with very complicated brains," he said in the video.
"They're very social animals that are interdependent on each other and as a group they create a complicated organism."
Warsaw Zoo veterinarian Agnieszka Czujkowska, who is leading the project, said CBD had already been used on dogs and horses, and zoo staff hope it might work on elephants as an alternative to medication. The results could take months, she added.
Conflicts can occur among elephants, she explained in a video, and "many factors can make an elephant feel uncomfortable and stressed" including a change of weather or environment. This in turn can lead to "undesirable" behavior.
"We would like to see how CBD oil — hemp flower extract — affects elephants. Like most zoos we do research (and) we monitor the level of stress hormones. Thanks to this we will know if the substances (will) help the elephants," Czujkowska said.
Lock of Lincoln's hair, bloodied telegram up for auction
(Associated Press) — This is one macabre auction: A lock of Abraham Lincoln's hair, wrapped in a bloodstained telegram about his 1865 assassination, is up for sale.
Boston-based RR Auction said bidding has opened online for the items ahead of a live auction scheduled for Sept. 12 in New Hampshire. The auction house set the minimum bid at $10,000 but expects the lock and telegram to fetch $75,000 or more, spokesman Mike Graff said.
Measuring roughly 2 inches long, the bushy lock of hair was removed during Lincoln's postmortem examination after he was fatally shot at Ford's Theatre in Washington, D.C., by John Wilkes Booth.
It was given to Dr. Lyman Beecher Todd, a Kentucky postmaster and a cousin of Mary Todd Lincoln, the 16th president's widow, Graff said. The physician was present when Lincoln's body was examined, he added.
The hair is mounted on an official War Department telegram sent to Dr. Todd by George Kinnear, his assistant in the Lexington, Kentucky, post office. The telegram was received in Washington at 11 p.m. on April 14, 1865.
A caption typed by Todd's son reads: "The above telegram … arrived in Washington a few minutes after Abraham Lincoln was shot. Next day, at the postmortem, when a lock of hair, clipped from near the President's left temple, was given to Dr. Todd — finding no other paper in his pocket — he wrapped the lock, stained with blood or brain fluid, in this telegram and hastily wrote on it in pencil: 'Hair of A. Lincoln.'"
Dr. Todd gave a slightly different account later in life, writing in 1895 — three decades after the assassination, and seven years before his own death — that he clipped the lock of hair himself.
In Lincoln-era papers kept at Allegheny College in Meadville, Pennsylvania, he wrote in an account of the autopsy: "When all was over, General Hardin entered, and handed me a pair of scissors, requesting me to cut a few locks of hair for Mrs. Lincoln. I carefully cut and delivered them to General Hardin, and then secured one for myself which I have preserved as a sacred relic."
Could scientists clone Lincoln from the lock? Forget about it. Hair follicles rarely contain viable DNA, the genetic material that maps human beings.
RR Auction said it vouches for the authenticity of the lock and telegram, in part based on a 1945 letter written by Dr. Todd's son, James Todd. The letter says the clipping of hair "has remained entirely in the custody of our family since that time." It last was sold in 1999, the auction house said.
Bobby Livingston, executive vice president of RR Auction, disputes the notion that the offerings — particularly the lock — are a little on the dark side.
"It's not macabre. It's a fascinating artifact from a horrible tragedy," he told The Associated Press in a telephone interview. "Collecting locks of hair was common after someone passed away. It's such a piece of history. The assassination of President Lincoln was obviously such a shock."
Historians say the telegram itself is significant because it disproved a conspiracy theory that then-Secretary of War Edwin Stanton plotted to kill Lincoln because of their personal and political differences.
At the time, some claimed that Stanton ordered military communications to be disrupted, allowing Booth to briefly elude his captors. The time stamp on the dispatch shows that military telegraph lines were, in fact, functioning on the night Lincoln was assassinated.
The telegram "is evidence to disprove the misinformation and conspiracy theories in the Lincoln assassination," Graff said.
Be the first to know
Get local news delivered to your inbox!