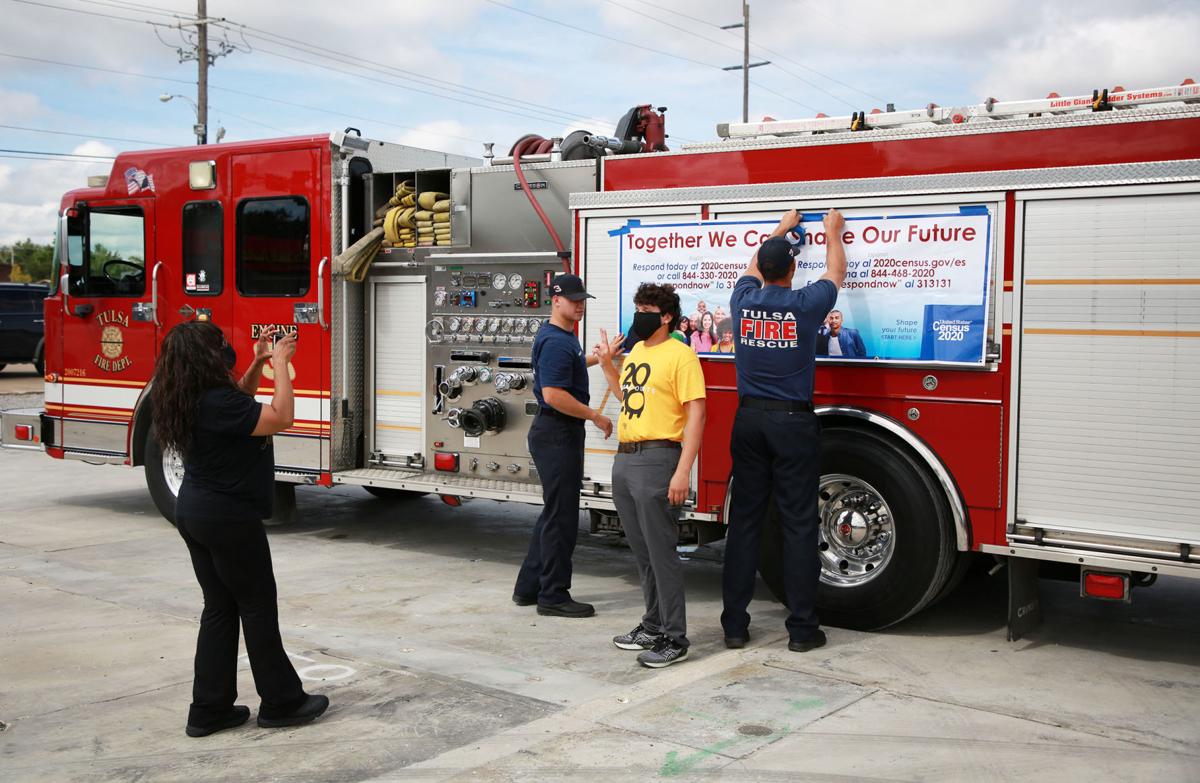 COVID-19 made the 2020 Census difficult enough, but the Trump administration's sudden decision to end data collection a month earlier than expected has those involved in counting the state and local population really scrambling.
"I feel like the Census workers will do their best jobs, but we would have cleaner, more accurate data if we were given more time," said Jasha Lyons Echo-Hawk, Census Community Builder for Together Oklahoma, a nonprofit organization that, among other things, is working toward an accurate statewide count.
In particular, Lyons Echo-Hawk is focused on fostering Census participation among historically undercounted populations. Those include children, minorities, certain urban areas and rural residents.
According to the 2020 Census website, Oklahoma's response rate of 57.8% as of late last week is among the lowest in the nation. Eleven of Oklahoma's 77 counties are below 40%, and one — Marshall County — is below 30%.
Oklahoma's metro areas are doing OK, if not great. Tulsa County, at 63.8%, is slightly above the national average. Oklahoma County is at 63.1%.
Even within those counties, wide discrepancies exist. Tulsa County's Census tracts range from better than 80% response to as little as 25%.
And the rural areas are really struggling.
That's important because all sorts of things, from federal school funding to the number of congressional members and electoral votes a state is allotted are derived from the Census counts.
Proscribed in Article 1, Section 2 of the U.S. Constitution, the Census has been carried out every 10 years since 1790. For decades, it has involved a round of self-reporting by either mail or, this year, the internet, followed by the Non Response Follow Up, or NRFU, phase.
This phase involves personal visits to non-responding addresses by workers called enumerators.
Normally this door-knocking begins in late spring and ends on July 31, but this year it's been delayed twice because of the COVID-19 outbreak. In most of Oklahoma, including Tulsa, it won't start until this week.
When the current timeline was announced, it projected the end of data collection on Oct. 31 with final data presented to the president early next year.
Last week, however, Census Director Steven Dillingham announced counting will stop on Sept. 30 with a final report to the president by Dec. 31.
Melanie Poulter, director of the Census Information Center of Eastern Oklahoma, said both of those changes will affect the final product.
The first, Poulter said, affects data collection — "the ability to make sure we've heard from everybody, not just complete information but accurate information."
This is a reference to one of the enumerators' fall-back techniques: if they can't get information about a household directly, they attempt to get it indirectly. That can be from interviewing neighbors, their own observations or public records.
Ideally, said Poulter, "You really want to hear from the people who live in the household."
Moving up the deadline for the final report, Poulter said, "reduces the time the Census Bureau has for all the data processing."
Current law requires delivery of the final report by Dec. 31, but earlier in the year it appeared Congress would move it back because of the COVID-19 disruptions. Interest in that has waned, although Republican Sen. Steve Daines of Montana, whose state has the lowest response rate in the country, has asked for more time.
Lyons Echo-hawk said she had planned live group events to spur participation by undercounted groups, but COVID-19 torpedoed those. Now she is doing a lot of social media and local radio and trying to build networks among the target demographics.
"Our state (response rate) is behind the national average," Lyons Echo-hawk said. "And even those numbers are much lower than 2010. And in 2010 we had an undercount."
"We kind of know what common sense tells us," Poulter said when asked of the new deadlines' impact. "It threatens that our counts are going to be inaccurate and incomplete and most affecting our most disadvantaged populations."
---
Video: Let's Talk Town Hall on "Back to School."
Parade held to boost Census 2020 response rate.
Randy Krehbiel
918-581-8365
randy.krehbiel
@tulsaworld.com
Twitter: @rkrehbiel