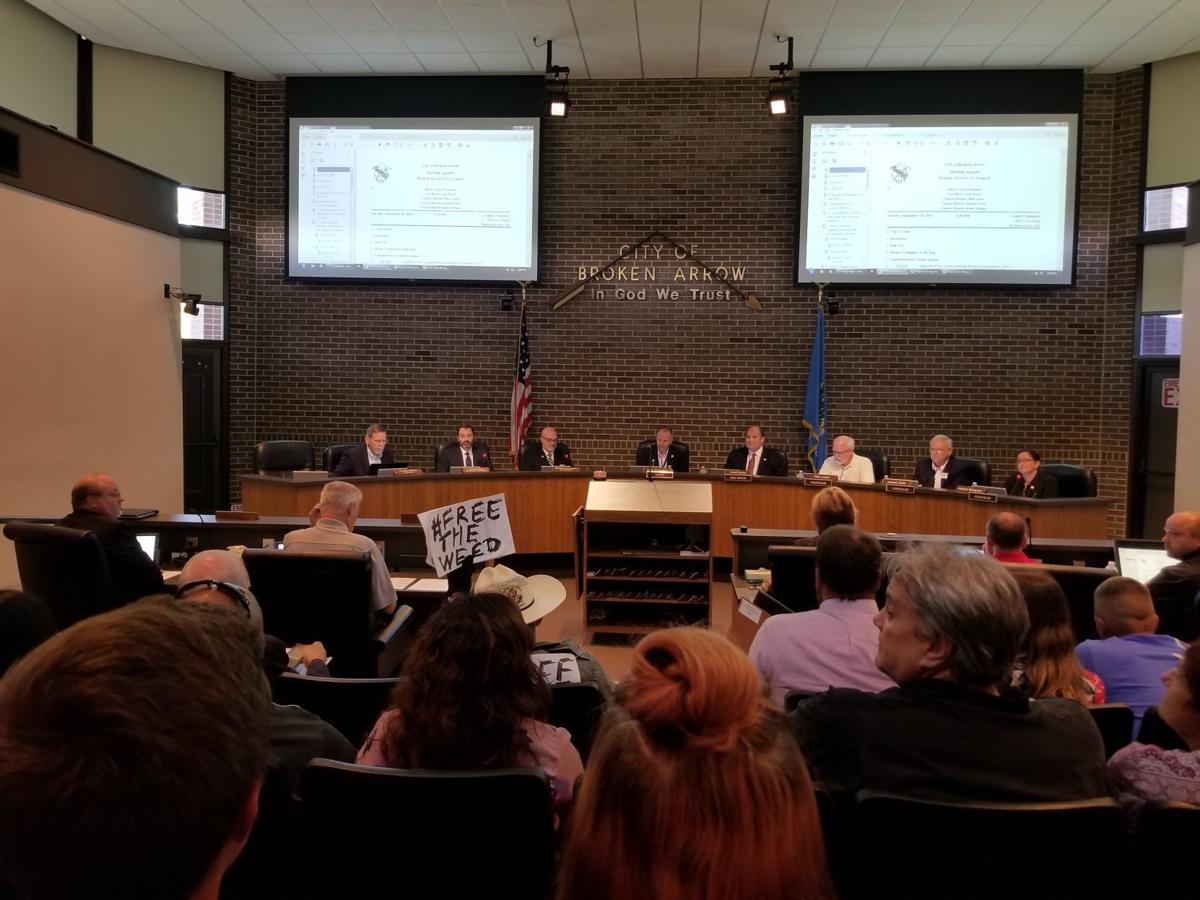 BROKEN ARROW — A Tulsa-based attorney plans to sue the city of Broken Arrow for what he described Tuesday as "governmental overreach" in its new medical marijuana ordinances.
But the acting city attorney for Broken Arrow argues that city councilors approved common-sense rules that comply with state law in the current absence of direction from the Legislature.
Councilors voted unanimously Tuesday night to adopt two ordinances related to State Question 788. The ordinances amend existing city codes to add language regulating medical marijuana.
The new rules include levying a $2,500 annual permit fee for commercial licensees, classifying dispensaries similarly to alcohol-related establishments and barring tenants from growing their own marijuana without written permission from property owners.
Growing and processing facilities will be permitted only in areas zoned either "industrial light" or "industrial heavy." They also must be contained within buildings.
"There is nothing in (SQ) 788 that gives this city or any city, for that matter, authority to institute ordinances you're trying to institute," attorney Ron Durbin told the council.
He said he would likely file a lawsuit against Broken Arrow leaders by the end of the week, telling reporters, "They violated the will of the people and even what the attorney general advised the (Oklahoma) Department of Health related to those issues."
---
---
Durbin also represents a Muskogee man and local activist group Green the Vote in their lawsuit against the Health Department over the handling of the ballot initiative.
But Acting City Attorney Trevor Dennis said language in the state question — which bars cities from zoning in such a way that "unduly" restricts retail — is not "carte blanche to let dispensaries go anywhere they want to go."
"I certainly wish the state would give us more guidance on some of these issues, but we don't have that at this point," Dennis said. He asserted, however, that the city has the legal power to enact the rules.
Prospective grower Randall Franklin echoed the sentiment, saying during his public comments, "I don't feel like the state has done us any favors. We are wading through a muck trying to figure this out."
After the group approved the ordinances, Durbin said: "This is medical cannabis. We passed 788 as a medical initiative.
"This is not recreational cannabis. This isn't for fun," he said. "This is for patients who need it, and what they're doing by restricting these things is they're taking patients' medicine away from them."
Dennis and Council Member Debra Wimpee, though, said the councilors considered the will of voters when they, for example, left out proposed regulations that would have restricted businesses beyond the current rule of opening at least 1,000 feet away from schools.
"This has not been done in the dark. This has gone on in public publicized since Aug. 7," Dennis said of the rule process, which he said had limited public feedback until Tuesday night.
Broken Arrow Plan Development Manager Larry Curtis said it was clear that the medical marijuana industry is "in the beginning stages" in Oklahoma. As a result, he said the council will almost certainly revisit the issue once the Legislature takes action.
Until that happens, Curtis told the council that "we need to have guidance from council through an amendment to the zoning ordinance to say where these things would be permissible."
Dennis emphasized repeatedly that Broken Arrow, unlike several smaller jurisdictions, didn't outright ban commercial growing operations or zone them out of the city limits.
Although he said he was aware of the risk of litigation regardless of what the city did, Dennis said, "We passed common-sense rules and regulations that make sense for our community, which we believe we have the power to do under our police powers and State Question 788."
But Durbin contended that the city received "terrible" legal advice on the matter that won't withstand a court challenge.
"We've had a lot of smaller towns and cities in rural Oklahoma that have passed these really restrictive ordinances and requirements related to licensing inside city limits," he said. "Unfortunately, those were so remote from where we're located that it made litigation difficult due to travel time and things of that nature.
"Broken Arrow, despite being warned against it, decided to give us the test case of governmental overreach by cities restricting medical cannabis operations inside the city."