Saint Francis Health System wants the communities it serves to know that COVID-19 hospitalizations are trending the wrong way and that individuals can help by practicing proper pandemic procedures.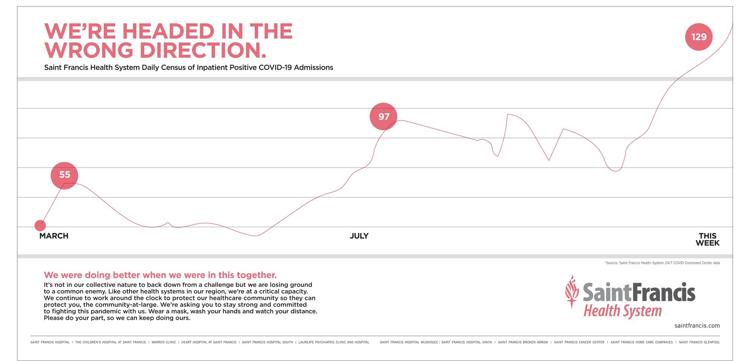 In large red type, the ad states: "We're headed in the wrong direction," as well as, "We were doing better when we were in this together."
In smaller type, the ad notes that Saint Francis is "at a critical capacity" and that the hospital system is asking the public "to stay strong and committed to fighting this pandemic with us" by doing the three W's: wear a mask, wash your hands, watch your distance.
"Please do your part, so we can keep doing ours," the ad states.
Jake Henry Jr., president and CEO of Saint Francis, said he doesn't think the trend is sustainable for Saint Francis — the largest health care system in Oklahoma — and that it has hired 18 contract registered nurses as the patient influx rises.
Henry said they aren't trying to be provocative, just that COVID-19 is surging in cities as well as rural areas in advance of flu season.
"Our folks are just kind of exhausted when they leave their shift after having worn PPE for 12 hours," Henry said. "So we've brought in additional nursing staff, but it's still a stretch as these numbers go up."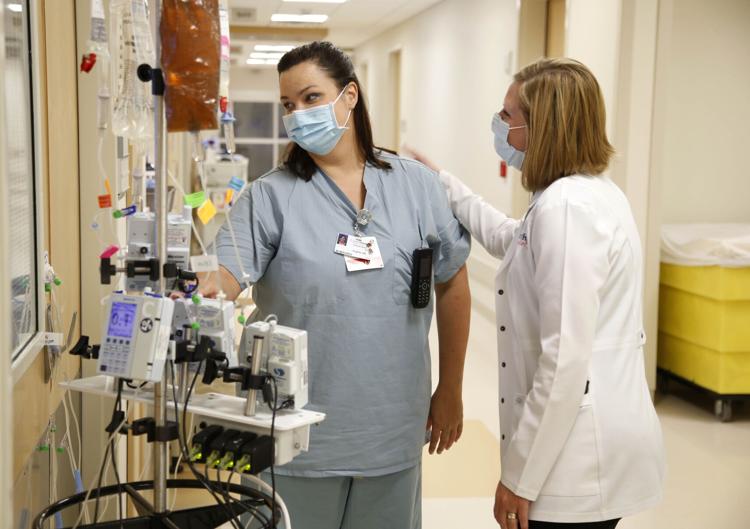 The Saint Francis network saw a high of 55 COVID-19 hospitalizations in March, April and May, which increased to a summer peak of 97 in July. On Wednesday, Saint Francis had 129 COVID-19 patients for its latest record as hospitalizations surge across the state.
The graphic caught the attention of the Washington Post, which Henry said reached out to talk to him Monday about the ad.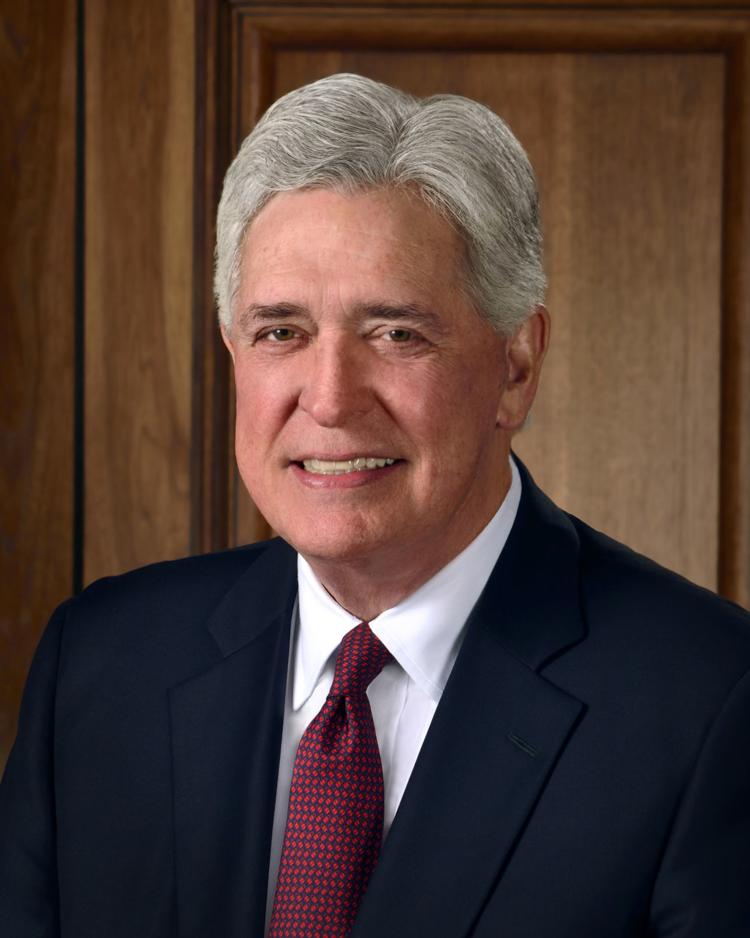 "We thought by using the graphic and letting folks see where we started and where we are today might be a gentle nudge to always wear a mask, wash hands and watch your distance," Henry said.
Going into Monday, Oklahoma had set a record for COVID-19 hospitalizations 12 of the past 15 weekdays that data was released by the state.
The latest record was 956 COVID-19 hospitalizations reported statewide Thursday. For COVID-19 patients in ICUs, that record is 319 reported Oct. 19.
For comparison, the state's high during the summer peak was 663 COVID-19 hospitalizations reported July 28. The record in the first wave was 560 reported on March 30.
On Monday, the state reported 907 COVID-19 hospitalizations, of which 286 were in ICUs.
Saint Francis isn't the only local hospital network seeing recent increases.
Kaitlin Snider, a spokeswoman for Hillcrest HealthCare System, said COVID-positive patients have increased in its hospital system the past two weeks and averages between 40 and 50 patients per day.
"Bed availability and capacity is constantly changing and fluid," Snider said in an email. "At any given time, ICU bed capacity at Hillcrest HealthCare System hospitals averages between 90-95%. Today, ICU capacity is at 90%. This includes COVID and non-COVID cases."
---
Video: Hospital surge plan addressed by Oklahoma Hospital Association president on Oct. 20
---
Gallery: COVID-19 basics everyone needs to know as the pandemic continues