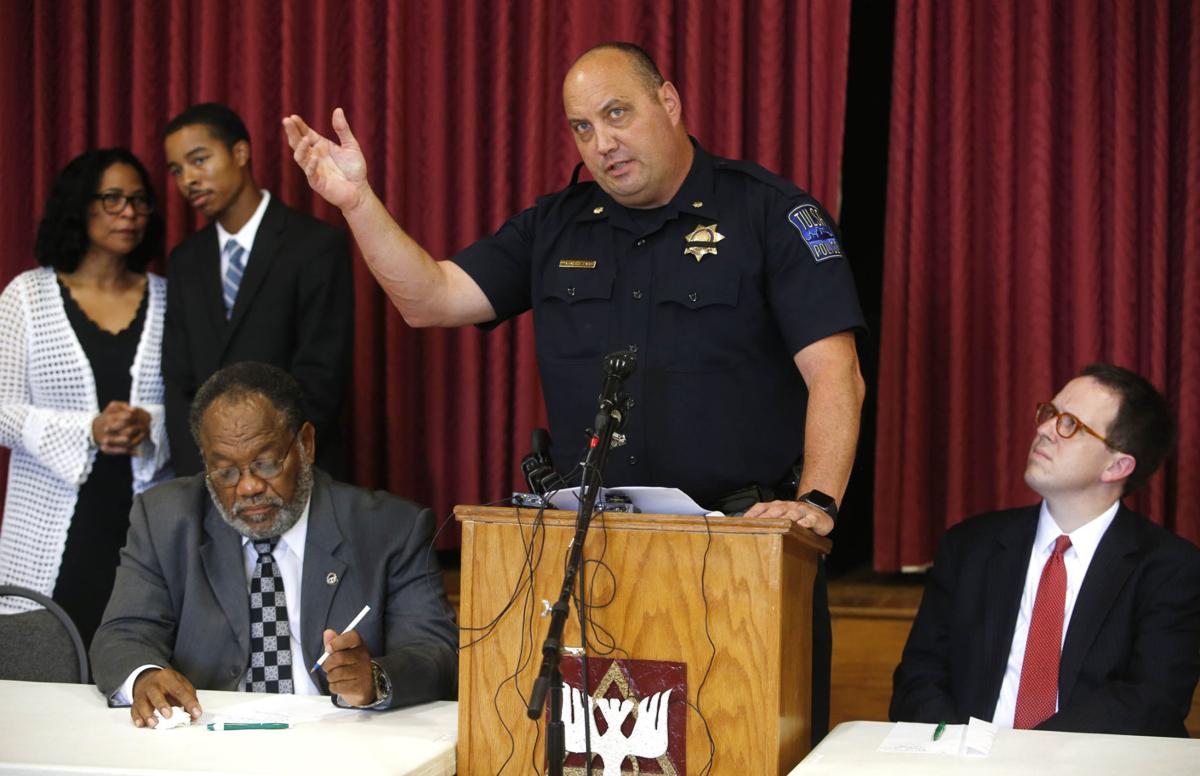 ---
A local activist group associated with Black Lives Matter's national protests demanded the resignation of a Tulsa Police Department top cop Tuesday for an editorial he published online saying police are "at war."
Maj. Travis Yates, commander of the Gilcrease Division in north Tulsa, posted the article Sunday following the slayings of police officers in Dallas and Baton Rouge, Louisiana.
The editorial implies dismay that state leaders are calling for more training, that celebrities are calling police officers "murderers" and that members of Black Lives Matter have been invited to the White House.
"No one wants to acknowledge the obvious," Yates wrote in the editorial. "We are at war!"
He said the article was not meant to imply that police are at war with Black Lives Matter protesters.
"You'd be naive to not look on TV the last couple of weeks and see men with assault rifles attacking our men in military fashion and not think there's some sort of war against police," Yates said Tuesday. "That war is not with the communities. That is not with Black Lives Matter or people that align with Black Lives Matter. That war is not with good, honest, hardworking citizens that want to see change and reform.
"That war is against people that want to kill police officers," Yates said. "It's really that simple."
Marq Lewis, leader of We the People Oklahoma, called for Yates' resignation Tuesday, calling the rhetoric of the article "divisive and very concerning."
"He mentioned Black Lives Matter being invited to the White House and suggested that organization was the reason for violence around the country," Lewis said in a statement. "This is completely unacceptable for a division commander. If he thinks police are at war, who exactly are they at war with?"
Lewis called Yates' editorial particularly concerning because Oklahoma has not had the issues of violence that have been seen elsewhere.
"Many of the leaders in this state have worked tirelessly to find ways to improve the relationship between the government and people," Lewis said. "Pitting the police against the citizens of this state does nothing but deepen the mistrust and divide that already exists.
"If the commander of the Gilcrease Division is this divisive, what is he filtering down to the officers under his command? We are not at war."
Yates said his work at LawOfficer.com is for a nationwide audience of police officers and others in law enforcement.
"While I appreciate that there are people here in Tulsa that read what I write, they need to understand that I'm writing to a national audience. I can guarantee that's the audience I'm writing for, and I'm asking them to be ready and protect themselves at all costs."
Yates said he has reached out to Lewis previously to have a dialogue about other issues Lewis has raised but that Lewis did not take his offer.
"I wish that Mr. Lewis would have had a dialogue with me," Yates said. "I hope we have dialogues before we make judgments."
At a Tulsa Talks forum discussion Tuesday night, Yates addressed the call for his resignation, saying he regretted the "divisive" article's impact on the ongoing discussion in the community.
"I wrote that about 30 minutes after I saw three of my colleagues hunted down by a coward with an assault rifle," Yates said, referring to officers who were slain this weekend in Baton Rouge. "I certainly apologize to anyone that read anything else into that and got offended. That's not the desire here."