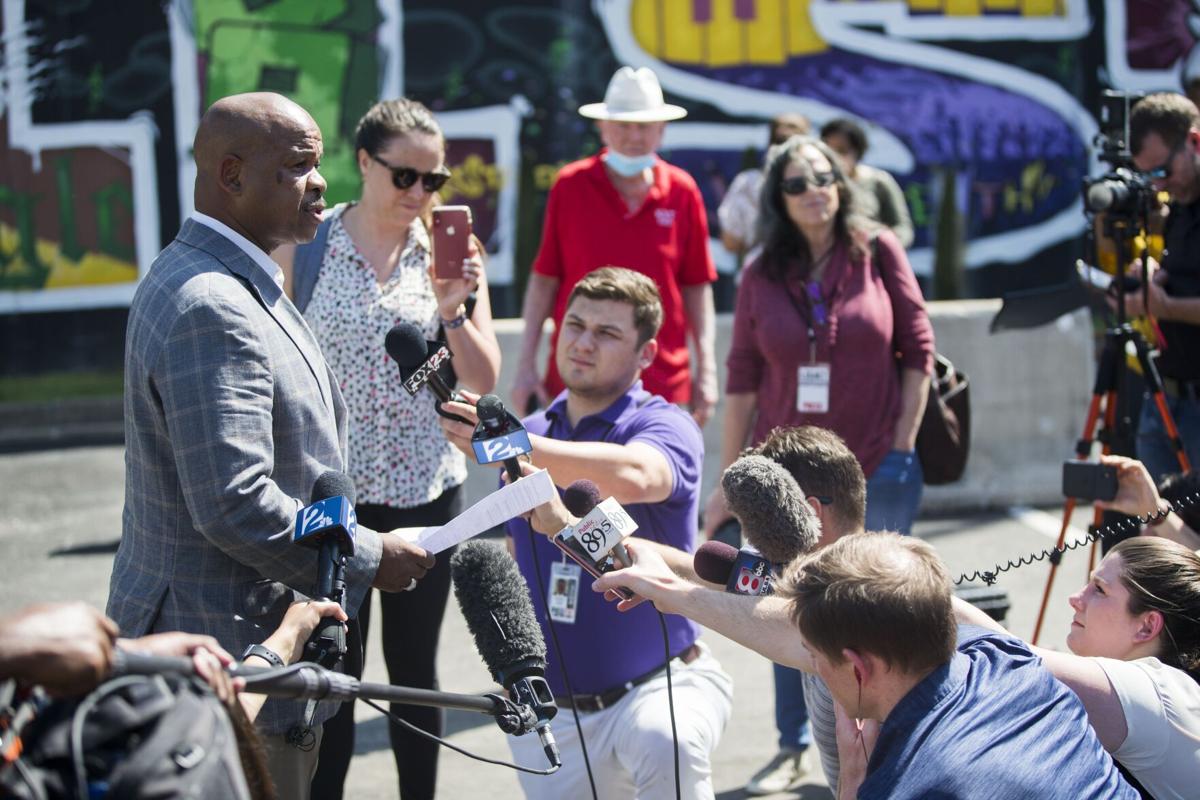 A deal that could have paid a total of $300,000 to the three living survivors of the 1921 Tulsa Race Massacre fell apart after their attorney raised the stakes on Sunday to $1 million each, plus a separate fund of $50 million for descendants of victims, according to emails obtained by the Tulsa World.
Attorney Damario Solomon-Simmons said he was upping the demand because of remarks made by Race Massacre Centennial Commission Chairman Kevin Matthews, who told an Oklahoma City-based reporter that donors had agreed to pay the survivors a stipend and help with their medical costs.
Solomon-Simmons wrote to the Centennial Commission on Sunday saying that their meeting the day before had left him "cautiously optimistic that an agreement could be reached" that would "allow us to have a more unified Centennial commemoration."
"However, finding out today that Sen. Kevin Matthews, Chair of the Centennial Commission, attacked the credibility and integrity of our survivors has set us back some," Solomon-Simmons wrote. "As a result, this is where we are and/or what we need in order to come to an agreement at this point."
Solomon-Simmons was referring to a May 22 Enid News article by CNHI reporter Janelle Stecklein in which Matthews said the donors behind the Greenwood Rising history center had agreed to pay the survivors stipends and help with their health care costs for the rest of their lives.
Solomon-Simmons' email, first reported by CBS News, contains seven demands, including $1 million for each of the three living survivors, a pledge from the Centennial Commission and local donors to contribute $50 million to a survivors and descendants fund housed in a Black bank, and a public apology from Matthews.
"Sen. Matthews needs to clearly state that no Commission donor has given any funds to Justice for Greenwood or the Survivors," Solomon-Simmons wrote. "Despite what Sen. Matthews and others have falsely stated, there was never an agreement to provide for the survivors for the rest of their lives."
Solomon-Simmons also demanded that 33% of the revenue raised by the Greenwood Rising history center go directly to benefit survivors and descendants of the north Tulsa community and that the Centennial Commission publicly support Solomon-Simmons' lawsuit against the city seeking reparations.
The other demands include expanding the Greenwood Rising board to include six people selected by Solomon-Simmons and those he represents and his clients' participation in developing the Remember & Rise event at ONEOK Field.
"If we can get to an agreement on the above, we would also want to help shape the program of the Remember & Rise event at ONEOK Field occurring on May 31, 2021," Solomon-Simmons wrote Sunday. "We want an opportunity to speak and honor the survivors and our work."
Phil Armstrong, project director for the Centennial Commission, responded to Solomon-Simmons' email by saying the commission supports monetary reparations for descendants.
"We, like you, believe the sponsor of that effort should primarily be the accountable parts of the government and the perpetrators of the crimes in 1921," Armstrong wrote.
Armstrong goes on to say in an email that private donors have expressed interest in providing a total of $300,000 for the three living survivors and $2 million in seed money for a survivors and descendants fund, "as long as there is resolution reached around community governance and fiscal sponsorship."
In an email sent by Solomon-Simmons on Tuesday, the attorney said that during a phone conversation the parties had agreed that donors and the Centennial Commission would respond to each of his demands by 6 p.m. that day.
Later Tuesday, Armstrong responded by saying that "due to the extraordinary press of business" he would not be able to answer all of Solomon-Simmons' questions that day and would get back to him as soon as possible.
Solomon-Simmons did not respond to a request for comment from the Tulsa World on Friday but provided comments to The Oklahoman.
"We've been continuously asking for many, many months for the centennial commission to share some of the $30 million in resources that they raised with the survivors and descendants," Solomon-Simmons said. "We never sent them 'demands.' We made requests to them. All the emails that were sent to them said 'request.'"
The Centennial Commission, the George Kaiser Family Foundation and others have raised nearly $30 million to construct Greenwood Rising and fund other projects and programming associated with the centennial commemoration of the 1921 Tulsa Race Massacre.
Greenwood Rising, at the corner of Greenwood Avenue and Archer Street, is scheduled to open Wednesday.
Matthews tried to clear up any confusion Friday when he stood near the Greenwood Cultural Center downtown and read a statement.
"Various donors of the commission have offered to provide financial gifts to survivors in the past, so this didn't feel uncomfortable," Matthews said.
According to Matthews, Pastor Ray Owens of Metropolitan Baptist Church brokered a May 22 meeting that "ended well" and resulted in an agreement that $100,000 per survivor and a gift of $2 million in seed money for a "reparation coalition" or fund be raised by the commission.
"The deadline for that fundraising was one week. And we did it — we raised the money, and we're excited survivors were going to accept these gifts," he said.
That excitement was very short-lived, Matthews said, because the survivors' legal representatives upped the ante the very next day.
The "demands" for $1 million per survivor and $50 million in seed money for reparations were simply not possible to respond to.
Matthews said the $100,000 raised for each of the survivors is still theirs if they'll have it.
"I absolutely want the survivors and descendants to be financially and emotionally supported. However, this is not the way," said Matthews. "It is my hope that what people remember from this weekend is an outpouring of support for survivors, for descendants, for justice and for reparations — not that a concert was canceled," Matthews said.
Solomon-Simmons indicated to the The Oklahoman that entertainer John Legend's and political activist Stacey Abrams' uncertainty about the survivors' role in the Remember & Rise event led to its cancellation. The two were to headline the event.
"After months of zero communication and under immense pressure that John Legend and Stacey Abrams may no longer participate if the survivors were not centered, a Zoom call with 10 people was scheduled for Saturday," Solomon-Simmons said in a prepared statement. "Immediately following that call our legal team submitted a list of seven requests to ensure the survivors' participation with the Commission's scheduled events."
After Matthews recounted for a throng of local and international media the events leading up to the cancellation of Remember & Rise, Matthews told the Tulsa World: "I try not to fight my own people in public, but I couldn't go any longer. The people working so hard on this for six years are very disappointed."
Andrea Eger contributed to this story.
Tulsa Race Massacre: This is what happened in Tulsa in 1921
In 1921, white mobs invaded Greenwood and burned it down
A growing but divided city had tensions rising. How World War I influenced residents.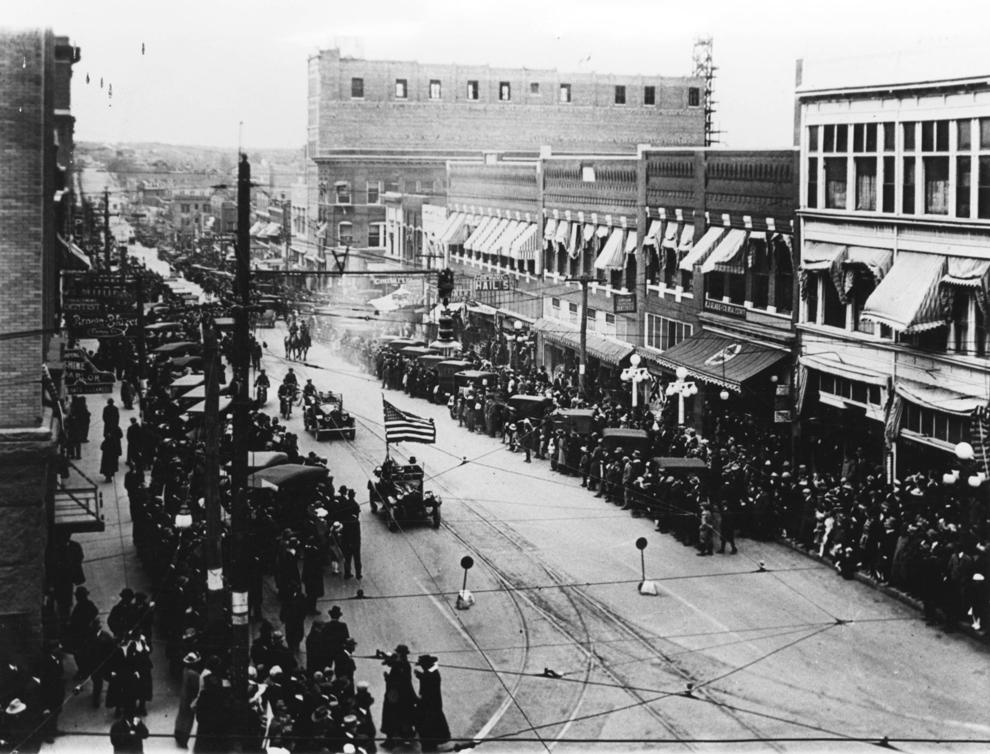 Key figures in 1921
Greenwood was defined by freedom and opportunity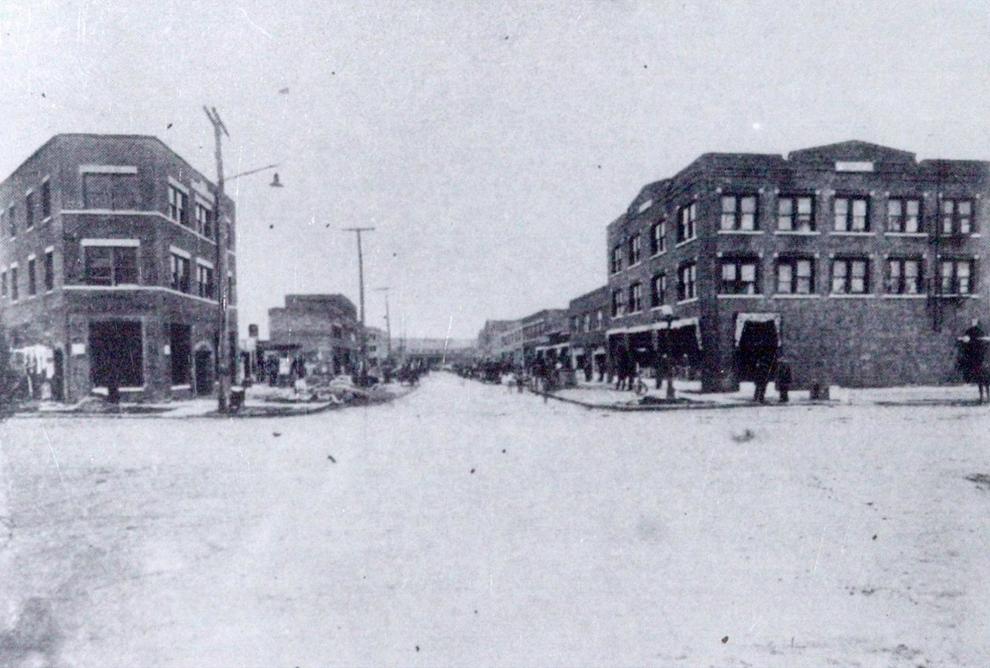 An encounter on an elevator and concerns about a lynching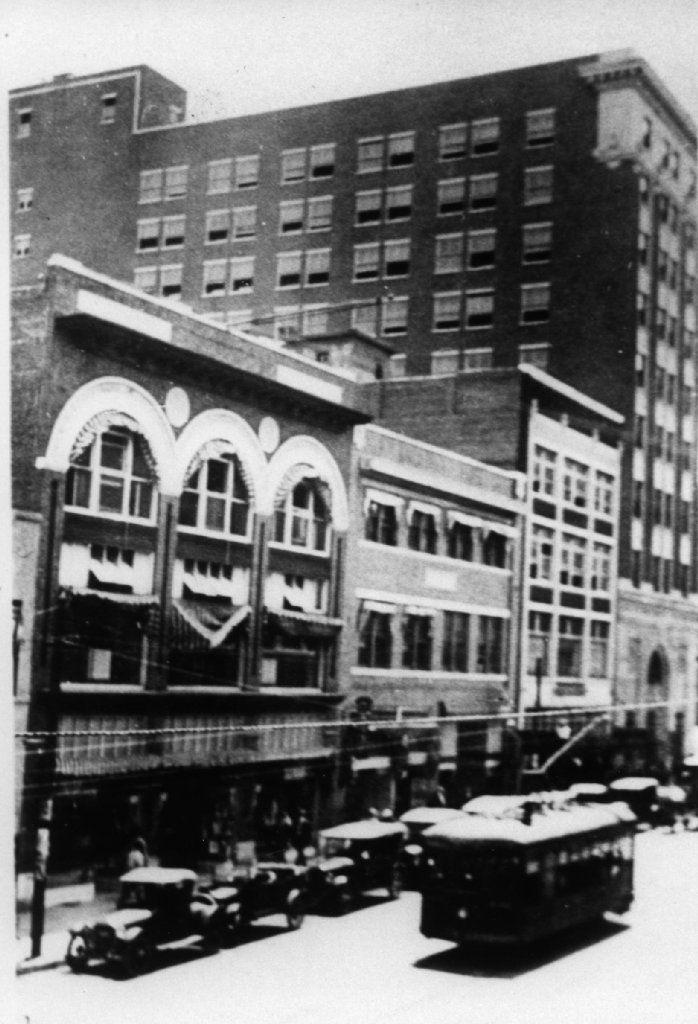 Tulsa Tribune article cited for sparking massacre
Dick Rowland's life threatened while jailed as crowd gathers outside
Tulsans take up arms and there are issues with special deputies
Fighting begins in Greenwood and the neighborhood is soon overrun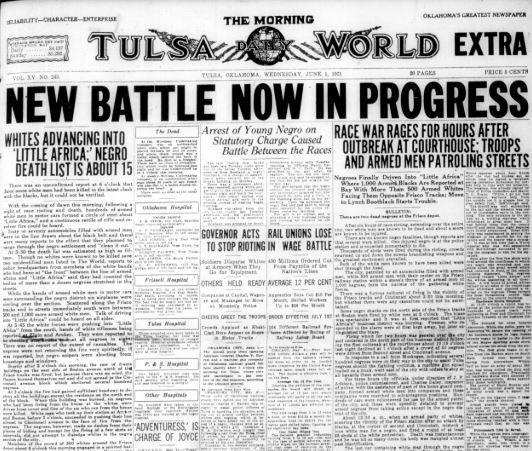 Mobs won't let firefighters douse the flames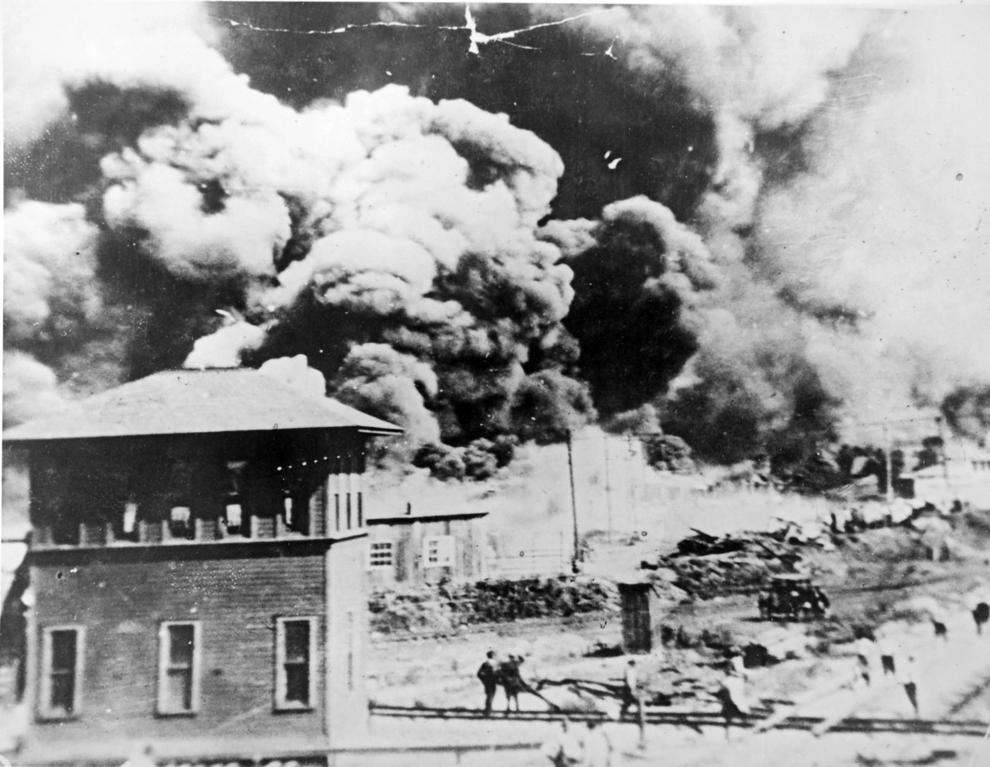 Airplanes flew over Greenwood as it was attacked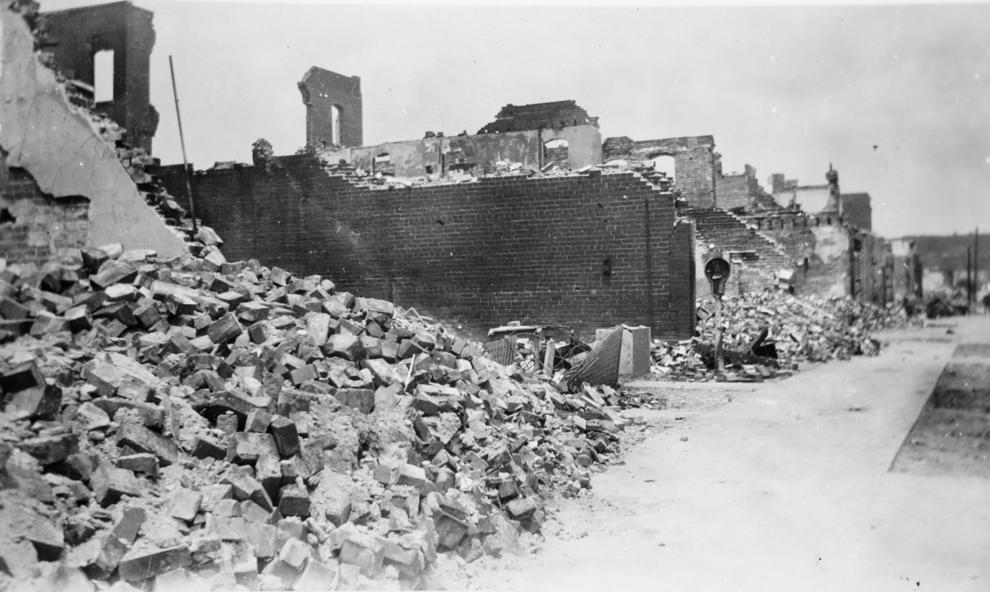 National Guard called in, denies report that machine guns were used to kill dozens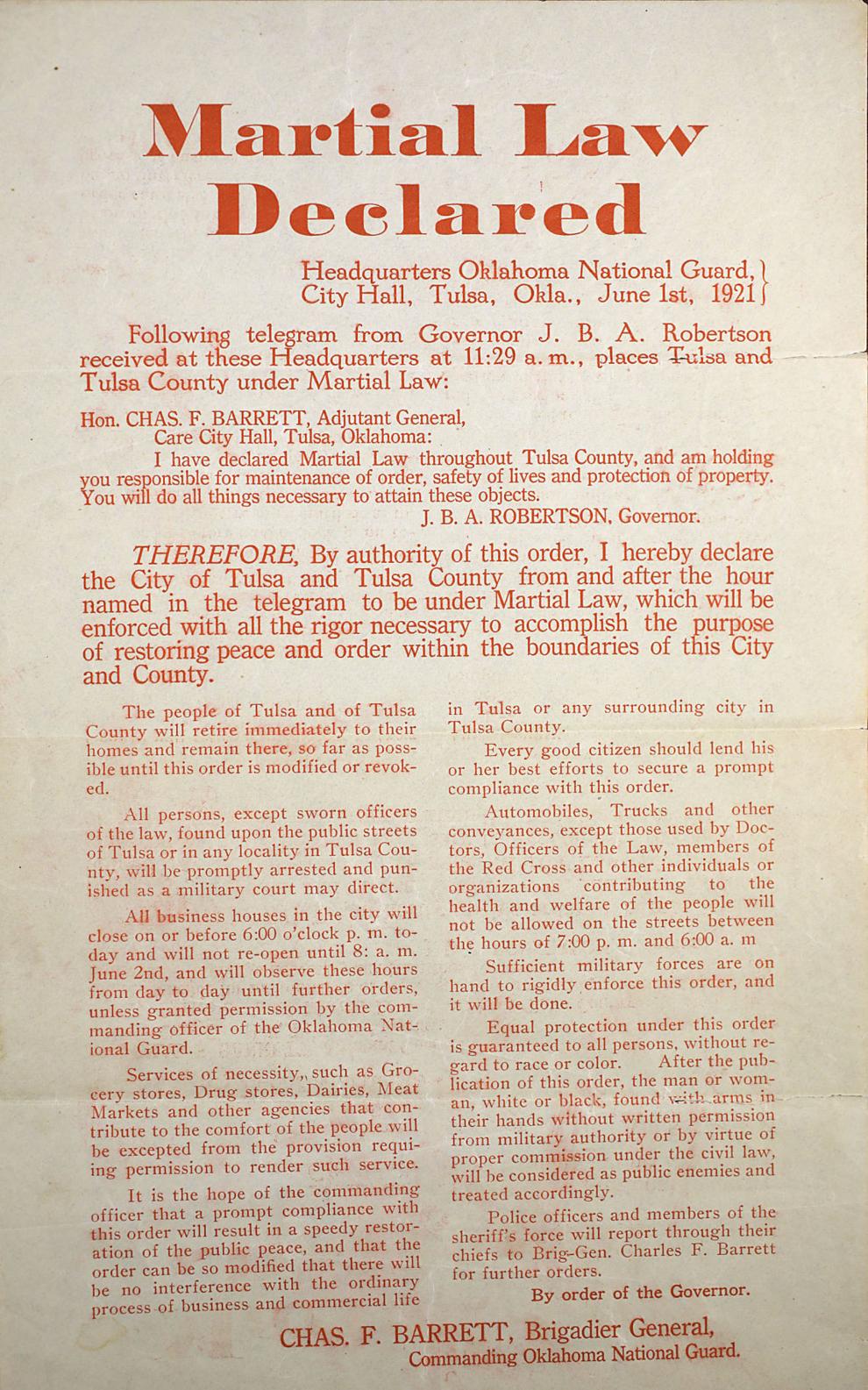 Dr. A.C. Jackson was killed as he tried to surrender in his front yard
Death toll remains unknown; search for graves continues today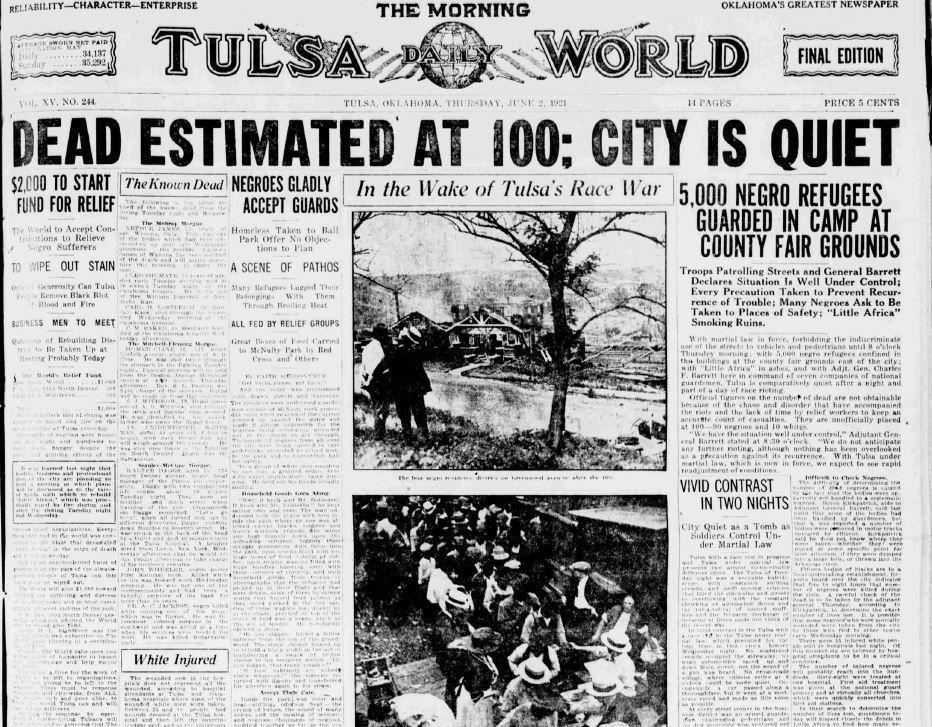 Black Tulsans were marched through the streets and detained at camps throughout city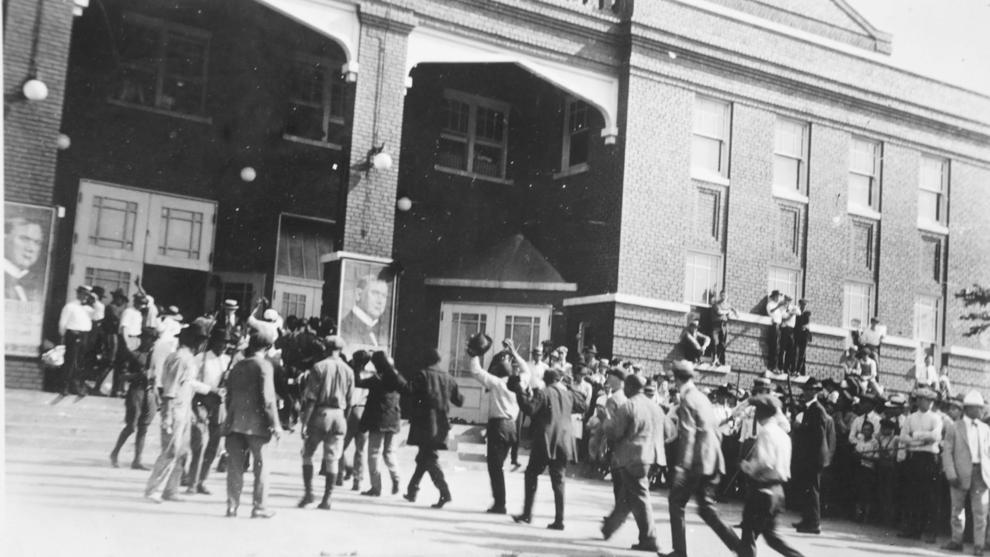 Red Cross reports the massive devastation in Greenwood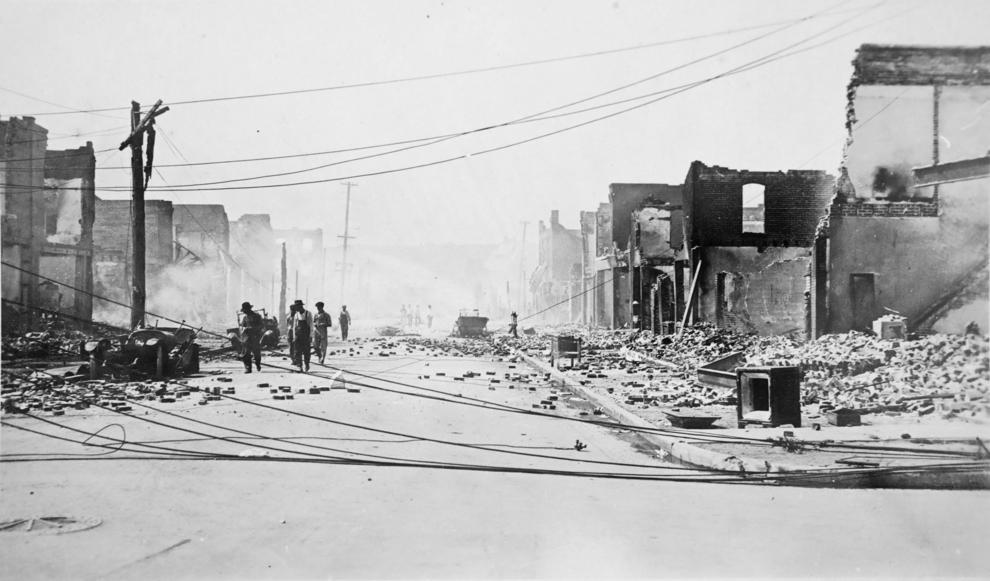 Key locations in Tulsa during the 1921 Race Massacre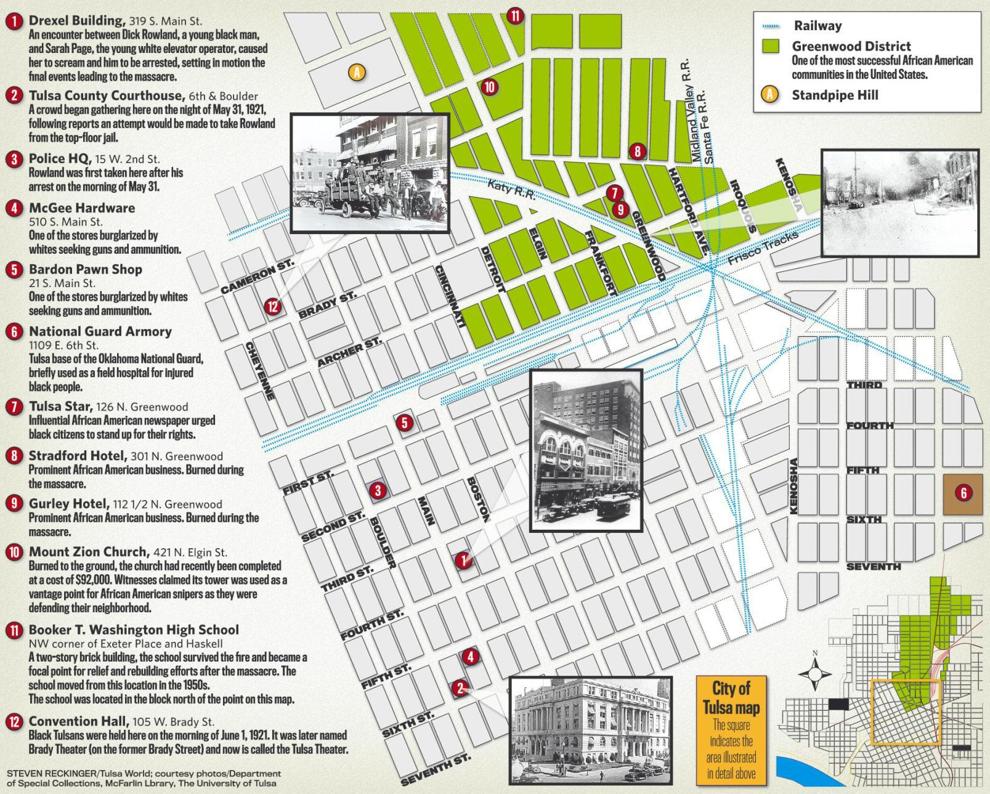 Mount Zion Baptist Church was burned down but, like Greenwood, persevered and rebuilt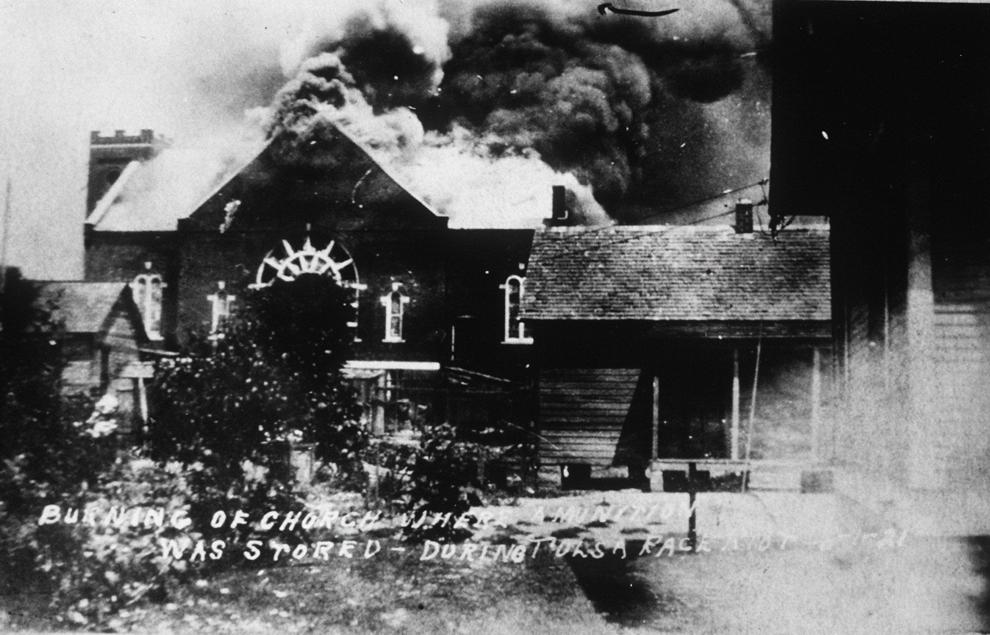 Tulsa Race Massacre: Quotes from survivors, officials and others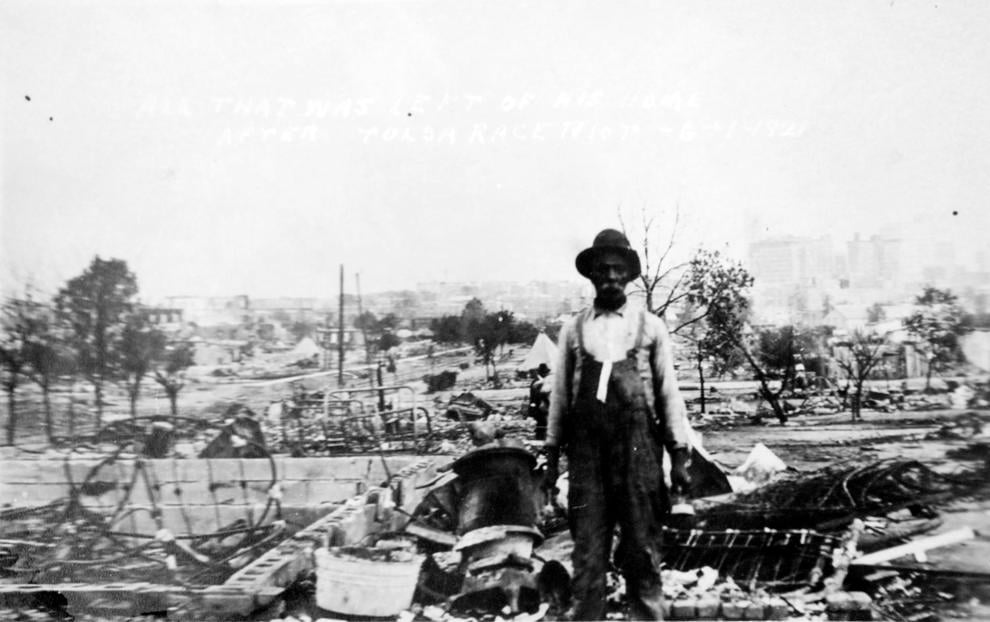 Tulsa Race Massacre: Recommended reading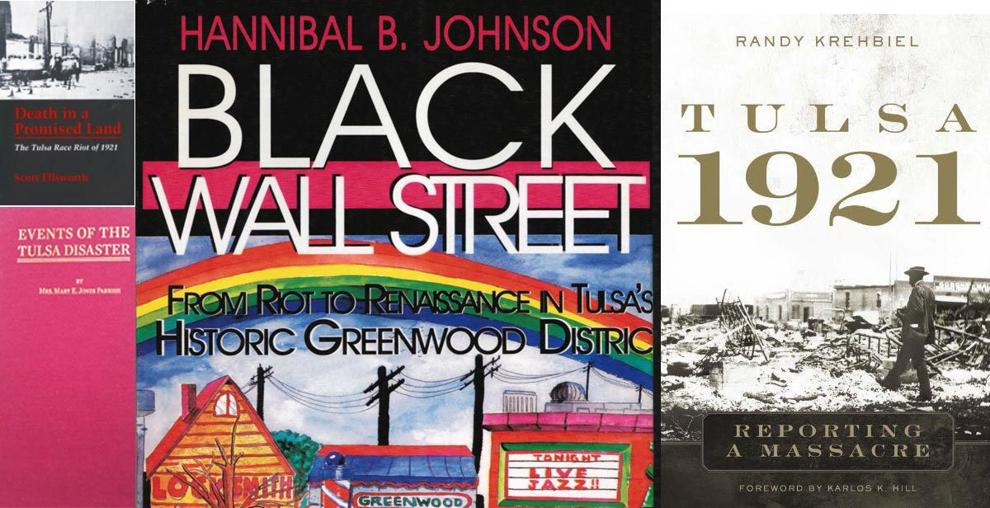 Tulsa Race Massacre / The Tulsa World Library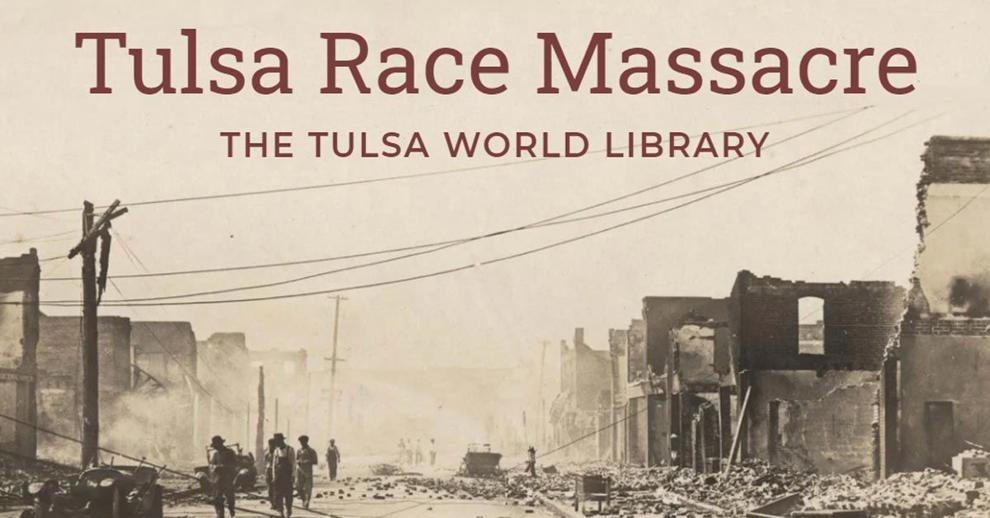 Tulsa Race Massacre: Was 1921 the first aerial assault on U.S. soil?
---
"The first time Americans were terrorized by an aerial assault was not Pearl Harbor," a CBS News story says leading up to coverage this weekend of the 1921 Tulsa Race Massacre.
"Scott Pelley reports on a race massacre in which an estimated 300 people, mostly African American men, women and children, were killed, and aircraft were used to drop incendiary devices on a black neighborhood in Tulsa, Oklahoma. The Greenwood Massacre of 1921 has been largely ignored by history, but Pelley finds a Tulsa community seeking to shed more light on what's been called the worst race massacre in history," a preview reads for a "60 Minutes" story airing 6 p.m. Sunday on CBS.
Context for viewers: Six airplanes circled the Greenwood area during the morning hours of June 1.
What they were doing, and why there were so many, has long been a matter of passionate debate. Many people believe they were used to shoot at people on the ground and bomb Greenwood.
Officials said the small craft, generally thought to be two-seat, single-engine Curtis "Jenny" biplanes, were merely keeping track of activities on the ground and relaying the information through written messages dropped in weighted metal cylinders attached to streamers.
To what extent this explanation was initially challenged is unclear, but in October 1921 the Chicago Defender published a story in which it said Greenwood had been bombed under orders of "prominent city officials."
The story cited a Van B. Hurley, who the newspaper said had given a signed statement to Elisha Scott, a Kansas attorney.
Scott filed dozens of lawsuits on behalf of victims but doesn't seem to have ever entered the Hurley affidavit into the record. There is no record of a Van B. Hurley living in Tulsa around the time of the massacre or that anyone by that name ever belonged to the Tulsa police force.
But that doesn't mean the story did not have substance. Many people believed city officials were behind the burning of Greenwood, and the explanation that the squadron of planes was only used for surveillance struck some as suspiciously thin.
Certainly the planes had a great psychological impact on many. For example, Mary Jones Parrish wrote about them in her account, as did prominent attorney B.C. Franklin in his.
The Defender story said the planes dropped "nitroglycerin on buildings, setting them afire."
But nitroglycerin is an explosive, not an incendiary. It is also highly unstable and dangerous.
That has caused some to speculate that something like Molotov cocktails might have been used, or "turpentine balls" — rags soaked in flammable liquid and wrapped around the head of a stick.
There are several practical reasons why trying to light and throw incendiary devices from an open cockpit airplane of that era would seem a difficult, dangerous and even foolish idea.
But that doesn't mean it wasn't done.
---
---
Tulsa Race Massacre: This is what happened in Tulsa in 1921
Tulsa was home to one of the most prosperous African American communities in the country. Businesses flourished along Greenwood Avenue — dubbe…