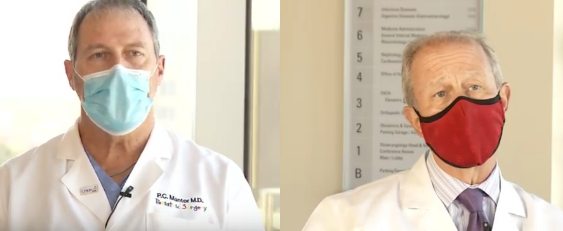 Record numbers of new COVID-19 cases and hospitalizations have public health officials urging Oklahomans to wake up to the reality of overburdened hospital ICUs and the potential for deaths to exceed all previous predictions before Thanksgiving.
"This week has been a real peak in the pandemic," said Dr. Dale Bratzler, the University of Oklahoma's chief COVID officer, at a virtual press conference on Friday. "It's not because we're doing more testing. The percentage of tests that are coming back positive is very high right now."
COVID-19 hospitalizations have already pushed Oklahoma City to Tier 3 of the state's hospital surge plan, which indicates limited hospital capacity for both COVID and non-COVID patients. And OU Health says Tulsa might not be far behind given the significant uptick in community spread.
Dr. Cameron Mantor, a surgeon and acting chief medical officer there, said there is "no question" that patients from rural counties are driving up hospitalizations in both Oklahoma City and Tulsa.
"It impacts our ability to care for patients who have the virus but also our ability to care for our other Oklahoma patients who have non-diagnosed cancers, who are in bad accidents who need trauma care, who have heart disease and need to be taken care of," he said. "So it impacts us greatly."
Testing for COVID-19 was down significantly last week, with about 12,000 fewer tests conducted than in each of the previous several weeks.
But Bratzler noted that Oklahoma is seeing its highest rates of positive test results since the start of the coronavirus pandemic, at 12.6% — and some rural counties have positivity rates approaching 20%.
"They tend to be older, and they tend to have more comorbid conditions like diabetes or other things, so it's a high-risk population," he said. "As we see higher population incidence of COVID-19 in rural communities … most certainly, those patients are being transferred into the metroplex here (in Oklahoma City) and also in Tulsa for more extensive care that can't be delivered in some of the more rural facilities."
Bratzler said he and other public officials are concerned about the potential for Oklahoma to reach new "peaks" of COVID cases that could occur from the upcoming fall and winter holidays. He urged people to avoid large, indoor gatherings, and if possible, to take advantage of good weather days for meeting with family and friends in small numbers outdoors — and wearing masks at all times while not eating or drinking.
He referenced a prediction from earlier in the pandemic by the Institute for Health Metrics and Evaluation, an independent global health research center at the University of Washington, that Oklahoma would see 1,450 total COVID deaths by Thanksgiving.
Because of the recent surge in the virus, he said, "We are going to have that many deaths by next week. In fact, they're now projecting 1,795 deaths in Oklahoma by Thanksgiving."
---
COVID-19 basics everyone needs to know as the pandemic continues