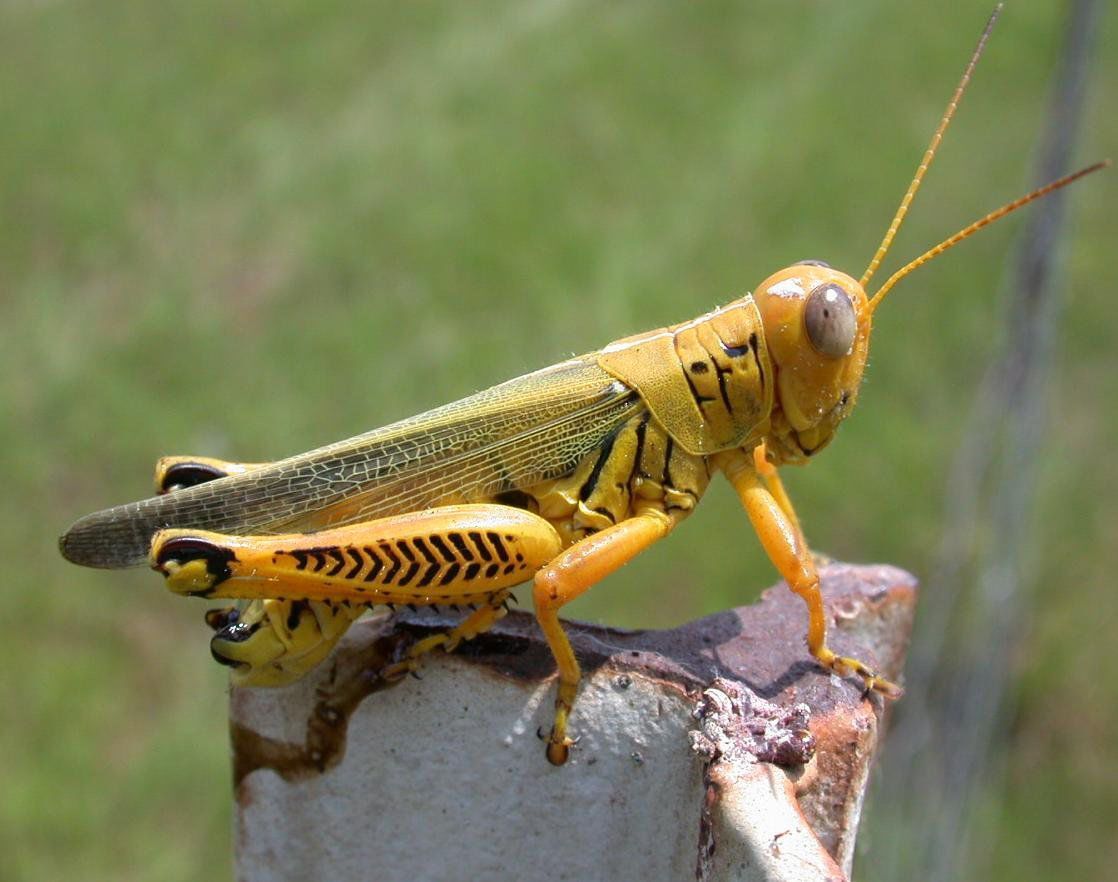 Leave it to an Oklahoma rancher like Monte Tucker to find humor in a drought and a grasshopper infestation. He had more than a few farmers chuckling last week.
A fourth-generation Roger Mills County rancher, Tucker, 45, put some of his past experience as an auctioneer and years of experience around the sale barn to use narrating an ad-lib video for his Facebook page as he idled his truck down his ranch road and shot video of thousands of grasshoppers lining his barbed-wire fences.
"We're expecting a big run of hoppers this Monday! 6500 on the yard, we'll run over 10,000 by sales end! Come see us at the New Sunny Point National Hopper yards," he posted with the Facebook video making the rounds among ranchers this week.
His video contains some classic lines like, "from the Pigweed Ranch we got 250 bred females they're excellent, they're nice," and "No. 1 Yellers ready for your yard or your garden, your tomato vines or squash vines, will be excellent grazers."
The ranch at Sweetwater, located west of Sayre and southwest of Cheyenne near the Texas border, has been hit with drought inside of drought this summer, Tucker said.
Oklahoma Mesonet puts the area in a drought status but lists rainfall for the past year as just under normal at 17 inches over the past 365 days. Tucker said it's worse at the ranch, where they have had 4.1 inches since January.
"It's about a 20-mile radius circle here we just in a pocket that can't seem to get any rain," he said, noting areas near Sayer and Elk City had more than an inch last week and parts of Texas had more than 2 inches.
"We always have some grasshoppers around here but I've never seen anything like this," he said. "You drive across the pasture and they're coming up in front of your truck in waves.
He said the grasshoppers are eating everything, even the bark off of sapling trees.
"Our garden is completely ate up; we gave up on it," he said. "They're thick. I've never seen it like this, it's nuts, and then with the danged drought on top of it."
Tom Royer, Oklahoma State University entomologist, said the species on Tucker's video are differential grasshoppers — identified by their yellow-green color and a black chevron pattern on their leg — and they can reproduce in numbers that can compete with livestock.
"There are at least 130 different species of grasshoppers in Oklahoma, but most don't become pests," he said.
Some, like the differential, can put away some groceries, however.
A grasshopper will eat half its body weight in vegetation every day so, pound-for-pound, a grasshopper eats 12 to 20 times more than an average steer, he said.
"About 30 pounds of grasshoppers can eat as much as a 600-pound steer," he said.
Dry weather is favorable for grasshoppers as their biggest enemies are moisture and natural diseases that can wipe out a population in a single season, he said. Populations often take a few years to build up until they exponentially increase to the sort of thing Tucker is seeing, he said.
Pesticides that attack the grasshopper's ability to molt as it matures are the only option to cut them back. Those must be applied in May and early June, and Extension Service offices often issue annual reminders, he said.
"Right now they're maturing and getting ready to lay eggs," he said.
If the drought continues that probably means even more prime stock will show at Tucker's "Hopper Yards" in 2021.
---
Kelly Bostian 918-581-8357
Twitter: @KellyBostian
Get local news delivered to your inbox!
Subscribe to our Daily Headlines newsletter.