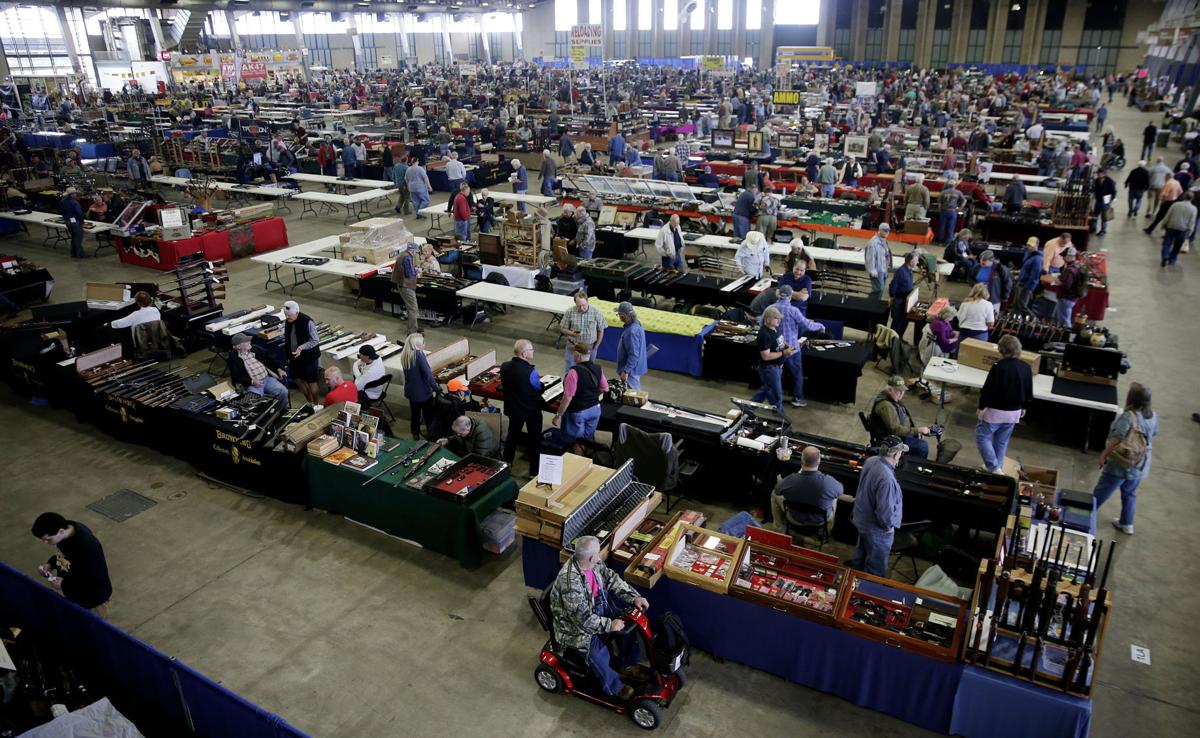 There will be no Wanenmacher's Tulsa Arms Show in Tulsa this weekend, meaning the city will have gone a full calendar year without hosting the event for the first time in more than six decades.
"Oklahoma's COVID-19 cases have more than quadrupled from approximately 1,100 cases a day on Nov. 3 to 2,000 cases on Nov. 5 to over 4,500 cases Saturday Nov. 7," a Monday update on the show's website says.
Organizers reported that as a result of the case spike, the Tulsa Health Department "strongly recommends" 25% venue capacity and "100 percent enforced mask wearing."
"It's been very difficult to come to this decision. Like everyone else we've been watching the COVID numbers go up and up and up in Oklahoma," Mark Wanenmacher, one of the event's organizers, said in a phone interview. "It's been a hard year for everyone."
The show, which typically draws a crowd in excess of 35,000 people each November and April, was scheduled for Friday and Saturday at Expo Square in the Tulsa Fairgrounds near 21st Street and Yale Avenue. It bills itself as the "World's Largest Gun Show."
Owner Joe Wanenmacher also had to cancel the April 4-5 edition of the arms show due to concerns about COVID-19, which at the time had prompted cities, including Tulsa, to issue safer-at-home orders.
In the notice posted online Monday, the show said, "Taking into account the fairgrounds' formula for square feet per attendee, our number of exhibitors and the square footage taken by all the tables, there is no room left for spectators."
Mark Wanenmacher said the capacity limit would have even kept some of those with exhibits out of the facility, though staff was prepared to enforce the Health Department's recommendation on mask usage. There were more than 3,000 tables on the list for the show this weekend, he said.
"We've never tried to cancel something the week before," he said, especially an event the size of the Arms Show.
"We have people come from all over the country," Wanenmacher said. "They (exhibitors) were packing up the trucks and getting ready to come to Tulsa."
Reservations and money will be automatically applied to the next show, scheduled for April 10-11, 2021.
The event had the same ticketholder policy in place at the time of the April show cancellation, according to Tulsa World archives. Those who wish to get refunds can call the arms show directly.
"We know this is not the news you want to hear, nor is it the news we wanted to give you," the Arms Show's website states. "We sincerely intended and hoped we could have this show, but due to the new restrictions, it is not possible."
---
Featured video: Concerns for health care workers during the pandemic.
Featured gallery: COVID-19 basics