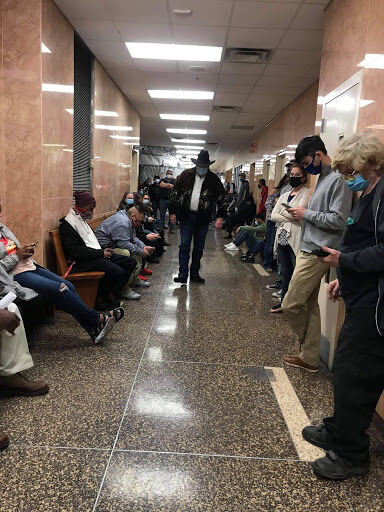 Update (9:45 a.m. Thursday): Court administrator Vicki Cox said jury trials will be suspended for Tulsa County through Jan. 11.
The decision was made late Wednesday to halt the process of bringing jury pools to the downtown courthouse, Cox said.
Officials at the courthouse had responded earlier in the day regarding safety concerns stemming from "an anomaly" with a judge's absence, the layout of the courthouse, a lack of waiting areas and "high-volume dockets." 
Cox said Thursday some misdemeanor cases for out-of-custody defendants will be continued to April. Cases involving violence, DUI and domestic assault will proceed as scheduled, though Cox said preliminary hearings in which testimony is heard will also be suspended through Jan. 11.
---
The story below published in Thursday's Tulsa World:
Tulsa County officials on Wednesday pledged better enforcement of safety protocols for in-person courthouse business during the ongoing COVID-19 pandemic after at least two attorneys made social media posts about a hallway crowded with people awaiting required court appearances.
"I was down there on the first floor for an hour (Tuesday) morning, and I counted when I got into the courtroom," said defense attorney Jenny Proehl-Day, whose client was one of more than 135 listed on a misdemeanor docket.
"There were 42 people in that tiny courtroom. You can't social distance in that courtroom. And I was not the only attorney concerned and upset."
Proehl-Day posted a photo of the first floor hallway to her personal Facebook page, showing fully-occupied benches and numerous people in masks standing near each other outside courtrooms for misdemeanor cases and protective orders.
A similar image from attorney Nathan Milner, which has since been removed from Facebook, had a caption calling the crowd size "unbelievable" and alleged the county was "putting every one of these people and their families in danger."
Tulsa County Presiding District Judge William LaFortune described the situation as "an anomaly" resulting from a judge being out, meaning another judge had been trying to handle two dockets simultaneously. He also attributed the issue to the layout of the courthouse, a lack of waiting areas besides hallways and "high-volume dockets" — amplified by the county's ongoing asbestos remediation in the building.
"The sheriff is now monitoring that hallway closer," LaFortune said Wednesday afternoon. "I believe they removed the sitting benches as well, which is working well as far as people conducting their business and then leaving. Also, all the protocols in the still-in-effect (administrative order) are intended to prevent this from ever happening.
"And since we reopened our protocols have worked well. But even with protocols, a jam-up may occur on rare occasions," he said. In a comment on Milner's Facebook post, LaFortune wrote that courtrooms would be reconfigured with CARES Act funds to be larger and carpets would be replaced with new flooring that is easier to disinfect.
Tulsa County communications manager Devin Egan confirmed the first-floor benches shown on social media were removed to increase space as of Wednesday. She also pointed to policies requiring mask use in public areas, capacity limits on elevators, the presence of multiple hand sanitizer stations and signs promoting social distancing.
"The Board of County Commissioners is responsible for the courthouse building as we are the landlord," Egan said in a statement on the BOCC's behalf. "However, the BOCC is not responsible for court operations, which include the calling of jurors, scheduling courtrooms and hearings, etc. that bring people into the courthouse for such matters. The Tulsa County District Court and the state are responsible for court operations and those decisions."
LaFortune, in his response, said the administrative order he signed on courthouse protocols this summer prohibits anyone other than attorneys and court participants from entering the building.
He also highlighted the use of another building for forcible entry and detainer, or eviction, and small claims cases and said some judges have done court proceedings virtually.
But Proehl-Day said the obviously large sizes of in-person court dockets, including the one on which she appeared, should be a signal to reconsider current strategy.
She noted the crowd in her photograph did not include those with courthouse business on the other side of the first floor, such as traffic cases and arraignments.
LaFortune on Wednesday said he has asked to "step up enforcement" of the administrative provision regarding who is allowed in the building and touted the protocols in place as being "excellent."
However, he said: "Getting all court participants to follow (our protocols) is much more difficult. You can never excise personal responsibility and accountability from this equation."
"I feel like as time has gone on from when we came back in person and started doing court, it's definitely a much more relaxed approach," Proehl-Day said Wednesday of the situation. "I go to surrounding counties and people have their temperatures taken. I think they need to do screening protocols.
"If people are required to come to court and their attorneys are required to come and represent them, we should do what we're supposed to be doing, especially with (COVID-19 case) numbers surging."
---
Video: Gov. Kevin Stitt outlines new COVID-19 guidelines for bars and restaurants.
---
Gallery: COVID-19 basics everyone needs to know as the pandemic continues
Get local news delivered to your inbox!
Subscribe to our Daily Headlines newsletter.