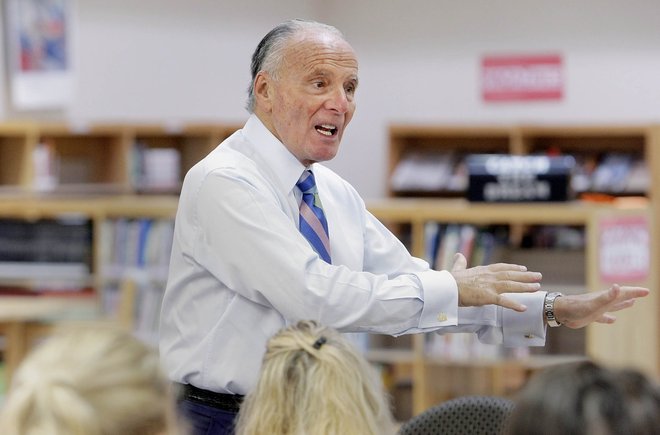 ---
Union program helps students make better choices, prevent pregnancies
---
Michael Carrera wants Oklahoma to embrace teen pregnancy prevention and believes Union schools will be a national model.
The founder of an award-winning, evidence-based prevention program spent two days in Tulsa last week, meeting with teachers, social service advocates and funders of community programs.
"I want to get this idea into the drinking water, that this kind of program needs to be in all schools for all students," Carrera said. "This is called the long fix. It is not a quick fix."
Carrera said the evolution of education into high-stakes testing and emphasis on academics has pushed out other elements important to a student's development.
Districts are cutting time spent on sports, arts and guidance counseling to make room for rigid curriculum standards. Teachers are unable to take time to explore a student's behavior or problems between students because of the need to stay on task for test preparation, he said.
"The things that make a young person whole are being excluded," Carrera said. "It is not possible to work with a young person in a full and complete manner."
The Carrera program's seven components - academics, family life/sex education, employment, mental health, arts, sports and comprehensive health - are linked to the school's goal of good test scores.
Staff are hired by the Carrera program and work with the district. Partnerships are created to provide students with health care and experiences at local universities and with different professions.
"When those components are connected to superior academics, it supports the school and teachers and helps students make decisions on their own for prevention," he said.
"We want to work with boys and girls so on their own they will elect not to become daddies and mommies in their second decade of life. We don't prevent it. They prevent it. We illuminate a pathway where young people believe good things can happen in their lives."
Carrera said Union warned him last year that some parents may have concerns about the sex education portion.
"Once parents, faculty and administrators saw the program as blending components in a way that doesn't obsess about sexuality, they saw it works," Carrera said. "We obsess more about bank accounts and medical care than puberty and body parts."
Union's program will be collecting data each year to show trends, and Carrera said preliminary results are some of the best he has seen.
"They are a trend maker," Carrera said. "It has surpassed my expectations. I would not be surprised if, in a year or two, Union would be our top replication model."
An outside grant facilitator is collecting data to measure several outcomes of students in the program. The program director is also capturing different types of information as it relates to the local community and school.
Officials estimate some outcomes will be known after the first full year, which is the end of November, but they say it takes at least two to three years to show trends.
When speaking to the Union sixth- and seventh-grade teachers, Carrera told them about a teenage pregnancy epidemic in the 1960s and 1970s, when about 1 million teens a year became pregnant.
Currently, about 750,000 teens in the U.S. become pregnant each year, according to the Guttmacher Institute, which is a nonprofit advocating for reproductive rights. Of those teen pregnancies, about 57 percent give birth, 14 percent miscarry and 29 percent have an abortion, Carrera said.
"In America, the greatest country in the world, we can do better than this," Carrera said.
---
Carrera statistical research findings
The teenage pregnancy prevention program has undergone reviews to measure its effectiveness, including a seven-year study of about 1,700 students and a study by an independent research firm. It meets the top-tier evidence standard defined in congressional legislation.
Reduced teen births by 50 percent in communities served


Teens delayed the initiation of sexual intercourse


Teens who did choose to have sex used contraception more conscientiously


Teens had more bank accounts


Teens had higher PSAT scores


Female students were more able to resist coercive sexual pressure


More students enrolled in college


Teens had higher sexuality information scores


---
Ginnie Graham 918-581-8376