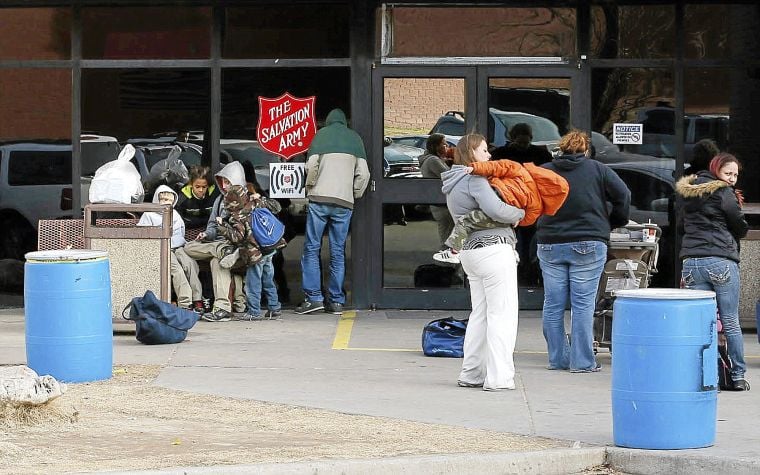 Parked behind a vacant warehouse, the team ducked through a hole in the fence and scrambled up a rocky hill, grabbing branches to keep from falling.
The police escort brought flashlights, painting bright circles on the dark underbrush. Traffic roared overhead on the Eighth Street on-ramp to the Broken Arrow Expressway.
"Nobody's here," announced Allison Huckabee, a caseworker for Family & Children's Services. "That's good."
Part of a nationwide effort to count the homeless population, organizers chose late January for a reason — the overnight temperatures drive people into shelters, where head-counts are easy.
But in cities all across the country Wednesday night, search teams fanned out to find anybody who was still on the streets.
Or, in this case, camping in the pockets of urban forests along Tulsa's expressways.
One of several teams in Tulsa, Huckabee's crew explored half a dozen locations, including a patch of trees under an elevated section of the BA Expressway near Lewis Avenue. They found old mattresses, beer cans and a stray cat, but not the usual campsites.
"We might not find anybody tonight," Huckabee told her team. "It's too cold out here."
Heading west in squad cars, they parked near a section of the KATY walking trail that runs parallel to the Sand Springs Expressway.
Huckabee ventured into waist-high weeds before she spotted the dim flicker of a flashlight or a candle on the other side of a small ravine.
"Hello? Is anybody there?"
Officer Don Chandler, Huckabee's bodyguard for the night, could make out the dark shape of a camping tent.
"You're not in trouble," he yelled. "We just want to talk to you."
Two middle-age men, both wrapped in several layers of mismatched jackets and hoodies, stepped out from a clump of bushes. Huckabee showed them a clipboard. "Can I ask you a few questions?"
The brief survey includes health history, current needs and what, if any, social services they want to receive.
While the final numbers might not be available for months, this week's survey will give Tulsa a snapshot of its homeless population and help social service agencies apply for grants and federal funding, officials said. Last year's survey made public in November by the U.S. Department of Housing and Urban Development, counted 1,008 homeless people in Tulsa, an 11 percent increase over 2010.
"Hopefully," said Keith Anderson, who coordinated Tulsa's survey through the Community Service Council, "the information we gather tonight will help us make the numbers smaller."
Michael Overall 918-581-8383