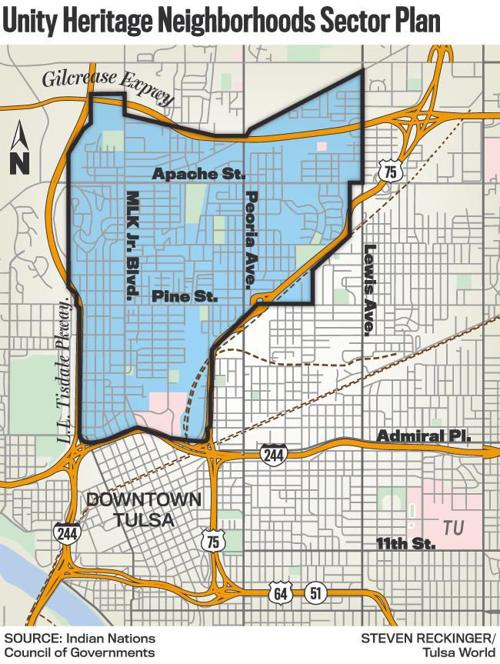 The Tulsa Development Authority on Thursday OK'd a revised, 30-member citizens advisory team to assist with the amended Greenwood/Unity Heritage Neighborhoods Sector Plan.
Five other members will be appointed later to the group, which was recommended by Tulsa City Councilor Vanessa Hall-Harper, whose district includes the area covered in the plan.
"As far as I'm concerned, the people on that list are a good representation," Hall-Harper said in an interview before the TDA went into executive session. "I'm never going to satisfy every community member on that because people have their issues. But I think it is a broad list, most of whom attended meetings and said 'I want to participate in the process' and who have not in times past."
On March 27, the City Council heard from dozens of Tulsans opposed to the sector plan. They were miffed that the TDA failed to adequately communicate the proposal's details, which allows the TDA to acquire blighted property — by purchasing it or through eminent domain — for private development and other revitalization efforts.
A month ago at the urban renewal organization's regular meeting, TDA Chairman Roy Peters apologized for the group's handling of the plans, saying it "did an extraordinarily poor job of communicating our intent and explaining our purpose to the general public."
Among the people on the Citizens Advisory Team (CAT) are the Rev. Robert Turner of the historic Vernon Chapel A.M.E. Church, Kojo Asamoa-Caesar, interim executive director of 36 Degrees North, and Tracie Chandler, president of the Phoenix Development Council.
The Greenwood/Unity Heritage Sector is bordered on the north by Gilcrease Expressway, the south by the Inner Dispersal Loop, the east by U.S. 75 and the west by L.L. Tisdale Expressway.
"They asked me for community people, not city people," Hall-Harper said. " I assumed we're going to have to work with people in planning and those different departments, and they will be a part of it. But that's not what I was asked to give.
"That's important that we not just used the same old people for every single thing. My goal is to build leadership. One of the ways you do that is to engage people who have not previously been involved in these types of processes before. There are some names on there that people may not recognize, but I did that intentionally."
By statute, TDA has held the authority to acquire blighted properties and exercise eminent domain since 1959, and it has used that power in the Kendall-Whittier neighborhood and other parts of town, including north Tulsa. But when the Greenwood/Unity Heritage Neighborhoods Sector Plan was approved in 2016, it did not include the statutory language required for TDA to exercise its full powers to implement urban renewal programs.
"We have never proposed to revise the content of the existing sector plan," said Jot Hartley, TDA legal counsel. "This is only proposed to make clear that it also serves as an urban renewal plan. With that comes not just eminent domain, but the ability to access funds and use redevelopment and qualify for all types of assistance that is available to urban renewal for the area."
A blight study for the Greenwood/Unity Heritage plan shows that 30.3 percent of the properties in the sector are vacant. A total of 64.6 percent of the properties are rated either fair or average.
TDA Executive Director O.C. Walker said Thursday that he met with concerned residents at several neighborhood and town hall meetings in April.
"We made some missteps and we're going back and we're trying to correct those missteps," he said.
Walker wrote in his monthly executive report that the TDA and CAT will discuss the existing urban renewal plan and any necessary edits. A town hall meeting to inform residents of the plan would precede its presentation to the City Council for consideration.
Rhett Morgan
918-581-8395
Twitter: @RhettMorganTW