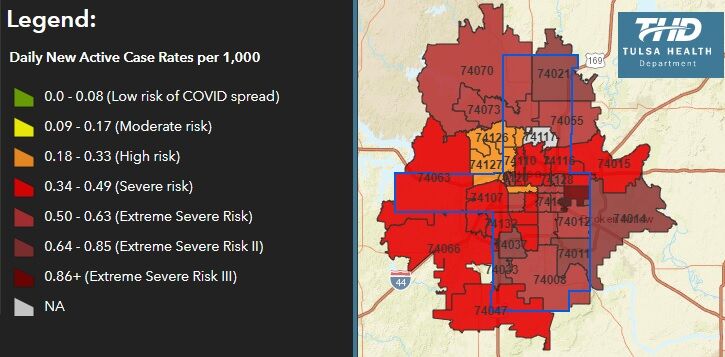 Overall, the Tulsa Health Department's COVID-19 risk map didn't change too much in Friday's update from its record onslaught of red and dark-red color codes a week ago, but it does show some improvements.
Now 19 Tulsa County ZIP codes are in dark red, which indicates extreme severe risk of COVID-19 — down from 22 a week ago. Eighteen 18 ZIP codes are shown in red for severe risk. The other five are orange for high risk.
The Dec. 11 map featured twice as many dark red ZIP codes as the prior week's, so, for one week at least, the upward trajectory has leveled off or even slightly declined.
But it was only two weeks ago that the Tulsa Health Department began using the dark red shade, based on Johns Hopkins University School of Medicine methodology to better delineate just how unrelenting the disease's spread is here now.
Tulsa County and Oklahoma aren't alone in COVID misery.
Dr. Dale Bratzler, the University of Oklahoma's COVID chief, noted on Friday that the previous day was a particularly sad one in the U.S.
"There were nearly a quarter million cases reported in the United States yesterday alone — the highest number ever," Bratzler said. "One hundred and thirteen thousand people were admitted to the hospital yesterday in the United States, and there were 3,656 deaths in the United States just yesterday.
"That's more than two Americans every single minute of the day, so we are nowhere near out of this pandemic yet. There's still considerable spread."
Bratzler pointed out that Oklahoma's Alfalfa County is No. 1 in the nation for COVID spread per capita, indicative of how bad the transmission is in rural America.
"Since the start of the pandemic they've only had 816 cases, but they've had 243 cases in the past one week," he said of Alfalfa County, which is in the northwestern part of the state.
Bratzler said some COVID-19 testing sites in Oklahoma closed because of the recent snow and ice. Last week 33,000 fewer tests were done than the prior week, he said, and that trend appears to be the same this week.
"Through yesterday, the state reported 97,140 tests done this week in Oklahoma," he said. "Of those, 15.3% are positive. So we continue to see a very high rate of positivity, which means that we're continuing to see community spread of the virus."
The Tulsa Health Department's ZIP code map is based on the 14-day moving average of active cases per 1,000 residents.
The dark-red category is divided into three levels, with only one ZIP code in the worst zone, an improvement from three a week ago. Five are in the second dark-red tier, and 13 are in the first dark-red level.
A week ago, five were in the second dark-red shade, and 14 were in the first dark-red shade.
---
Featured video: Tulsa Health Department's Bruce Dart talks about COVID-19 risk map
---
COVID-19 basics everyone needs to know as the pandemic continues