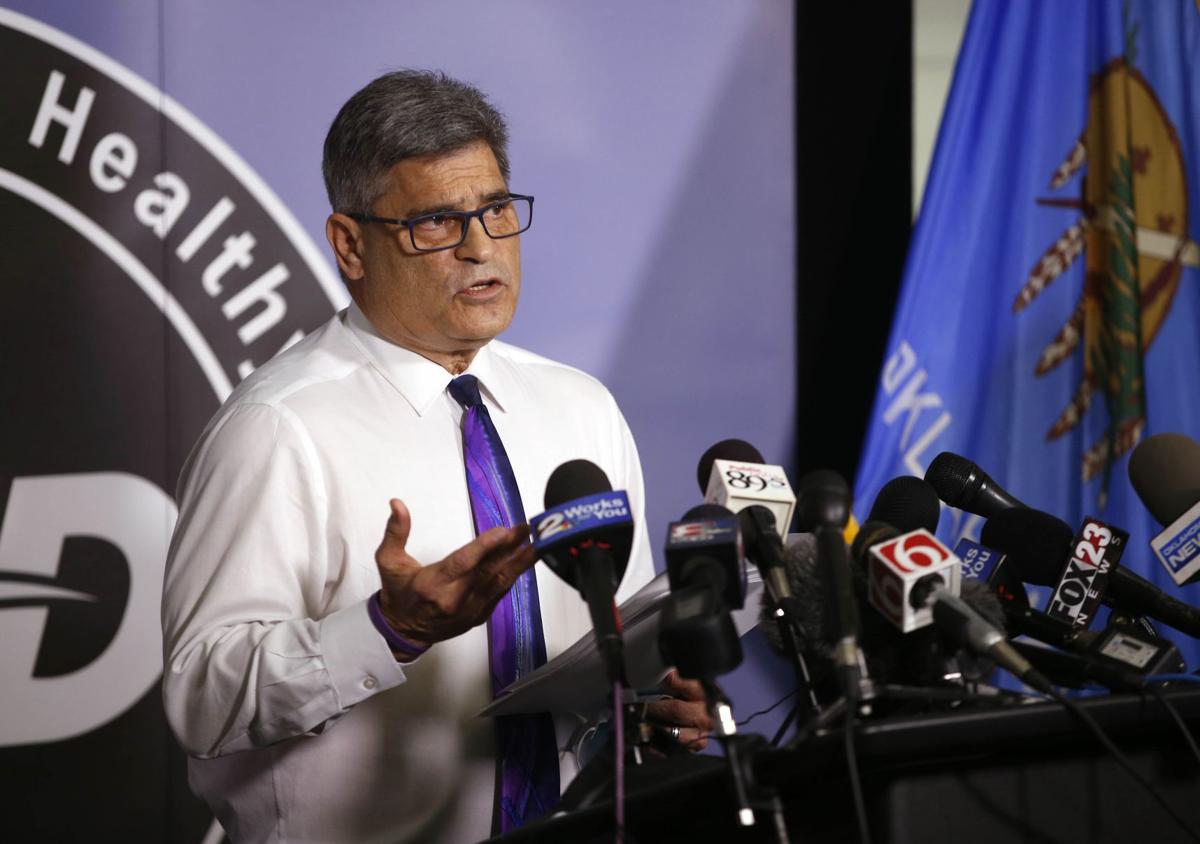 The Trump campaign rally set for Saturday in Tulsa is re-igniting ideological divides, not least of which are differing perspectives on COVID-19's potential hazard from two key health officials in Oklahoma.
Tulsa's top health official cites surging positive cases that are well beyond the county and state peaks in April to say that holding a large gathering isn't safe. The state's top health official points to hospitalizations, which are much lower than in April, to indicate Oklahoma is prepared.
Dr. Bruce Dart, Tulsa Health Department executive director, says the rally might become a "super spreader" event for the disease and worries that not postponing it could end up besieging the hospital system.
"That's our job, to stand up and try to do the right thing based on what the data and the science is telling us," Dart said.
State Health Commissioner Dr. Lance Frye says Oklahoma is "well prepared" compared to the rest of the nation, with plenty of personal protective equipment and hospital bed space.
A reporter during a news conference Wednesday asked Frye if he believed the rally is a good idea.
"It's not my place to say whether I think a rally is a good idea or not," Frye responded. "All I can do is give you the public health opinion of follow the CDC guidelines and try to keep yourself safe. And if you're among the most vulnerable populations, as the governor said, then it's better to watch that from home."
He said officials will have to figure out how to try to decrease the disease's spread, adding that he didn't know how CDC guidelines could be enforced during large public gatherings.
"Quite frankly I don't know that the population that is attending this is a population that is going to listen to us, but we have to keep that message going," Frye said.
Dart recommends postponing — not canceling — the rally until it can be done in a safer manner.
"I want people to be safe, and it hurts my heart to think that there's a potential that we're going to have something here where people become exposed to an illness," Dart told the Tulsa World on Monday. "We've seen how devastating it's been across the board in this country, and I don't want it to happen to anybody here."
On Thursday, the state reported that Tulsa County set another daily record for new COVID-19 positives with 120. There have been 1,945 positive cases total in Tulsa County, of which 654 are active.
Tulsa County's seven-day rolling average of new positives climbed to nearly 82 cases — three times greater than the previous peak in early April.
The state on Thursday also reported another daily record of new positive cases at 450, bringing its total up to 9,354 cases. There were 1,642 active cases in Oklahoma as of Wednesday's report.
Oklahoma's seven-day rolling average of new positives hit about 247 cases, which is almost twice as much as the April peak.
During a news conference Wednesday, Dart described how staff members are overwhelmed by contact tracing efforts to try to blunt COVID-19's spread, working seven-day weeks and unable to take time away.
"They care so deeply about this community and people who live here and they want to protect everyone," Dart said. "Frankly, not only are they emotionally and physically starting to wear down, I think their hearts are hurting as well."
The state's peak hospitalization was 346 people on April 21, according to state data. There were 181 reported Wednesday, up from a low of 124 reported June 1. The state changed its reporting criteria after April 16, meaning prior data aren't comparable.
Frye and Dart both say that now there are more younger people testing positive who become ill but aren't sick enough to be hospitalized.
The state hospital system generally has had between 20% and 40% of its ICU beds available, which is anywhere from 220 to 400 some beds, according to state data.
"Overall our hospitalizations in the state are still very low," Frye said.
The state began with an average of about nine days of PPE stock on hand, gradually increasing the supply to a high of generally between 16 and 18 days since early May, according to state data.
"We were able to lower the overall numbers and delay the surge to allow us to prepare our healthcare capabilities, increase our capabilities within the state," Frye said. "We've increased testing capabilities, we've increased our hospital surges up to 40% and we have two additional flex plans above that, which we have not had to use any of those pieces of that additional staffing as of yet."
Before and after the event, Frye recommends that rally-goers seek out testing at the state's 80 free sites or with a health-care provider, as well as limit interactions with others.
He also recommends wearing a cloth face covering, frequently using alcohol-based hand sanitizer, not touching your face and trying to keep six feet of distance from others.
World Staff Writer Curtis Killman contributed to this story.
---
Featured gallery: Throwback Tulsa: Photos of presidents, candidates and other politicians who have visited Oklahoma
Corey Jones
918-581-8359
corey.jones
@tulsaworld.com
Twitter:
@JonesingToWrite
Get local news delivered to your inbox!
Subscribe to our Daily Headlines newsletter.