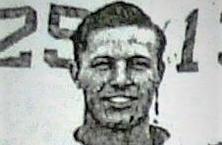 Just like with the other memorial crosses spread throughout the cemetery, the details on 2nd Lt. Cecil Garbey's are kept to the barest minimum.
His name and rank are listed, along with his home state, Oklahoma.
And there's his date of death: June 6, 1944.
But the Tulsan, who was 23 when he died in the D-Day invasion during World War II, had a whole life before all of that.
And visitors to his marker in Normandy, France, should soon be able to learn more about him.
The Stories Behind the Stars project, a nonprofit initiative, has set a goal of composing and making accessible short online biographies of the more than 400,000 Americans who died in WWII.
As part of that effort, a smartphone app is in development that will allow people to scan a grave or memorial of a fallen WWII service member and instantly be linked to their bio.
Just a year into the effort, some 1,100 volunteers have come on board, and so far, they have written more than 7,000 bios.
But there's a long way to go, and many more volunteer writers will be needed to reach the goal.
One of those volunteers, Linda Simpson of Ardmore, is the project's Oklahoma liaison. She written almost 100 so far, including Garbey's.
"One of the things that's impressed me so much is how young some of these kids were when they went over there and what they went through," she said. "Some of them didn't make it very long. Some of them made it almost too long."
Simpson, a native of Montreal, Canada, was already into genealogy and has done a lot of research into her family, as well as her husband's Seminole Nation ancestry. Stories Behind the Stars was a way to take her skills and interests and put them to use for a good cause, she said.
But even without any genealogical research in your background, it's a project pretty much anyone can do, Simpson said.
"It's not difficult," she said. "I think the biggest thing is, if you're interested, you're going to do well."
Free online training is provided. Most volunteers are able to learn quickly how to use online sources, including genealogical and military records, news articles, etc., to compile short biographical sketches on each subject.
The bios are then stored online at Ancestry's Fold3, a resource often used by families to research and share their military histories.
The project is flexible: Volunteers can choose how they participate, and what they focus on.
Simpson prefers to focus on Oklahoma, which lost roughly 6,500 service members in WWII.
Initially, she zeroed in on those from the 180th Infantry Regiment, 45th Infantry Division out of Oklahoma City.
Soon, she would like to get to all Oklahomans who died in the Pearl Harbor attack.
"I would love to have a bunch of volunteers in Oklahoma that are focused on Oklahoma," she said.
Stories Behind the Stars started in Utah, where its founder Don Milne was from, and expanded from there.
The volunteers come from all 50 states and more than a dozen countries. Some writers do a few stories, but a few have each written more than a hundred.
Currently, with the D-Day anniversary on June 6, a special effort is being made to get to the 2,502 Americans who died in the invasion. That includes 34 Oklahomans.
Garbey, who was born and raised in Tulsa, is one of them.
In researching him, Simpson learned that he was 21 when he enlisted in the Army Air Corps in July 1942.
Going on to pilot a P51 Mustang fighter, he was assigned to the 335th Fighter Squadron, 4th Fighter Group.
The group flew six missions on D-Day.
It was the final one that was most costly, claiming the lives of seven pilots including Garbey.
He and the other three pilots in his section were killed when they were engaged by more than 15 German aircraft and shot down.
Garbey, who had married just months before his death, left behind a wife, Norma. He is buried in the Normandy American Cemetery.
Garbey's story is typical of the young men she's written about, Simpson said.
"They have been gone for so long," she said. "It's just a privilege to memorialize them and research them and find out all the really cool things that they did, whether it was before the service or during the service."