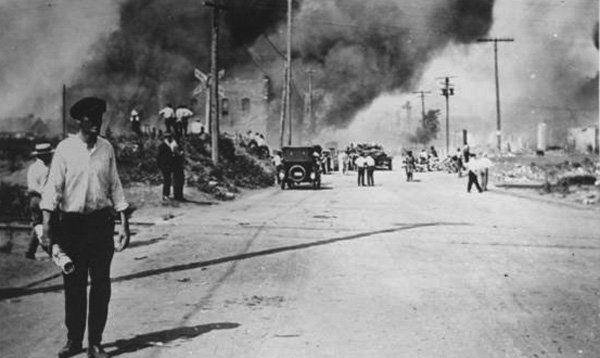 In explaining why the former 1921 Race Riot Centennial Commission is now the 1921 Race Massacre Centennial Commission, Chairman Kevin Matthews said Thursday that the word "riot" prevented property owners at that time from collecting on insurance claims.
Later, Matthews said the change does not signal a renewed effort to recover restitution for the death and destruction rained on Tulsa's African-American community almost a century ago.
"The name is to heal the wounds of people here now," Matthews said, "to turn that tragedy into triumph."
Matthews said historians and others have increasingly come to view the "riot" as a "massacre" because the conflict concluded with an all-out attack on the black Greenwood district. He said he hopes discussion will continue about the most appropriate description.
The fighting of May 31-June 1 began at Sixth Street and Boulder Avenue, outside of what was then the Tulsa County Courthouse, but moved to the boundary between white and black Tulsa on the northeast edge of the town as it existed in 1921.
Thirty-five blocks of the city's black Greenwood district were destroyed on the night of May 31 and morning of June 1, and most of what remained was looted and vandalized. Thousands were left homeless, hundreds were injured and an unknown number were killed.
Most insurance policies contained "riot clauses" that excluded losses suffered in civil disturbances.
Afterward, white and black property owners submitted claims totaling about $4 million against the city. Scores of lawsuits were filed against various officials, the city, the county and insurers.
The test case, Redfearn v. American Central Insurance, was brought by a white property owner in an attempt to show local officials were responsible for the destruction of Greenwood. Witnesses said police officers, some in uniform and some in civilian clothes, were among the arsonists.
But Redfearn's attorneys were unable to show that the police involved acted at the direction of city or county officials, and in 1926 the Oklahoma Supreme Court ruled in the insurance company's favor. The remaining lawsuits lapsed.
In 2003, a class-action lawsuit was brought against the city, county and state seeking damages for the destruction of Greenwood, but the courts ruled the statute of limitations had run out.
The recent death of 103-year-old Olivia Hooker means few if any witnesses to the events of 1921 survive.
Matthews said he wants the centennial to highlight the entrepreneurial spirit of Greenwood, which rebuilt after the massacre and flourished as a commercial district until the 1950s.
Randy Krehbiel
918-581-8365
Twitter: @rkrehbiel