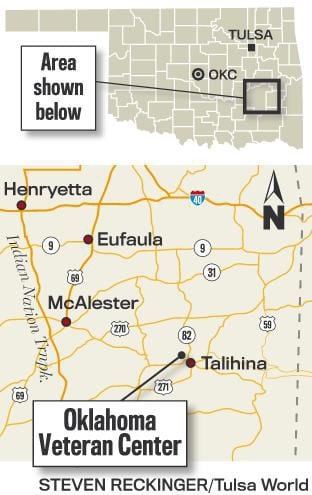 Investigators from the Oklahoma State Department of Health are probing new allegations at the Oklahoma Veterans Center at Talihina, and staffing levels there have fallen so low that officials are shuttering its special-needs unit.
The Tulsa World began investigating practices at the Oklahoma Department of Veterans Affairs after the Oct. 3 death of Owen Reese Peterson, 73, who was infested with maggots and died from sepsis in the state-run nursing home.
Then on Jan. 31, Leonard Smith, 70, an advanced-dementia patient living in the center's locked-down special-needs unit, choked to death after being given food, fluids and medication. After he died, a medical provider found that he had a plastic bag lodged deep in his throat.
No more details were available. Cody McDonell, spokesman for the state Health Department, confirmed Friday, "We are currently working a complaint investigation on the Talihina VA Center. That is all the information we have at this time."
Long Term Care surveyors from the state Health Department's Protective Health Services oversee the health and safety of residents living in licensed long-term-care facilities.
They conduct annual surveys in each facility for licensure, as well as investigation of complaints received, to ensure that state and federal standards are met.
Complaints may come from residents, staff, other agencies or the public at large, and may be made anonymously.
In probing Smith's death, investigators from the state Health Department's Protective Health Services found no documented history of the resident having swallowing difficulties or of swallowing foreign objects.
They determined that the Talihina veterans center:
• Failed to "ensure a resident was free from neglect" by providing supervision and ensuring a safe environment when an unsupervised Smith picked up a knotted plastic trash bag another resident left on a table and swallowed it.
• Failed to "thoroughly assess, monitor and intervene" following an incident involving two residents.
• Failed to investigate low-level workers' reports of an incident in November in which Smith passed a portion of an examination glove in a bowel movement.
Staffing levels at Talihina have fallen so low, ODVA officials said they decided this week to close the center's 50-bed special-needs unit altogether.
New admissions to the unit have been halted, and the 24 residents in that unit are being placed at the top of waiting lists for vacancies in the special-needs units of ODVA's six other veterans centers, said Shane Faulkner, public information officer at the state Department of Veterans Affairs.
"We believe all of the remaining residents will be moved by June 1. However, there's no timeline or deadline," he said.
Faulkner said the decision was prompted by a steady rise in nursing vacancies, which now number 34 at Talihina.
State Rep. Frank Simpson, R-Ardmore, is assisting top executives at the ODVA with legislation to relocate the vets' nursing home at Talihina to a larger city nearby.
Those state officials have focused their public comments and concerns on local staffing challenges and the age and design of the converted 1921 tuberculosis sanitorium on the outskirts of a remote, tiny town in the Ouachita Mountains.
Health-care workers from the highest to lowest levels of patient care at ODVA nursing homes for veterans have told the Tulsa World that Talihina workers are also fleeing because of wrongdoing at the center and that staffing challenges and related declines in patient care quality are not unique to that location, but systemic.
Andrea Eger
918-581-8470
Twitter: @AndreaEger