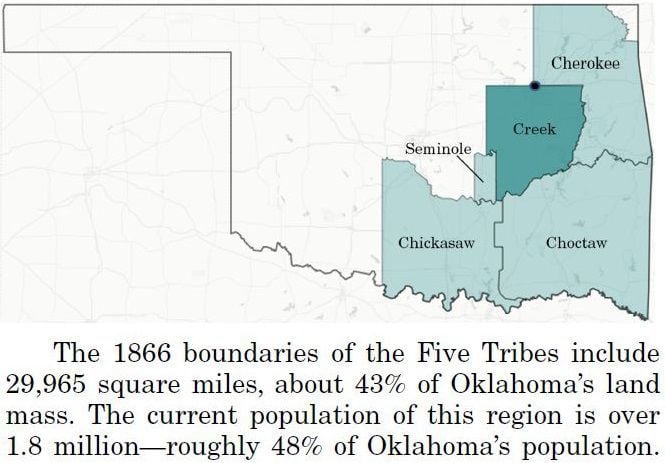 The U.S. Supreme Court on Thursday redefined what for decades federal and state prosecutors thought had been "Indian Country" in eastern Oklahoma when it comes to crime enforcement jurisdictional purposes.
The court upheld challenges from two American Indians who claimed criminal cases prosecuted against them in state court should have been tried in federal court because Congress never disestablished the 19th century boundaries of the Muscogee (Creek) Nation reservation.
Since statehood, state courts have heard criminal cases where jurisdiction was considered to be on nontribal-owned land, while federal courts have handled "major crimes" that occurred on tribally owned land, referred to as "Indian Country."
The decisions mean Oklahoma prosecutors lack the authority to pursue charges against American Indian defendants in much of eastern Oklahoma, including the city of Tulsa. It also throws into question the convictions of hundreds of American Indian defendants.
Crimes not involving American Indians will continue to be prosecuted in state courts.
Both the state and area tribes, in a joint statement, downplayed any concerns about problems the ruling might cause down the road.
Prior to the ruling, both state and federal officials predicted that a decision against the state could throw criminal prosecutions here into chaos.
The 5-4 decision in one case, written by Associate Justice Neil M. Gorsuch, noted the concern from those opposing the decision.
"The federal government promised the Creek a reservation in perpetuity," Gorsuch wrote in a case filed by 71-year-old Jimcy McGirt.
"Yes, promises were made, but the price of keeping them has become too great, so now we should just cast a blind eye.
"We reject that thinking," Gorsuch continued. "If Congress wishes to withdraw its promise, it must say so.
"Unlawful acts, performed long enough and with sufficient vigor, are never enough to amend the law. To hold otherwise would be to elevate the most brazen and longstanding injustices over the law, both rewarding wrong and failing those in the right."
Only Congress has the power to disestablish or reduce the boundaries of a tribal reservation.
Associate Justices Stephen G. Breyer, Ruth Bader Ginsberg, Elena Kagan and Sonia Sotomayor joined Gorsuch in his majority opinion.
The decision reverses lower state court rulings against McGirt. A second, one-page decision in the case of Patrick Dwayne Murphy upholds a federal appellate court decision that overturned his death sentence. McGirt and Murphy are members of the Seminole and Muscogee (Creek) nations respectively.
Both men challenged the long-held belief by most that the state of Oklahoma since statehood had jurisdiction over crimes committed on non-American Indian-owned land in eastern Oklahoma.
The two men claimed that the 19th century-era historical boundaries of the Creek Nation, which covered an 11-county region of eastern Oklahoma, including most of Tulsa, were never disestablished by Congress.
McGirt is serving a life without parole prison term, in addition to two 500-year sentences, after he was convicted of the 1996 rape, sodomy and lewd molestation of a minor in Wagoner County.
McGirt's case, which is similar to Murphy's jurisdictional challenge, sprang ahead after the court withheld a decision on Murphy's case last fall, leading some to speculate that there might be a 4-4 tie in the case with Gorsuch recusing because he was on the 10th Circuit Court of Appeals in Denver when the Murphy case was decided there.
Gorsuch did not take part in the Murphy ruling, which affirmed the appellate court decision.
Murphy, 51, had challenged on jurisdictional grounds his conviction in the 1999 murder of a man in McIntosh County.
Murphy, like McGirt, claimed that his conviction and death sentence should be vacated because the state of Oklahoma did not have jurisdiction to prosecute him.
The 10th Circuit ruled in favor of Murphy, relying on prior U.S. Supreme Court rulings to determine that Congress had never disestablished the Creek Nation tribal boundaries established in 1866.
Prior to the ruling, attorneys for the state and federal government issued dire predictions about what could happen if the reservation was found not to have been legally disestablished.
"Oklahoma stands on the brink of the most radical jurisdictional shift since statehood," attorneys for the state of Oklahoma argued in a reply brief filed with the Supreme Court in the Murphy case.
The federal government backed Oklahoma's opposition to the "never disestablished" theory advanced by Murphy and McGirt.
"The federal government lacks sufficient investigatory and prosecutorial resources in the area to handle that volume of cases; the FBI currently has the equivalent of seven agents for all of eastern Oklahoma," attorneys for the U.S. Department of Justice wrote.
Statements Thursday from those on both sides of the cases were more muted as to the practical effects of the decision.
The state's three U.S. attorneys downplayed any strife that could develop from the decision.
"As Oklahoma's United States Attorneys, we are confident tribal, state, local and federal law enforcement will work together to continue providing exceptional public safety under this new ruling by the United States Supreme Court," the written statement said.
A statement from the state of Oklahoma and five major Oklahoma tribes echoed the spirit of working together.
"The State, the Muscogee (Creek), Cherokee, Chickasaw, Choctaw, and Seminole Nations have made substantial progress toward an agreement to present to Congress and the U.S. Department of Justice addressing and resolving any significant jurisdictional issues raised by the U.S. Supreme Court's decision in McGirt v. Oklahoma," the statement says.
"The Nations and the State are committed to ensuring that Jimcy McGirt, Patrick Murphy, and all other offenders face justice for the crimes for which they are accused. We have a shared commitment to maintaining public safety and long-term economic prosperity for the Nations and Oklahoma.
"The Nations and the State are committed to implementing a framework of shared jurisdiction that will preserve sovereign interests and rights to self-government while affirming jurisdictional understandings, procedures, laws, and regulations that support public safety, our economy, and private property rights.
"We will continue our work, confident that we can accomplish more together than any of us could alone."
Tulsa Mayor G.T. Bynum issued the following statement after the ruling:
"Muscogee (Creek) citizens founded Tulsa, and our successes and challenges are shared," Bynum wrote.
"They were before the Court's opinion, and they will continue to be.
"We remain committed to the same strong cooperative relationship we have had for decades with the Creek Nation, and to the shared obligation among all jurisdictions — city, tribal, county, state, and federal — to serve all Tulsans, city and tribal residents alike.
"For most residents and most purposes, recognition of tribal boundaries will not even be noticeable. Importantly, the Court's opinion does not affect private property ownership. Where there is any jurisdictional uncertainty, we will work with our partners to develop mutually respectful cooperative agreements, such as our Intergovernmental Cross-Deputization Agreement, which has been working well for nearly two decades.
"This decision will inevitably present further questions of jurisdiction and authority that will need to be resolved. I am grateful that this decision would arrive at a time when we have such a good working relationship between the City of Tulsa and the Creek Nation. I am committed to working with Principal Chief David Hill and his colleagues in the government of the Creek Nation to collaboratively address any issues as they arise."
"Finally, I am certain Creek Nation officials join me in condemning the abhorrent crimes of the Petitioner in this particular case, and I am confident that the Creek Nation and federal authorities will hold him accountable."
Chief Justice John G. Roberts wrote a dissenting opinion, joined by the three remaining associate justices, Samuel A. Alito, Brett M. Kavanaugh and Clarence Thomas.
"As the Creek, the State of Oklahoma, the United States and our judicial predecessors have long agreed, Congress disestablished any Creek reservation more than 100 years ago," Roberts wrote. "Oklahoma therefore had jurisdiction to prosecute McGirt. I respectfully dissent."
The historic tribal boundaries cover most of an 11-county region in Oklahoma that includes Creek, Hughes, McIntosh, Okfuskee, Okmulgee and Wagoner counties and portions of Mayes, Muskogee, Rogers, Seminole and Tulsa counties.
---
Featured gallery: COVID-19 basics everyone needs to know as the pandemic continues
Curtis Killman
918-581-8471
curtis.killman
@tulsaworld.com
Twitter: @loucardfan61