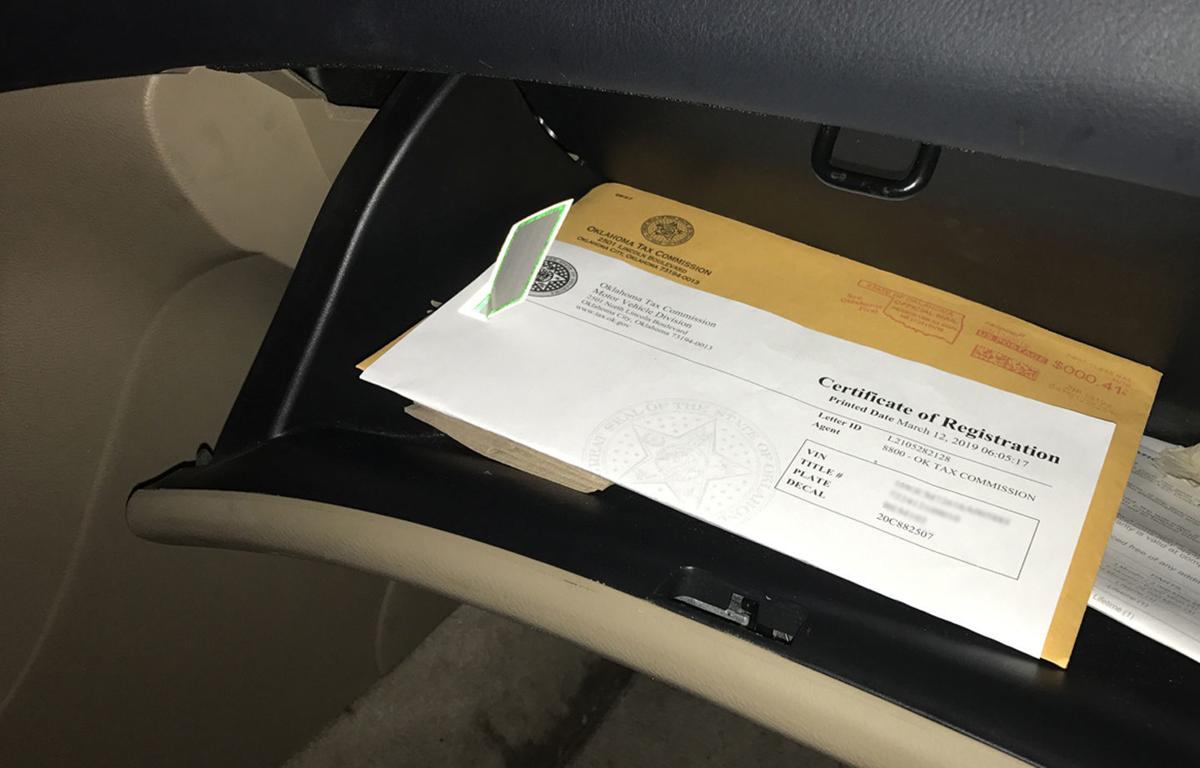 Update (July 3): The Oklahoma Tax Commission is offering free copies of registration certificates via email. Go to okcars.tax.ok.gov. The PDFs provided digitally may be printed and kept with the driver or vehicle.
Many Tulsa World readers commented about visiting tag agencies that were charging as much as $5-$6 more than the listed $1 reprint fee after the news about the law change last week.
Two days after the law went into effect, the Oklahoma Tax Commission issued a news release about the discontinued reprint fee. 
---
The story below published in the June 25 Tulsa World:
A law change affecting vehicle registration and tagging in Oklahoma means up-to-date certificates of registration must be carried at all times.
The law, passed in 2018 and effective July 1, also changes the process so that car tags remain assigned to car owners even after the vehicle is sold.
Vehicle registration certificates come in the mail along with the sticker for your license plate each time you renew your car tags. Drivers may have become accustomed to disposing of the certificate after removing the sticker stapled to the corner.
Tulsa Police Sgt. Stephen Florea, over the Gilcrease Traffic Division, said the law change does not include a penalty, so there would be no citation for drivers who do not keep the registration certificate with the vehicle.
Florea said officers on a traffic stop can check tags against an electronic database, and if the registration doesn't match the vehicle, a driver may be cited for improper tag display, about a $135 ticket. Those tickets generally are dismissed if the person goes to court with proof of registration within 10 days, Florea said.
"We're probably going to give a lot of leeway at first during the transition for this law," Florea said, adding that officers typically offer drivers somewhat of a grace period on law changes, "especially for something as confusing as this."
Paula Ross, spokeswoman for the Oklahoma Tax Commission, said the new law was modeled on the 42 other states that require the registration and car tags to stay with the owner. She said drivers need to carry that extra piece of paper but do not need to worry about carrying around the vehicle title certificate.
Ross said the law change will prevent turnpike tickets and other traffic citations going to people who are no longer registered to the vehicle, and the paperwork requirement is just part of that law.
Florea and Ross noted that only people trying to skirt the law should be inconvenienced by the paperwork requirement.
If you don't know where your certificate of registration is, follow these steps to order one from the state Tax Commission. The duplicate certificate has a reprint fee of $1, plus processing charges for those who pay online.
What you'll need: the last four digits of your vehicle identification number (VIN), the street address number of the registration and the license plate number.
Go to okcars.tax.ok.gov and look for a link that says "duplicate registration order" in the "Other" menu. Follow the steps online to get a printable PDF version of the certificate by email.
Those who have no online access must visit a local tag agency to request a duplicate registration certificate for a $1 fee.
Drivers with custom tags or tribal tags were already required to carry a vehicle registration certificate, as well as those driving commercial vehicles.
Those with Cherokee Nation tribal tags can request a duplicate registration certificate for $1 at any Cherokee Nation tag office. What you'll need: a driver's license and vehicle tag number or VIN. Go to cherokee.org to look up locations.
The Muscogee (Creek) Nation also issues tribal vehicle tags and offers replacement registrations for $5 at the Tax Commission and Tag Office, 1523 S. Wood Drive in Okmulgee. Call 918-756-6374 for more information.
Anna Codutti
918-581-8481
Twitter: @annacodutti