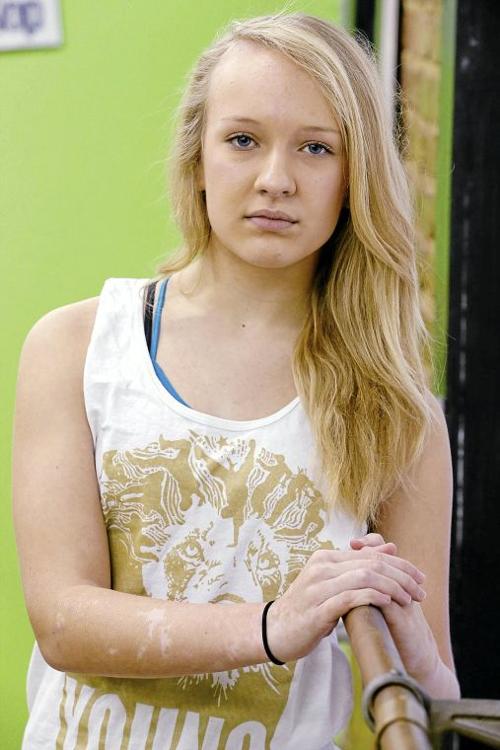 Landry Thompson says it was one of the scariest things she has ever experienced.
The Houston Police Department says its officers were only doing "their utmost" to ensure the safety of Thompson, a 13-year-old girl from Sapulpa with a budding dancing career who was found with two adult males inside a vehicle that was parked in front of a Houston gas station about 3 a.m. last Sunday.
The fact that both of the men happen to be black and that the girl happens to be white has added a layer to a story that has since captured the attention of national media.
"Are you aware that your daughter is in Houston with two black men?"
That's what Destiny Thompson, the girl's mother, remembers a Houston police officer saying to her in a middle-of-the-night phone call.
Thompson said she wasn't surprised to get a call in the wee hours from the phone of Landry, who had flown to Houston on Saturday morning for activities at the Planet Funk Academy, which bills itself as offering "advanced urban dance training."
Destiny Thompson said her daughter had traveled to places like Dallas, Kansas City and Branson, Mo., in connection with dance events. She said Landry is normally accompanied by family members, but that this time she was with someone who is like family.
"She's like my little sister," said 29-year-old Emmanuel Hurd of Tulsa of his association with Landry, whom he met about three years ago through his work as a dance instructor.
Hurd and Josiah Kelly, who is in his early 20s, drove to Houston last Friday and met Landry after her plane landed there on Saturday. Landry said after a full afternoon and evening at Planet Funk Academy, the three pulled into a nearby gas station convenience store to get some food and look around on a GPS system to figure out the best way to get to their hotel.
The Houston Police Department states that patrol officers found two adult males and a juvenile apparently asleep inside the vehicle. Landry said Thursday that she wasn't actually asleep when police arrived and knocked on the windows.
Hurd said he and Kelly were "pulled" out of the vehicle, and Landry said officers then "threw" Hurd and Kelly against its side.
"They put the cuffs on me and said they weren't arresting me, that they were only detaining me," Hurd said.
He said he and Kelly were placed in the back seats of separate squad cars while officers "ransacked" their vehicle.
He said Landry had various documents meant to show she had parental approval to be with Hurd and Kelly, but officers were undeterred.
"They didn't trust any kind of documents," Hurd said.
The official statement by Houston police does not mention race as a motivating factor.
Instead, it says "given the age discrepancies between all involved, the fact that all three were from out of state, and the child had no relatives in the area, officers, in an abundance of caution, did their utmost to ensure her safety."
Landry said she was "crying my eyes out" as she was driven in handcuffs to the Child Protective Services building while Hurd and Kelly, who had been released from their detention status, followed.
Landry said she was put into a shelter area and that "no one was believing my story at all."
Meanwhile, Destiny Thompson — who was receiving updates from Hurd via cell phone — drove to the Sapulpa Police Department and explained what was happening. She said Thursday that a series of phone calls from there and a faxed document or two finally persuaded authorities in Houston to release Landry on Sunday afternoon.
As the week went by, the story progressed from local Houston media to national outlets.
Hurd said that he thinks the matter has received so much attention because racial profiling has become a big issue since the death of Trayvon Martin, a black 17-year-old who was shot to death in February 2012 inside a gated community in Sanford, Fla.
Destiny Thompson said Thursday she is not sure if the officers would have reacted the same way if they had found Landry in a car with two white men.
She said authorities should not have kept her daughter against her will for so long. It should have been obvious much earlier that nothing illicit was happening, she said.
Destiny Thompson said the family is contemplating legal action.
A post on Kelly's Facebook page reads: "This whole ordeal has definitely increased my understanding and sensitivity and is allowing me relate even more to others. I want to say a worldwide thank you to all the supporters. We are all one race. The human race."
Landry said that despite the "terrible experience" she went through, she has no plans to end out-of-state trips for dance events.
"I love dancing too much to stop."
David Harper 918-581-8359