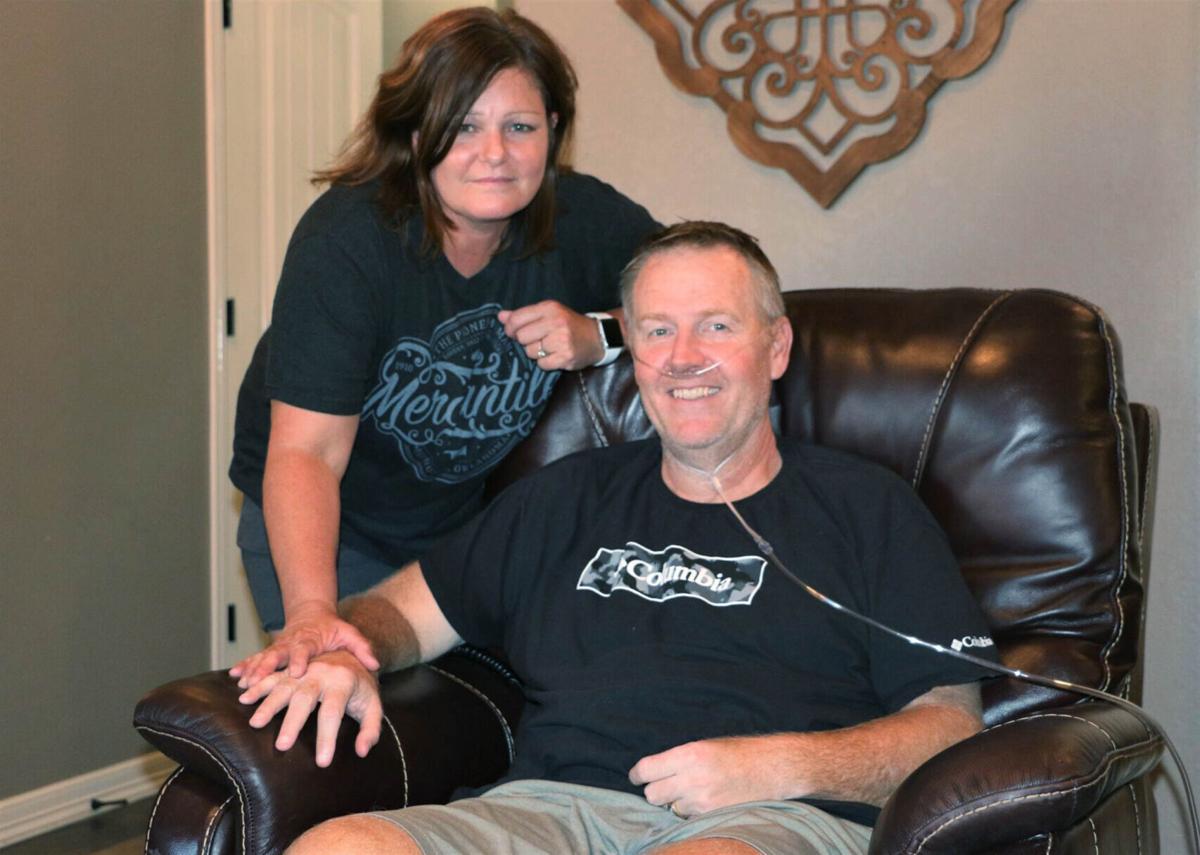 SAND SPRINGS — A life-and-death struggle with COVID-19 has left one Sand Springs man battling to regain his strength — and still battling with his feelings about getting vaccinated.
Ronnie Taber's son got sick first, and then his wife, Amie Taber. By the time he started experiencing symptoms on July 27, he was pretty sure he knew why.
Taber, 50, got tested July 31, but "the test was really just to confirm it," he said last week from his home.
"I was just running a fever and not feeling well," but then he woke up that Monday morning, Aug. 2, "and was just feeling really short of breath," he said.
Taber said he was really struggling to breathe and used a pulse oximeter to confirm that his oxygen level had dropped.
Amie Taber, 47, drove her husband to Ascension St. John Sapulpa Hospital, and she waited in the car in the parking lot while he went into the ER.
"That was awful, but I thought they were just going to give him a treatment or something," she said. "I wasn't well myself because I had just gotten over it."
When Ronnie Taber told the ER staff that he was short of breath and was positive for COVID, they put him in a room, started oxygen and began administering remdesivir, an antiviral medication. They also did some bloodwork and got a CT scan of his lungs.
After about three hours, "he finally texted me and said, 'I'm going to be staying,'" Amie Taber said.
After several days, though, Ronnie Taber was getting worse, not better, and so the Sapulpa hospital had him transferred to St. John's main hospital in Tulsa.
"At one point, I started to improve, and then all of a sudden, I relapsed and started getting worse again," he said.
Although Taber had only a few aches, his fever was between 100 and 102; he developed blood clots in his leg while in the hospital; and he suffered lung damage from the COVID infection.
Dying was on his mind, he said.
"There was probably about a two-week window when I was in the hospital when that was definitely a thought," he said. "Things definitely could have gone a different direction."
Taber said he was fortunate that his wife was able to be in the room with him nearly the whole time.
"It helped mentally to be able to see her," he said, adding that his faith also was a support.
"The hope that we have with our faith overrode that fear mindset," Taber said. "Amie would share stuff on Facebook, and just the number of people who prayed for us — it definitely had an impact."
Amie Taber said the experience has taken an emotional toll on both of them.
"Four people were put on life support right beside him one day," she said. "Two people died the day before."
The couple, who have three children — two who graduated from college in May and a daughter who is still in college — have been married for 27 years.
Having to be the strong one was hard for her, Amie Taber said.
"It was pretty bad. It was very emotional," she said. "I tried not to cry in front of him. I tried to stay positive and encouraging.
"But I'd never seen him like that. He'd always been very strong and capable."
Eventually, after five weeks in the hospital — one in Sapulpa and four in Tulsa — Ronnie Taber was transferred to St. John Rehabilitation Hospital in Broken Arrow for two additional weeks.
"When I first went there, I hadn't been out of bed in probably 2½ weeks," he said. "I was kind of nervous about what I would be able to do."
But within just a couple of days, he said, "I felt like I was on the mend. Like, 'OK, I'm going to get through this.'"
Taber has been off work from his job with the Zayo Group for nearly two months now.
He said he's hoping he can go back in a couple of weeks, but he's still using supplemental oxygen at home, and he tires out easily.
He has lost 45 pounds and a lot of muscle mass, he said, adding that his lungs still feel bad.
"I'm limited, and I have to take frequent breaks," he said. "It's just going to be a process to get back to where I was."
Taber wasn't vaccinated before he came down with COVID-19, and he said he still is not certain that he ever will be.
"As far as where I'm at now, (I'm trying to figure out) how does the natural immunity and vaccine go together," he said.
He said he is communicating with his doctors.
"It'll just be something that we have to look at," he said. "I'm open to the research and the conversation with them."
He is frustrated that the loudest voices on both sides of the debate are the only ones being heard.
"I've seen too many people who are pitting people against each other," he said.
"I still think there needs to be more study before certain people do take it. I still think people need to look at the studies," he said.
"Obviously, it's your personal choice and what you feel, but you really need to consider what your health status is," he said. "Do you have any other conditions? Are you high risk? Have you been seeing a doctor and getting treatments?"
Amie Taber said she "probably would have been more easily convinced to get vaccinated than him, but I have had some doubts. I've heard a lot of bad stories about people who've been vaccinated."
"When we were in the hospital, I regretted not getting the vaccine. I would kind of kick myself, like, 'Why didn't we just do it?'" she said.
"But we were very healthy. We weren't very old. We didn't think it would hit us like this. We just didn't anticipate how bad it would be.
"We weren't opposed to it," she said. "We just both personally didn't feel like we were at risk."
Amie Taber said the experience has shown her "the importance of a prayer community. It showed me how fortunate we are to have that."
But she said she also realizes now how important it is to stay on top of your health, even if you think you're healthy.
"Go to the doctor. We had not been to the doctor," she said. "We didn't have a doctor — just for the kids. Know your body. If you're not well, it will affect you worse.
"I hope nobody has to go through what we did, but I think we have to tell people what it was like," she said.
Ronnie Taber agrees with his wife about seeking the advice of trained medical personnel.
"Get checked out. Follow up with your doctor and get the opinion there," he said.
"We live our life by faith, but at times you have to put your trust in man. We have to trust the people who went to school and learned this. We have to trust them to put us in the right direction."