The violence and destruction that transpired over a two-day period in the heart of Greenwood between black and white Tulsans nearly a century ago was widely described as a riot.
Generally, it was the accepted narrative of such nationwide confrontations during the early 1900s that involved outbreaks of racial clashes throughout America.
But with time, research and changing perspectives, many have concluded that riot might not be the appropriate term to chronicle what took place on May 31-June 1, 1921.
"They named it a riot. We didn't name it a riot," said State Sen. Kevin Matthews, chairman of the 1921 Race Massacre Centennial Commission in reference to newspaper accounts of the event. "People in my community started to tell me if we were going to tell the history, we needed to tell it from our perspective."
Notably, Matthews said there was some initial hesitation on his part to consider how the event would be addressed moving forward. But overtures from the public could not be ignored.
Formed in 2017, the then-Tulsa Race Riot Centennial Commission later decided to refer to the event as a massacre "based on community input." The rationale, members said, was "to shed the name given by the offenders and reclaim the narrative of our history."
The petition, which garnered 1,600 signatures, made clear that riot was "seen by members of Tulsa's African-American community as coded or unclear language" that "perpetuates the tragic event as a riot."
Support for the name change also came from long-held dissatisfaction that black residents victimized during the massacre were unable to recoup restitution because insurance claims didn't cover calamities attributed to riots.
There was also the feeling that what ensued in Tulsa was not similar in nature to riots that occurred in Watts in 1965, Chicago in 1968, or some associated with the Red Summer riots of 1919.
"I kept hearing over and over again that the word riot gives the connotation that you burned your community down," said Matthews. "We didn't do this to our own community. We had it burned down by others. And if it was burned down, it was burned by them."
Nehemiah D. Frank, publisher of the Black Wall Street Times, wrote a column suggesting that riot was "social conditioning at its finest" and the commission itself was causing unnecessary division by legitimizing the word. Today, Frank still is passionate the terms shouldn't be interchanged because those affected were not allowed to categorize how they were treated.
"If you think about African Americans who experienced the massacre, they experienced it 60 years after (the) Emancipation (Proclamation)," he said. "African Americans are not the inventors of the English language. A riot to a black person living in 1921 may not have meant the same thing to a white person living in 1921."
Hannibal Johnson, an attorney who has engaged in extensive research of the tragedy and written several books on the subject over the years, said it's important to first consider several factors to determine how specific terminology came to be based on the rules of nomenclature, or the process by which something is named:
• Who was absent from the discussion?
"Race riot is a term of art," Johnson said. "It was used to describe these kinds of incidents involving black folks typically being targeted or assaulted by white vigilante groups."
Depending on the point of view, some might consider the Tulsa event a massacre. Others could see it as a riot, an assault, a genocide, pogrom or even a holocaust. Many of those terms, said Johnson, could be applicable to what happened 99 years ago.
And in the aftermath of the massacre, people with some direct connection or even documenting it from afar provided their own interpretations.
As the mayhem reached a fever pitch, newspaper headlines like the one that ran in the Klamath Falls, Oregon-based Evening Herald on June 1, 1921, went with "Bitter Race War Rages in Oklahoma — 75 Dead."
A Tulsa Daily World headline published that same day also used the word war instead of a riot to summarize the turbulence.
"RACE WAR RAGES FOR HOURS AFTER OUTBREAK AT COURTHOUSE; TROOPS AND ARMED MEN PATROLING STREETS," a section of the morning front page read.
Though many race massacre survivors had routinely referred to the chaos as a race riot in interviews with journalists, historians and documentarians who wanted to hear their stories, Olivia J. Hooker was one of the few who didn't.
Hooker, who was just a 6-year-old when the massacre occurred, testified in front of Congress in Washington, D.C., in 2007.
Even in literature and politics, the variances were apparent.
While there are several published writings that feature the word riot, other works deviated.
In documenting survivor testimonials, author Mary E. Jones Parrish, also a survivor, titled her 1923 book "Events of the Tulsa Disaster."
Then-Tulsa Star publisher and editor A.J. Smitherman, whose home was destroyed in 1921, crafted a descriptive poem about the experience called "The Tulsa Race Riot and Massacre."
And long before current Tulsa Mayor G.T. Bynum normalized the use of massacre, former Oklahoma Gov. Frank Keating, who spearheaded the Tulsa Race Riot Commission in 1997, was once quoted as saying,"This is not a riot, this is an assault on the black community."
But despite diligent reexamination of the motivations and actions of citizens involved in the encounter to justify a name change, some observers have expressed concern that rewriting history would be both inaccurate and inflammatory.
"The riot was a disgrace and a tragedy and stain on our state," wrote Donald W. Rominger Jr. in a Tulsa World Letter to the Editor in response to a story about Vernon AME Church that referenced massacre. "But, it was not an 'indiscriminate and merciless slaughter' as the word 'massacre' is defined." Others, like Carol Mann, on the same topic, felt similarly.
"What bothers me is the renaming of it to be Tulsa Race Massacre," she wrote. "... renaming it a massacre seems to me to be unnecessarily inflammatory."
Johnson, however, pointed out that some critics had a point in that all of the violence at the time wasn't one-sided. Black residents did retaliate against white invaders.
"Part of the potential problem with using the word massacre is (saying) that it was a slaughter without resistance," he said. "In fact, there was robust but short-lived resistance by black men in the black community. But they were outnumbered and outgunned."
The present-day discussion over whether riot or massacre should be the official designation will continue to be debated.
Keeping the story of the event itself alive — even by way of analyzing its moniker — is ultimately paramount beyond grappling over terminology, Matthews said.
"That's the goal," he said. "That's what we want to actually have happen."
---
Tulsa Race Massacre: This is what happened in Tulsa in 1921
Tulsa Race Massacre: This is what happened in Tulsa in 1921
In 1921, white mobs invaded Greenwood and burned it down
A growing but divided city had tensions rising. How World War I influenced residents.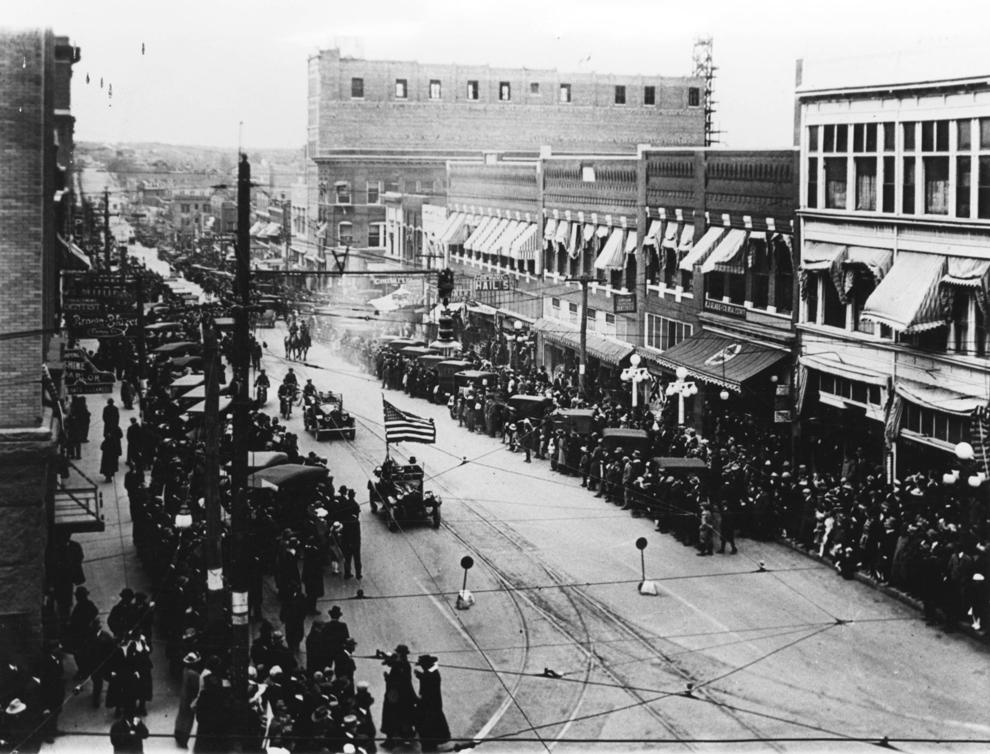 Key figures in 1921
Greenwood was defined by freedom and opportunity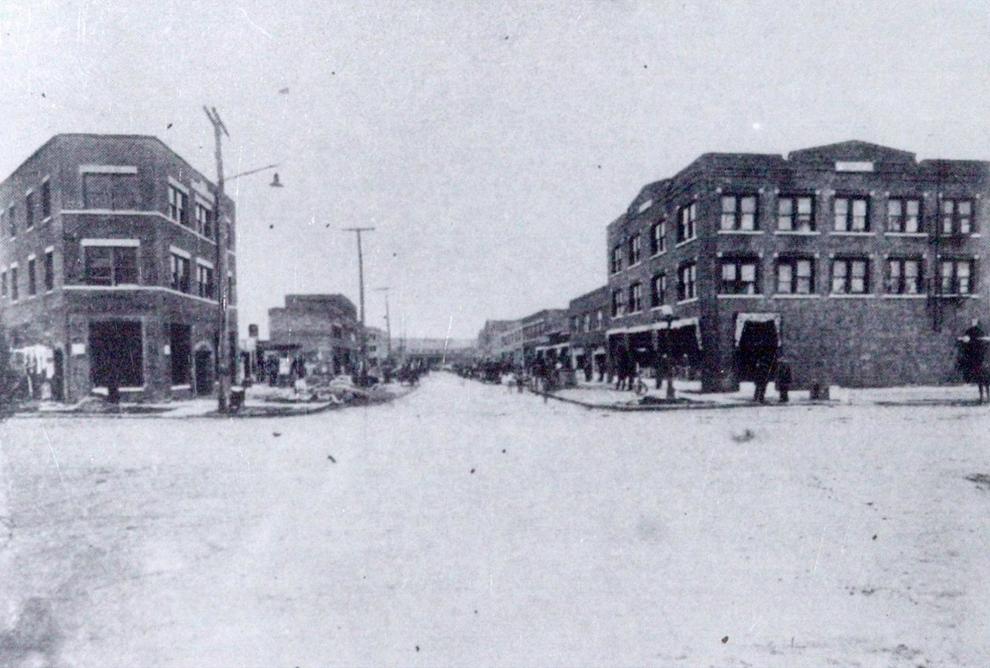 An encounter on an elevator and concerns about a lynching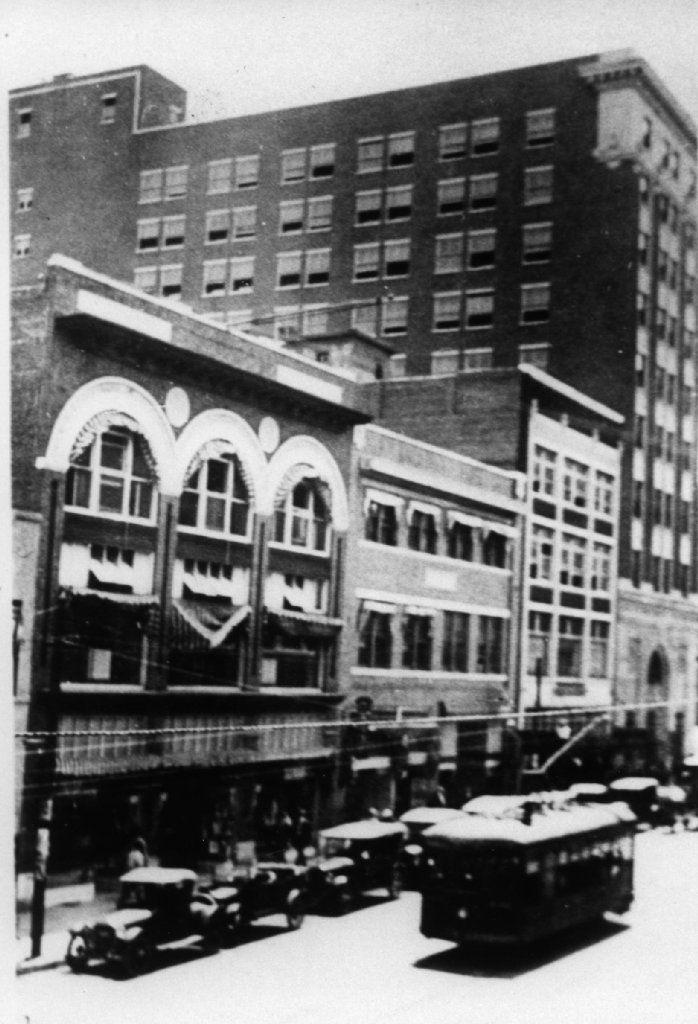 Tulsa Tribune article cited for sparking massacre
Dick Rowland's life threatened while jailed as crowd gathers outside
Tulsans take up arms and there are issues with special deputies
Fighting begins in Greenwood and the neighborhood is soon overrun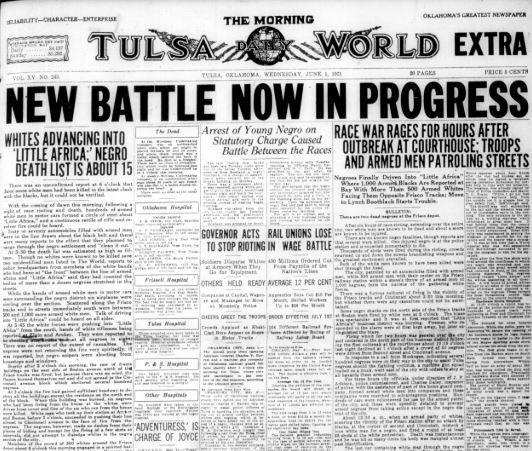 Mobs won't let firefighters douse the flames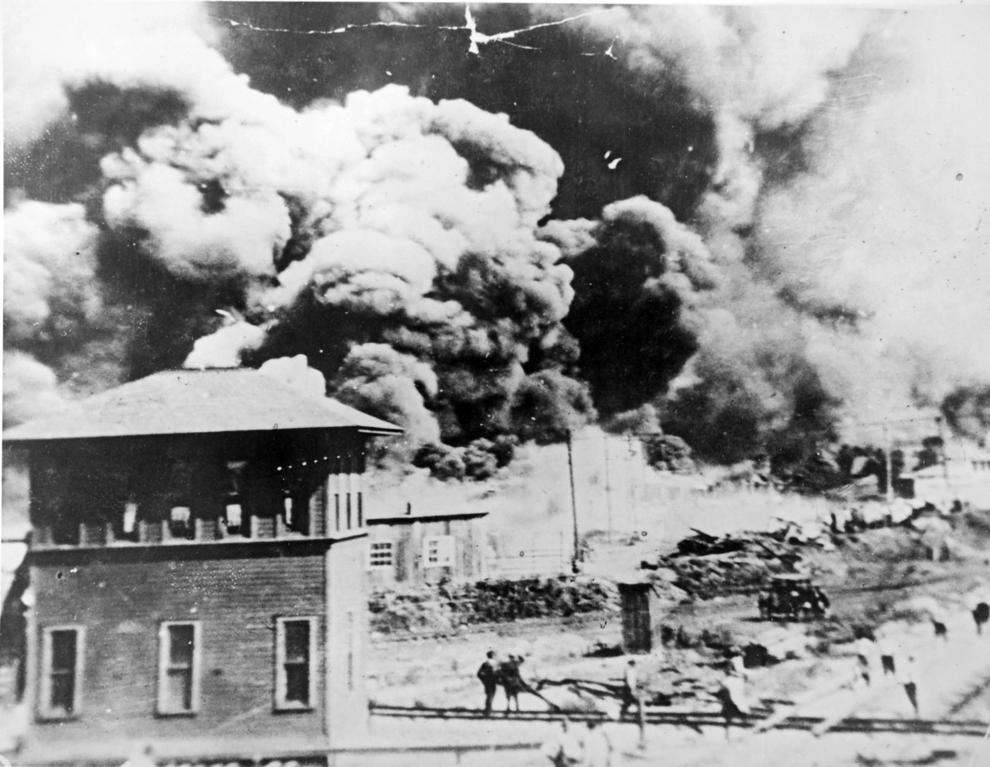 Airplanes flew over Greenwood as it was attacked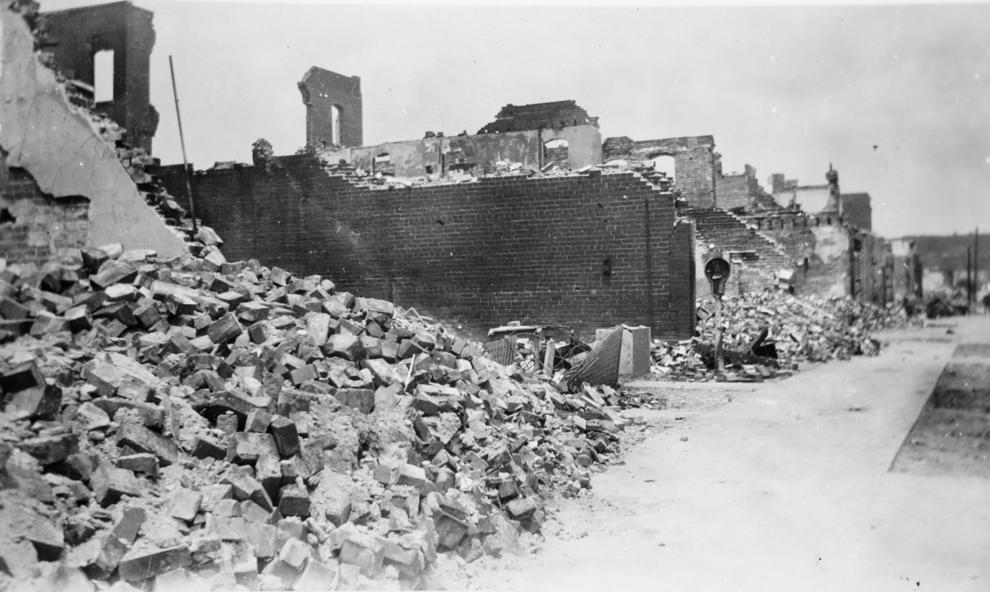 National Guard called in, denies report that machine guns were used to kill dozens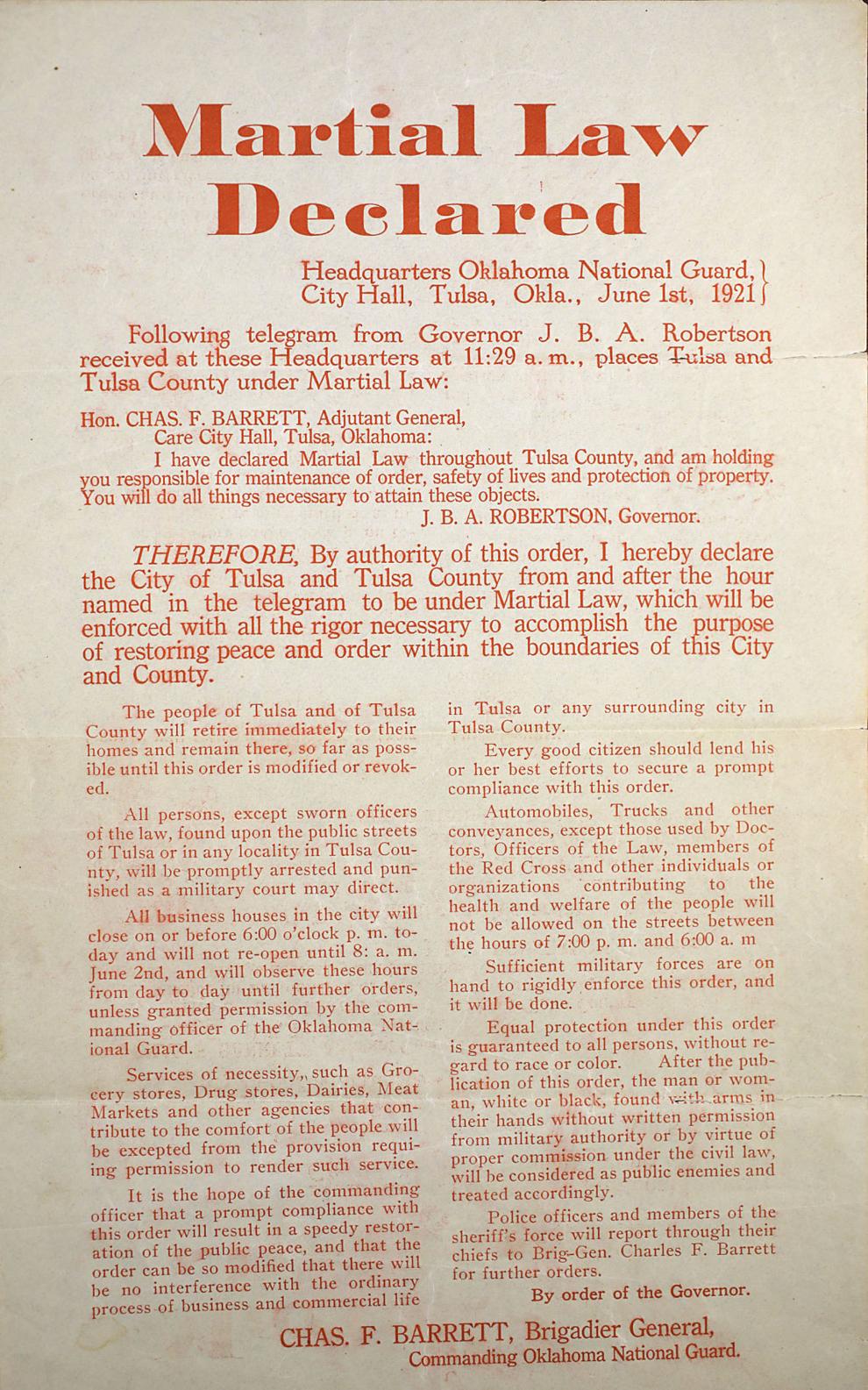 Dr. A.C. Jackson was killed as he tried to surrender in his front yard
Death toll remains unknown; search for graves continues today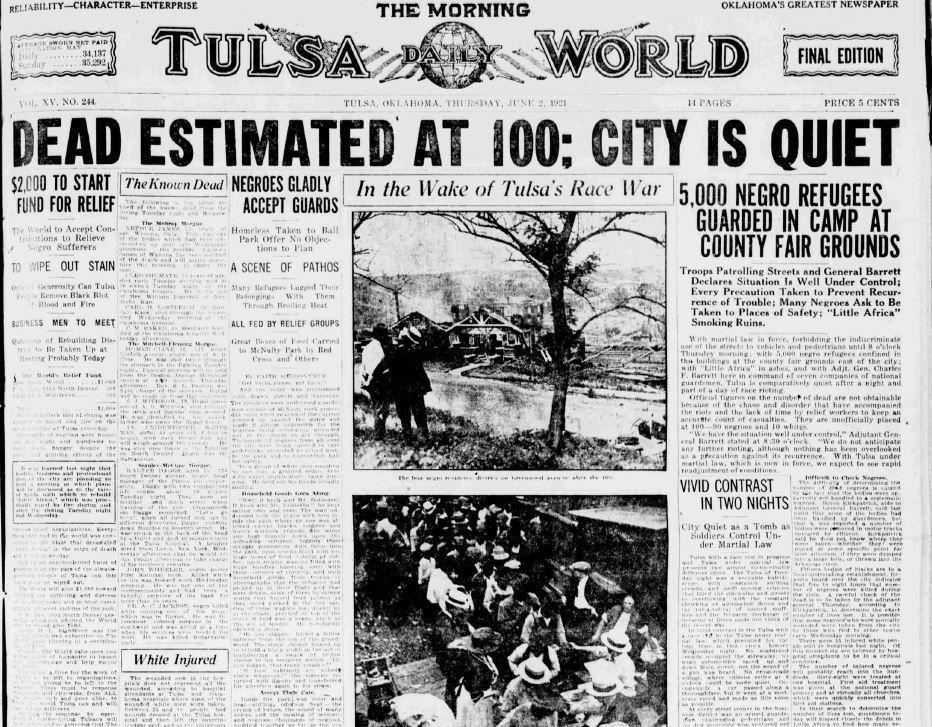 Black Tulsans were marched through the streets and detained at camps throughout city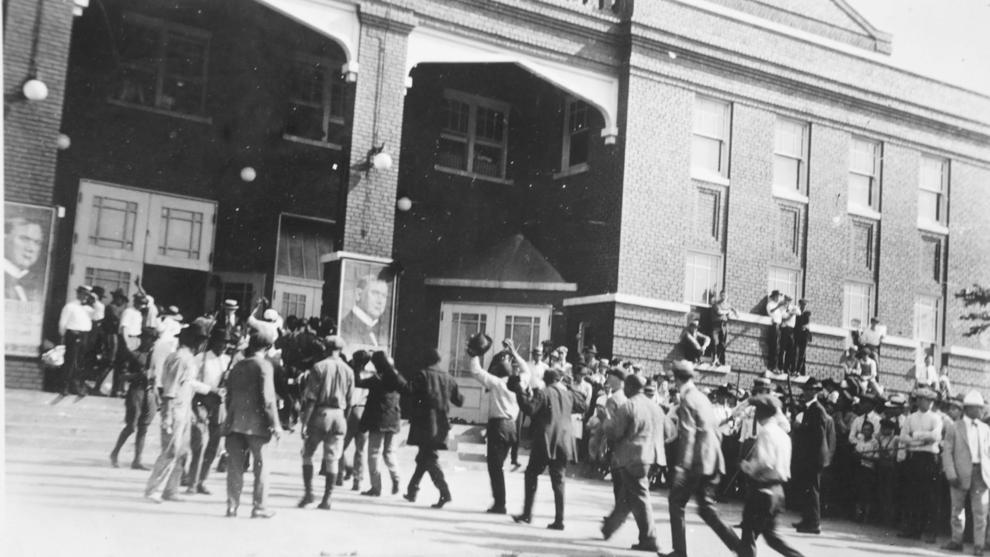 Red Cross reports the massive devastation in Greenwood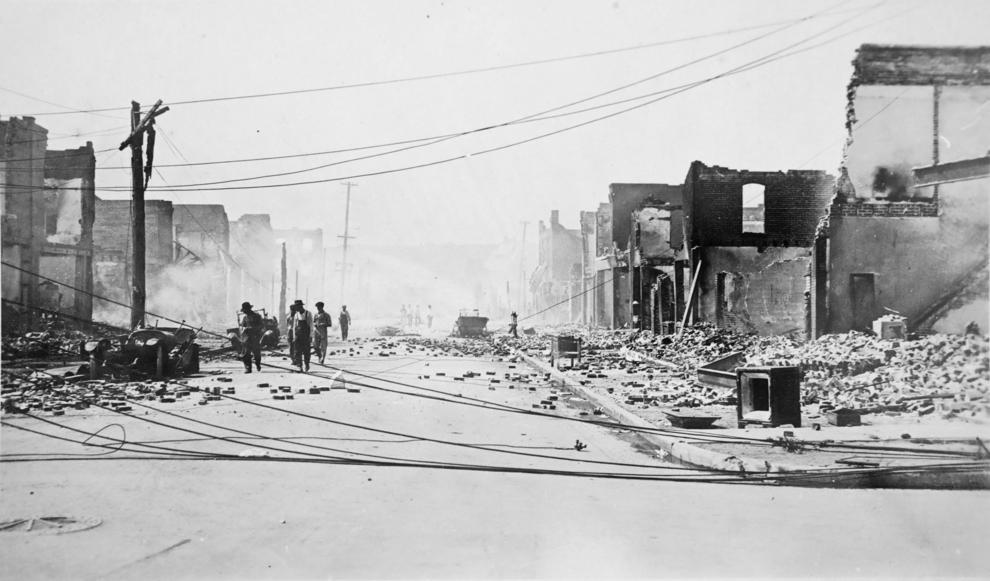 Key locations in Tulsa during the 1921 Race Massacre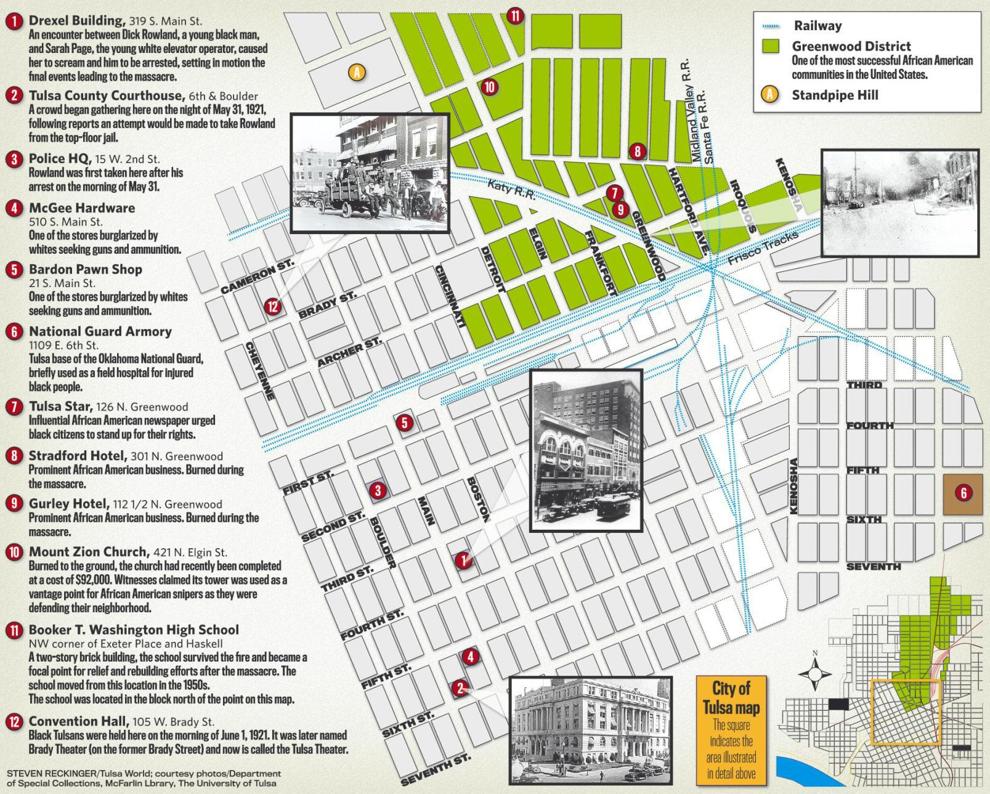 Mount Zion Baptist Church was burned down but, like Greenwood, persevered and rebuilt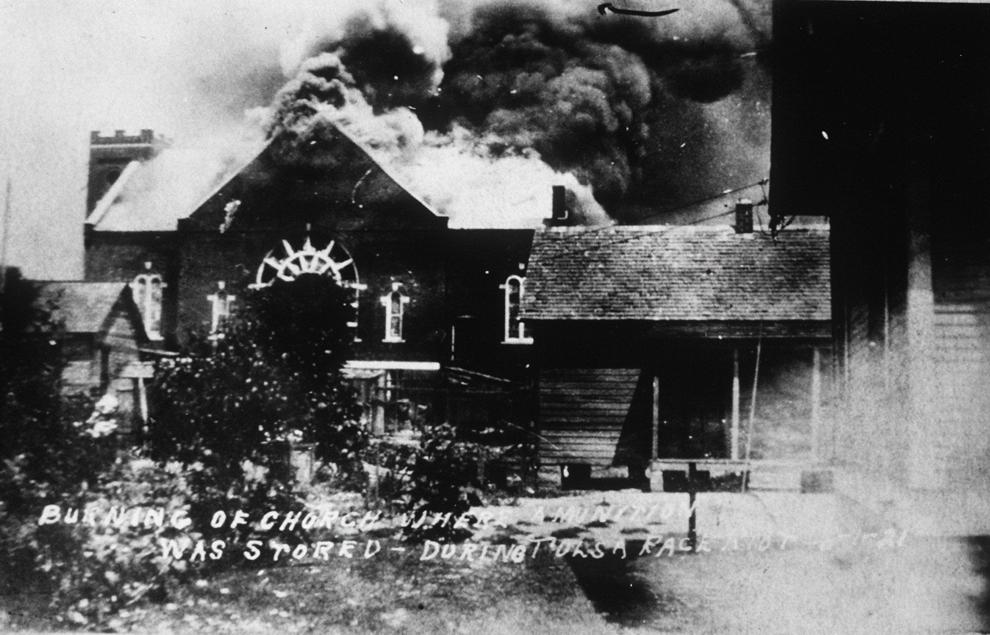 Tulsa Race Massacre: Quotes from survivors, officials and others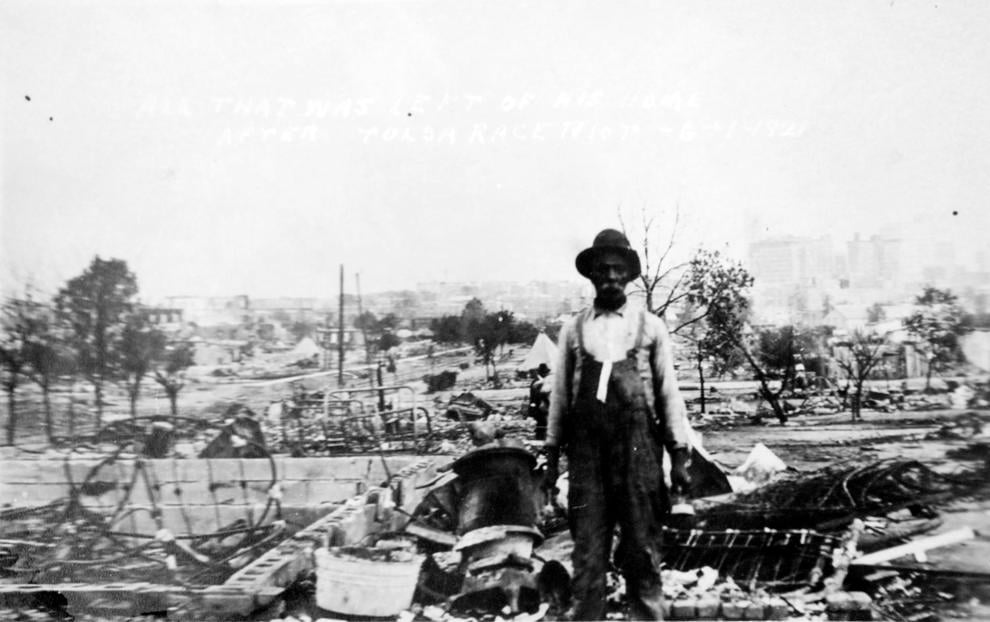 Tulsa Race Massacre: Recommended reading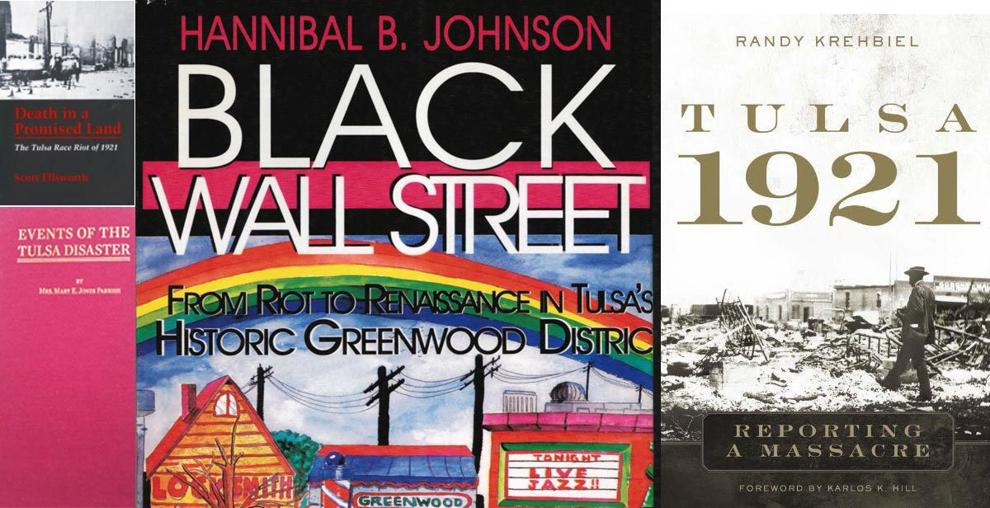 Tulsa Race Massacre / The Tulsa World Library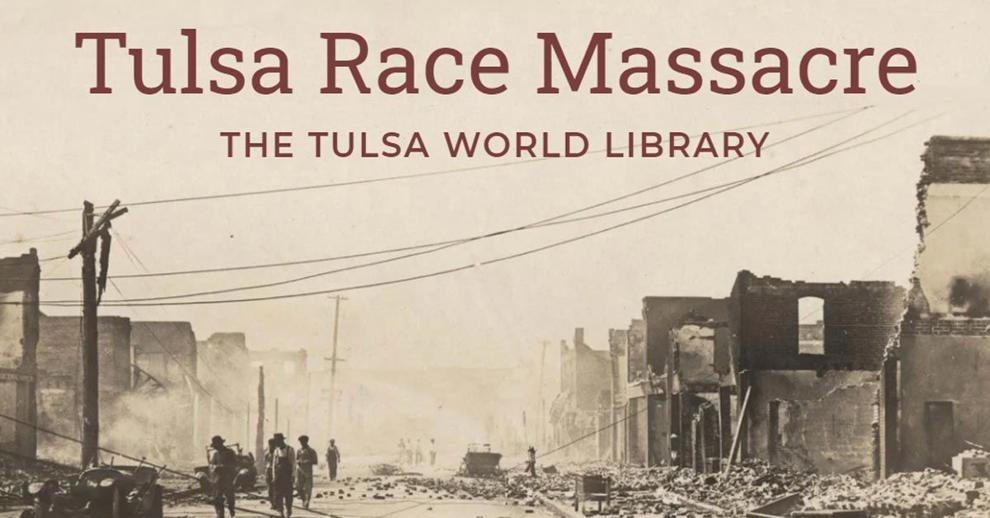 Tulsa Race Massacre: Was 1921 the first aerial assault on U.S. soil?
---
"The first time Americans were terrorized by an aerial assault was not Pearl Harbor," a CBS News story says leading up to coverage this weekend of the 1921 Tulsa Race Massacre.
"Scott Pelley reports on a race massacre in which an estimated 300 people, mostly African American men, women and children, were killed, and aircraft were used to drop incendiary devices on a black neighborhood in Tulsa, Oklahoma. The Greenwood Massacre of 1921 has been largely ignored by history, but Pelley finds a Tulsa community seeking to shed more light on what's been called the worst race massacre in history," a preview reads for a "60 Minutes" story airing 6 p.m. Sunday on CBS.
Context for viewers: Six airplanes circled the Greenwood area during the morning hours of June 1.
What they were doing, and why there were so many, has long been a matter of passionate debate. Many people believe they were used to shoot at people on the ground and bomb Greenwood.
Officials said the small craft, generally thought to be two-seat, single-engine Curtis "Jenny" biplanes, were merely keeping track of activities on the ground and relaying the information through written messages dropped in weighted metal cylinders attached to streamers.
To what extent this explanation was initially challenged is unclear, but in October 1921 the Chicago Defender published a story in which it said Greenwood had been bombed under orders of "prominent city officials."
The story cited a Van B. Hurley, who the newspaper said had given a signed statement to Elisha Scott, a Kansas attorney.
Scott filed dozens of lawsuits on behalf of victims but doesn't seem to have ever entered the Hurley affidavit into the record. There is no record of a Van B. Hurley living in Tulsa around the time of the massacre or that anyone by that name ever belonged to the Tulsa police force.
But that doesn't mean the story did not have substance. Many people believed city officials were behind the burning of Greenwood, and the explanation that the squadron of planes was only used for surveillance struck some as suspiciously thin.
Certainly the planes had a great psychological impact on many. For example, Mary Jones Parrish wrote about them in her account, as did prominent attorney B.C. Franklin in his.
The Defender story said the planes dropped "nitroglycerin on buildings, setting them afire."
But nitroglycerin is an explosive, not an incendiary. It is also highly unstable and dangerous.
That has caused some to speculate that something like Molotov cocktails might have been used, or "turpentine balls" — rags soaked in flammable liquid and wrapped around the head of a stick.
There are several practical reasons why trying to light and throw incendiary devices from an open cockpit airplane of that era would seem a difficult, dangerous and even foolish idea.
But that doesn't mean it wasn't done.
---
---
Tulsa Race Massacre: This is what happened in Tulsa in 1921
Tulsa was home to one of the most prosperous African American communities in the country. Businesses flourished along Greenwood Avenue — dubbe…
Kendrick Marshall
918-581-8378
kendrick.marshall
@tulsaworld.com
Twitter:
@KD_Marshall