Ty Walker and his family own one of the best little food joints in Greenwood, Wanda J's Next Generation Restaurant.
It's about 200 feet from the Greenwood Rising history center, which sits at the corner of Greenwood Avenue and Archer Street. When the facility opens Wednesday as part of the 1921 Tulsa Race Massacre centennial commemoration, tiny Wanda J's will be bursting with business.
"Of course it is going to benefit us because it will drive the traffic," Walker said.
That's one aspect of the Greenwood Rising story — a positive one — but it's not the whole story. The whole story, like so much in life, is complicated. And Walker — a former City Council and mayoral candidate — knows it.
"Well, that is kind of a hot-button issue," he said.
One hundred years after white mobs burned to the ground 35 blocks of Tulsa's thriving Black Greenwood neighborhood, killing at least 37 people and likely many more, not everyone in Tulsa's African American community is celebrating the $20 million project.
The only Black elected official in Tulsa city government says she's never setting foot in the place. A Black state representative who served on the commission overseeing the project resigned after losing faith in the organization. And the chairwoman of the Greater Tulsa Area African-American Affairs Commission has no plans to give Greenwood Rising the time of day.
"I have really made a commitment to myself to no longer be a victim of symbolic gestures of the killing, the oppression and just the horrible treatment of my ancestors," said Kristi Williams.
For Williams and City Councilor Vanessa Hall-Harper, who represents most of Greenwood, the history center is more window dressing that does nothing to address the injustices and economic hardships that resulted from the events of May 31-June 1, 1921.
"It is all a farce to make Tulsa appear not to be the racist-ass city that it is as we approach the centennial. That is all it is," said Hall-Harper.
"You have been neglecting Greenwood and this part of the community all these years — for decades. Now we are rushing in to do all these things because the eyes of the world are going to be on Tulsa, and particularly Greenwood."
Two years ago, the 1921 Tulsa Race Massacre Centennial Commission, joined by the George Kaiser Family Foundation and others, announced a fundraising campaign to pay for a major renovation of the Greenwood Cultural Center.
The GCC historically has been the place Tulsans went to learn about and discuss the triumphs and travails of the neighborhood.
But the Centennial Commission and the Greenwood Cultural Center board could not agree on the details of the project and the respective roles the organizations would play, so the Centennial Commission moved the project a few blocks south on Greenwood Avenue.
"It is no secret that folks were saying that these monies were going to go to the Greenwood Cultural Center," said state Rep. Regina Goodwin. "I took my name off of the Centennial Commission and was not participating because I thought there was an issue of integrity, and I think it has proven to be so."
Williams said no one should expect African Americans in north Tulsa to be of one mind when it comes to Greenwood Rising, but she believes it is crucial that the community come together to honor the legacy of those whose lives and property were destroyed 100 years ago.
"We have to follow that blueprint that those ancestors of Greenwood left us to create our own economy within this economy and to have a network (of) community between us as Black people," Williams said.
"We cannot be complicit with white supremacy. That is what they taught us. That is what they left us with, and we have gotten away from that."
State Sen. Kevin Matthews, chairman of the Centennial Commission, addressed critics' concerns about the project Thursday.
"In 2019, the commission engaged with members from the John Hope Franklin Center, Greenwood Cultural Center and the Tulsa Historical Society and held community input meetings to shape the narrative," Matthews said.
Several other organizations and people were consulted during the design phase, Matthews said, including the Rev. Robert Turner of Vernon African Methodist Episcopal Church and Tiffany Crutcher, founder of the Terence Crutcher Foundation.
"Over 50 north Tulsa community members and supporters met to strategically plan and create a vision for the centennial four years ago," Matthews said. "The overwhelming consensus was that the whole Greenwood story needs to be told in an experiential way — that is the first priority."
Matthews said Greenwood Rising was chosen as the flagship initiative after community members said it was not right that the National Museum of African American History and Culture in Washington, D.C., had a bigger exhibit on the history of Tulsa's Black community than existed here.
"The commission saw the centennial to be a start of a renaissance as opposed to a destination," he said.
Up and down the 100 block of North Greenwood Avenue, the heart of what was once known as Black Wall Street, many business owners are glad to have Greenwood Rising as their neighbor and plan to visit it when it opens.
"I want to see it — see how it looks, what's in it," said barber Willie Sells of Tee's Barber Shop. "We should go and see it, find out about our history. All of the children need to know."
Sells, who has been cutting hair at the shop for decades, said it's time for people to stop complaining about the project.
"You are always going to have somebody complaining about something," he said. "Whatever you do, somebody will find a way to complain about it."
Angela Robinson opened the Black Wall Street Corner Store & More last week. She's heard complaints that there was not enough community engagement during the development of Greenwood Rising but remains in support of the project.
"Anything that is going to allow us to rebuild this area I think is going to benefit us, absolutely," Robinson said.
Juandalyn Bailey, 66, and her daughter, Bertshalyn Bailey, 22, spent part of Wednesday on Greenwood Avenue, where the daughter runs a music studio, Musiq Community.
Greenwood Rising "is going to be a place where we can go and really get the history, hopefully the true history, of what happened 100 years ago," said Juandalyn Bailey. "We have been too quiet about it for 100 years, but now we have something that is concrete that will let us see, but not only us, but my children and my children's children.
"Yes, sir. I think it is a great thing."
Bertshalyn Bailey shares her mother's enthusiasm for the project but hopes it leads to more progress for the city.
"I think we need now to see how we can rectify with the people of Tulsa and not just build the building and open up the doors and tell the story," she said. "It's now time to actually put some kind of action to help people."
A couple of miles north, near Booker T. Washington High School, lifelong Tulsan Sheilia Fuselier was happy to give an effusive endorsement of the project.
"I think it is an excellent thing," Fuselier said. "Anything that is going to improve and bring quality and experience and more things to wake up the Black community in this particular area is an exciting thing because we have been neglected for so long in the north side of Tulsa.
"A lot of times they kind of separate north Tulsa from south Tulsa, like it's a different entity, but we're all as one. I just hope that this brings a change to everybody so everybody will be able to get along."
Walker, meanwhile, said that while he's happy to see Greenwood Rising opening next door to his business, he understands the concerns he hears from his customers and others in the community.
How will the project benefit north Tulsa residents? Could the money have been better spent on a community resource center or on a new business that would deliver jobs? Is this just another opportunity for the well-to-do to enrich themselves?
Matthews said the Centennial Commission is aware of those concerns and that already three north Tulsa residents have been hired to work at Greenwood Rising.
"The commission had traveled to Montgomery (Alabama) and realized that museums and memorials there led to economic growth and anticipates Greenwood Rising will do the same here," he said.
Tulsa Race Massacre: This is what happened in Tulsa in 1921
In 1921, white mobs invaded Greenwood and burned it down
A growing but divided city had tensions rising. How World War I influenced residents.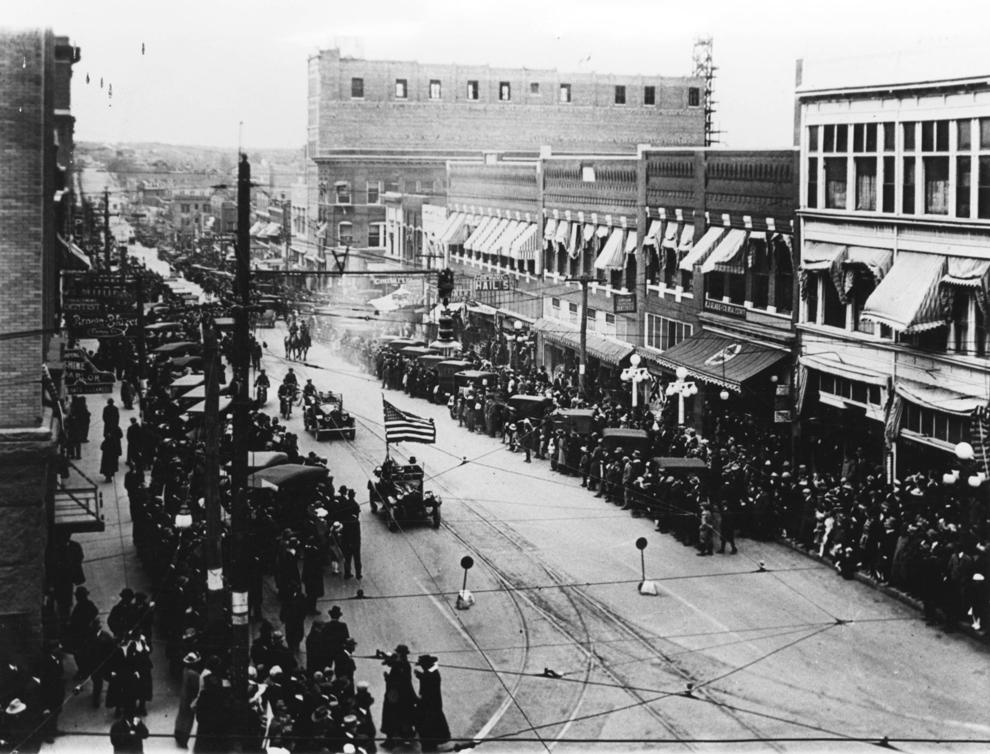 Key figures in 1921
Greenwood was defined by freedom and opportunity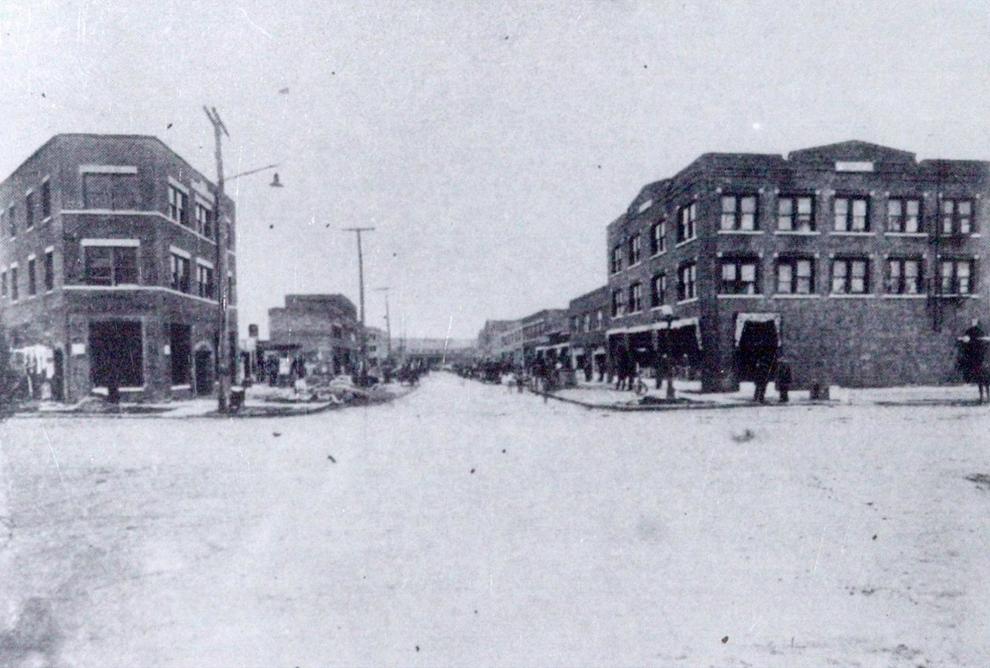 An encounter on an elevator and concerns about a lynching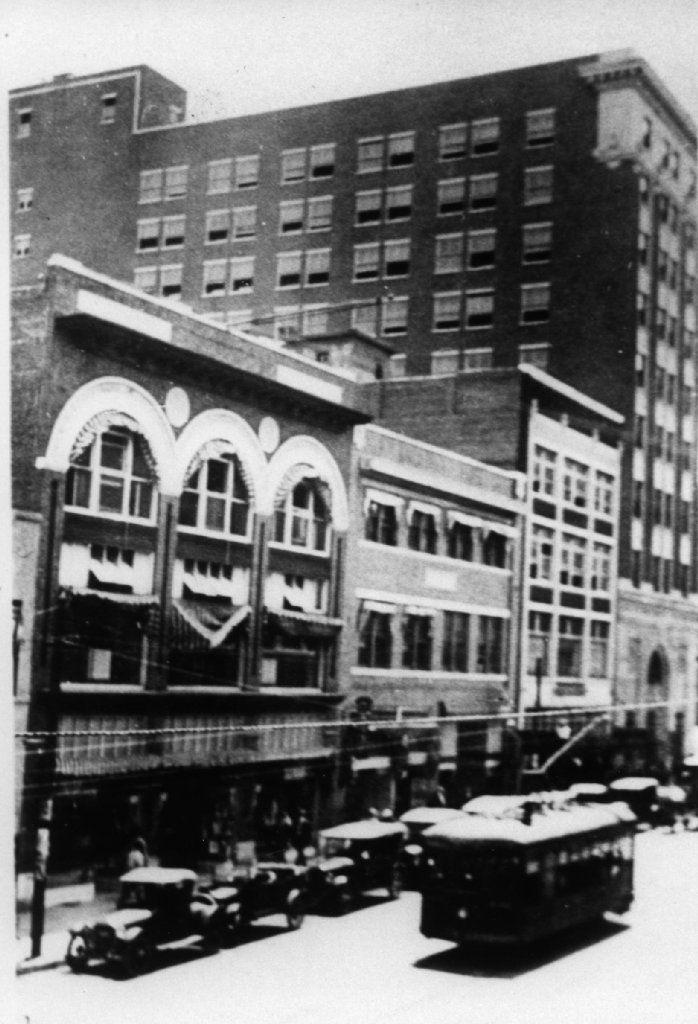 Tulsa Tribune article cited for sparking massacre
Dick Rowland's life threatened while jailed as crowd gathers outside
Tulsans take up arms and there are issues with special deputies
Fighting begins in Greenwood and the neighborhood is soon overrun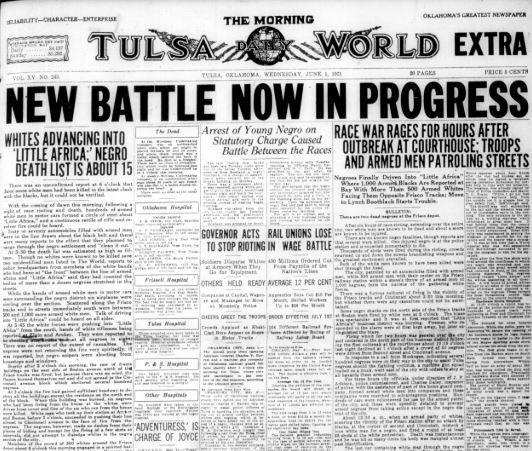 Mobs won't let firefighters douse the flames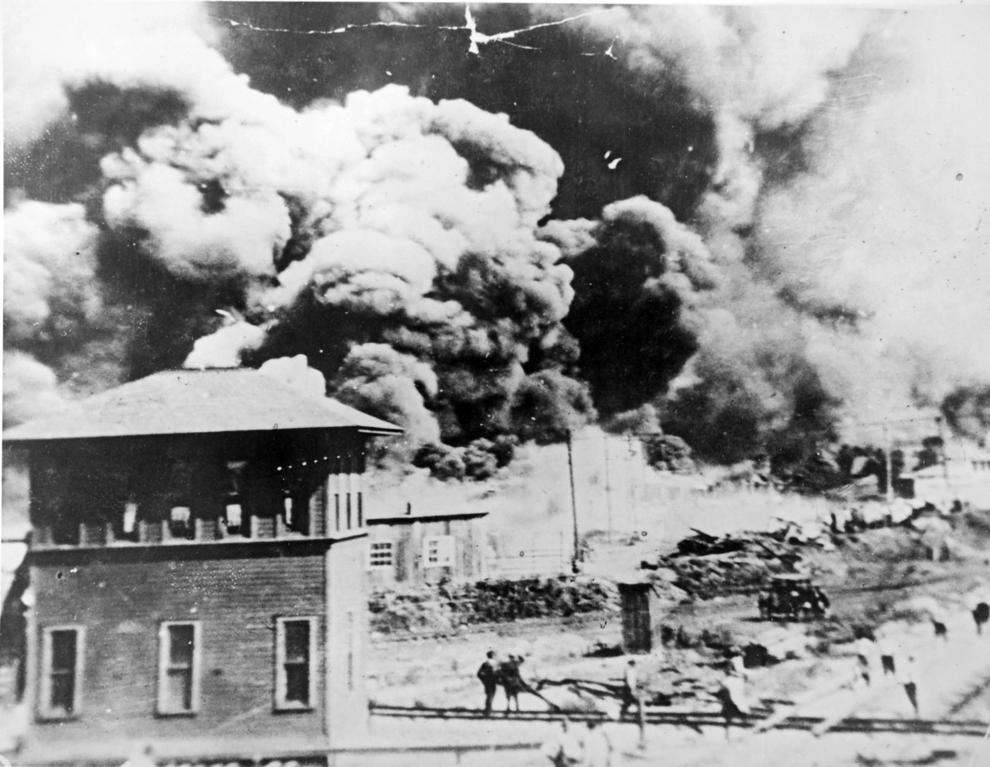 Airplanes flew over Greenwood as it was attacked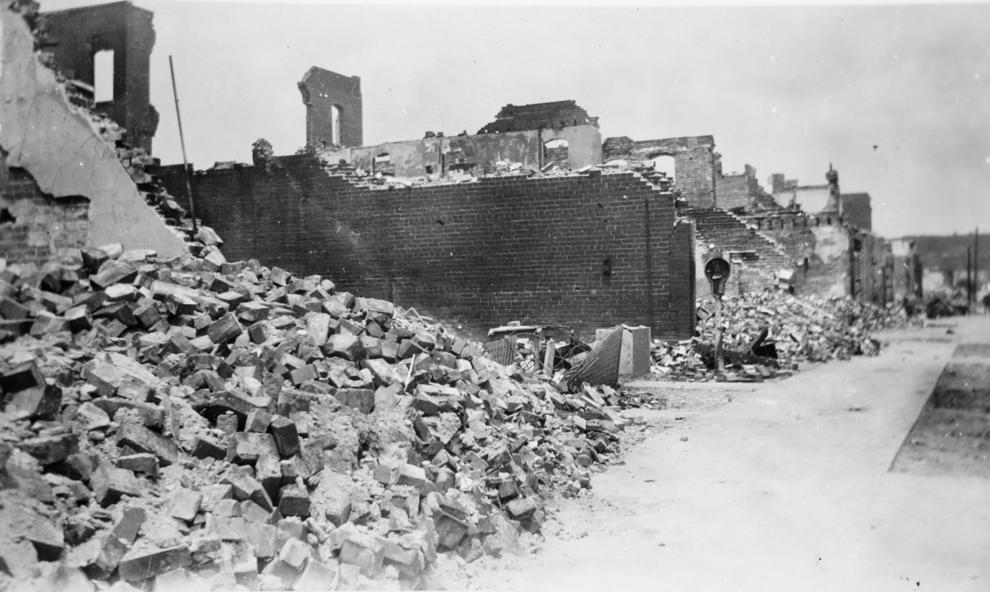 National Guard called in, denies report that machine guns were used to kill dozens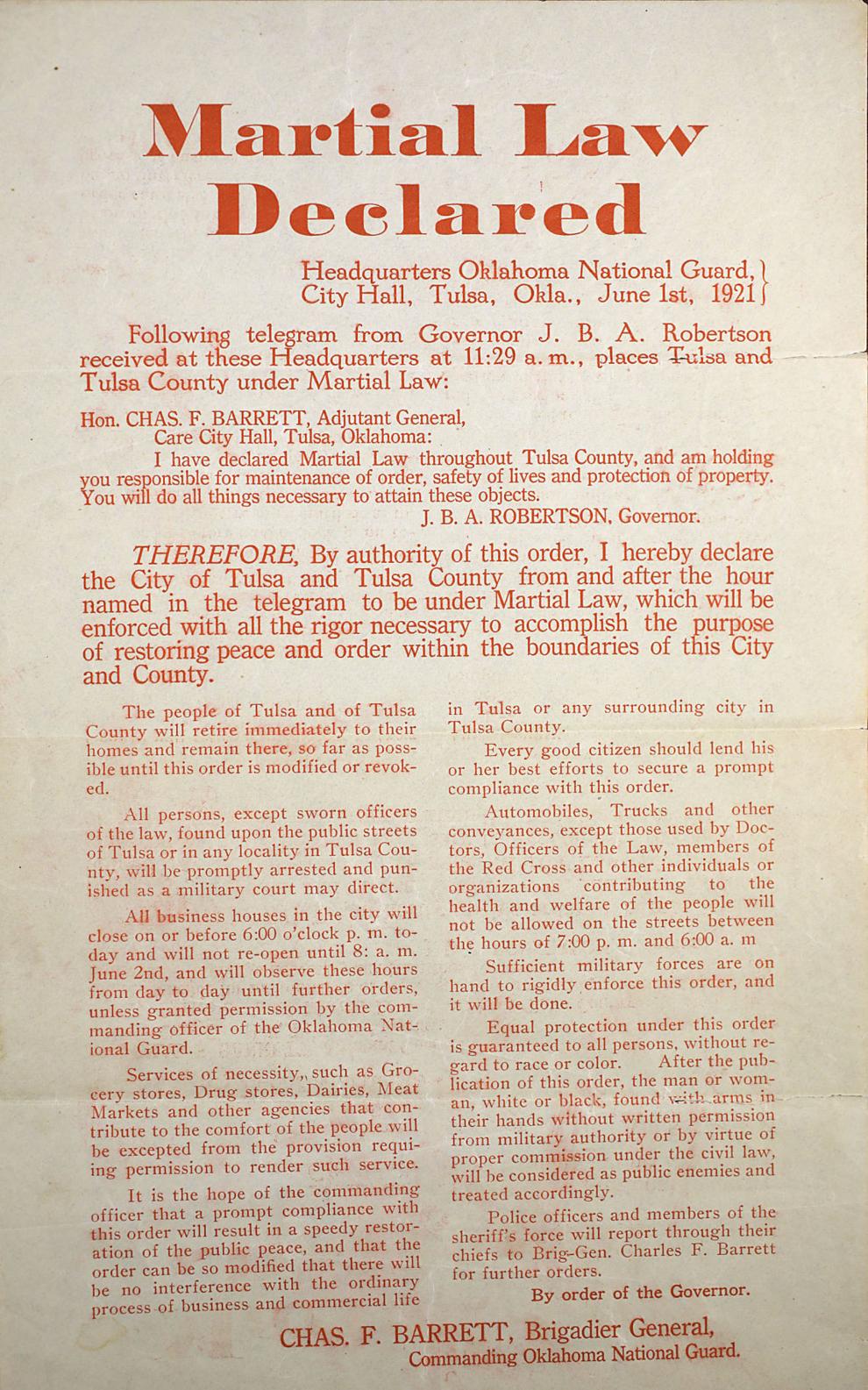 Dr. A.C. Jackson was killed as he tried to surrender in his front yard
Death toll remains unknown; search for graves continues today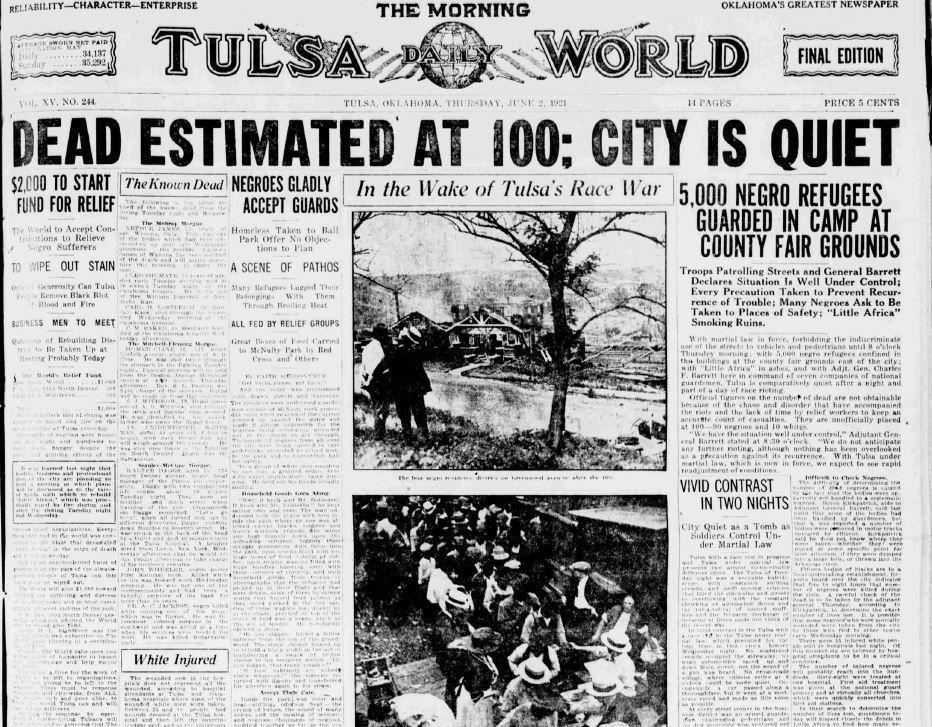 Black Tulsans were marched through the streets and detained at camps throughout city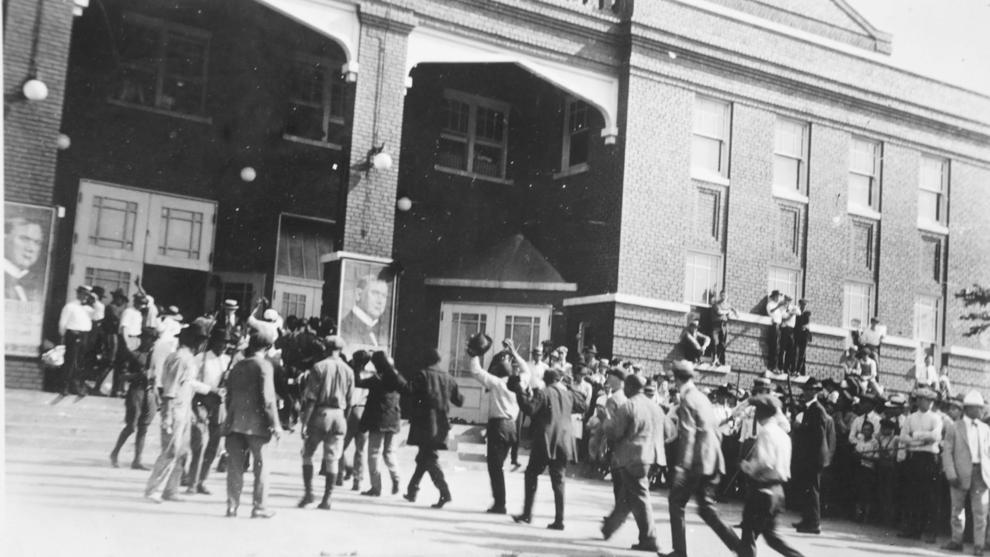 Red Cross reports the massive devastation in Greenwood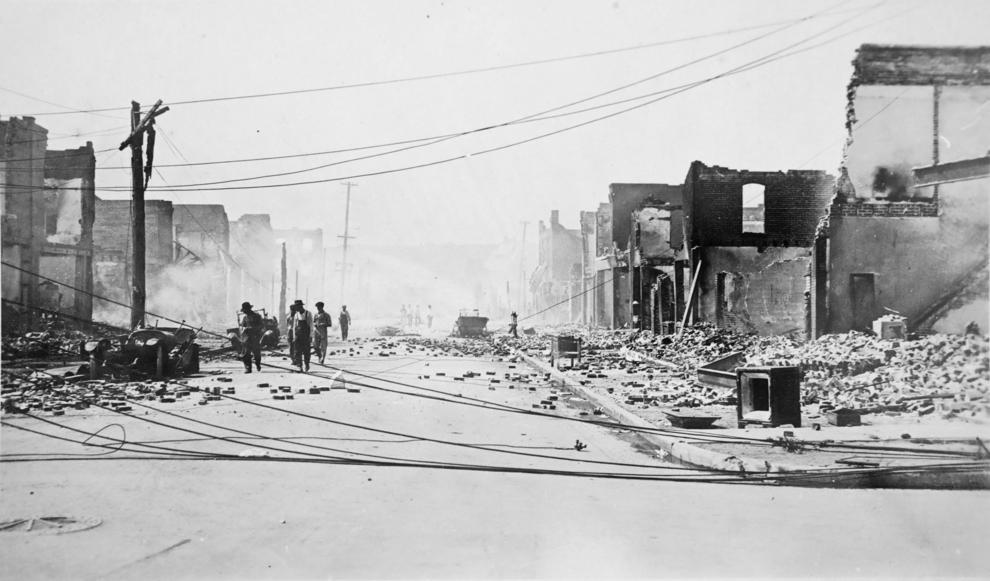 Key locations in Tulsa during the 1921 Race Massacre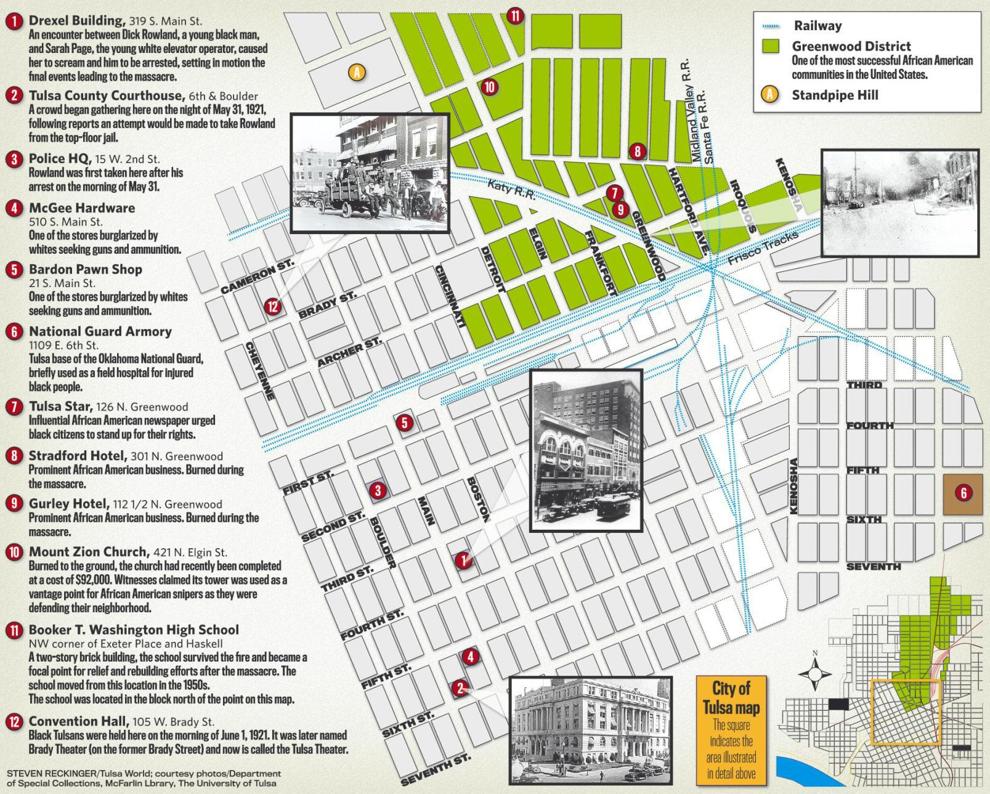 Mount Zion Baptist Church was burned down but, like Greenwood, persevered and rebuilt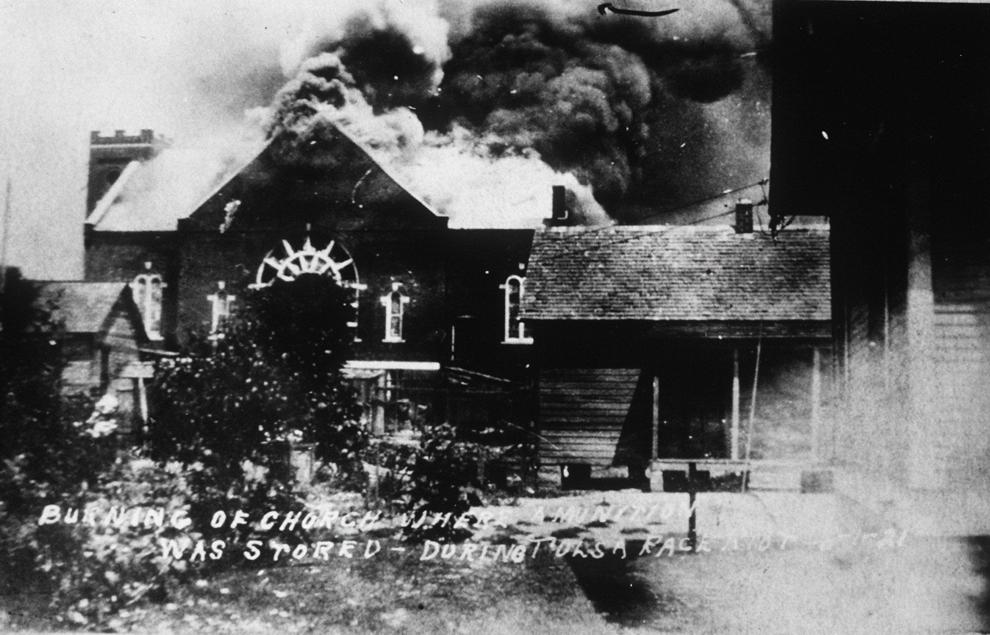 Tulsa Race Massacre: Quotes from survivors, officials and others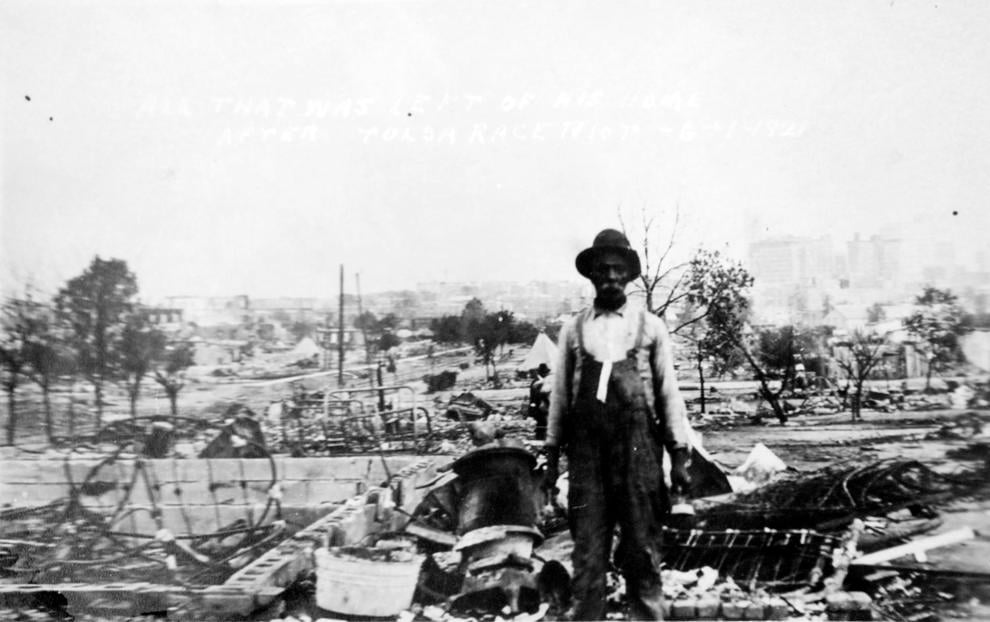 Tulsa Race Massacre: Recommended reading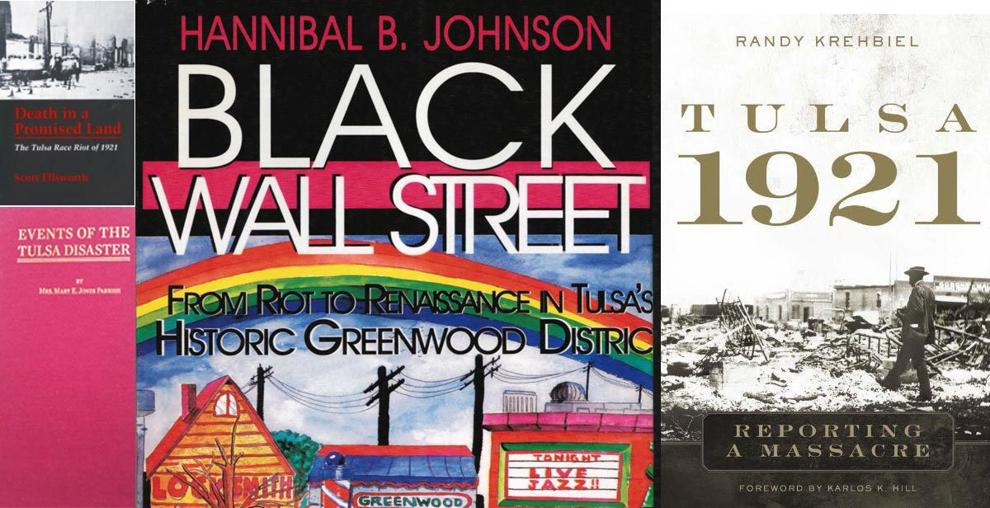 Tulsa Race Massacre / The Tulsa World Library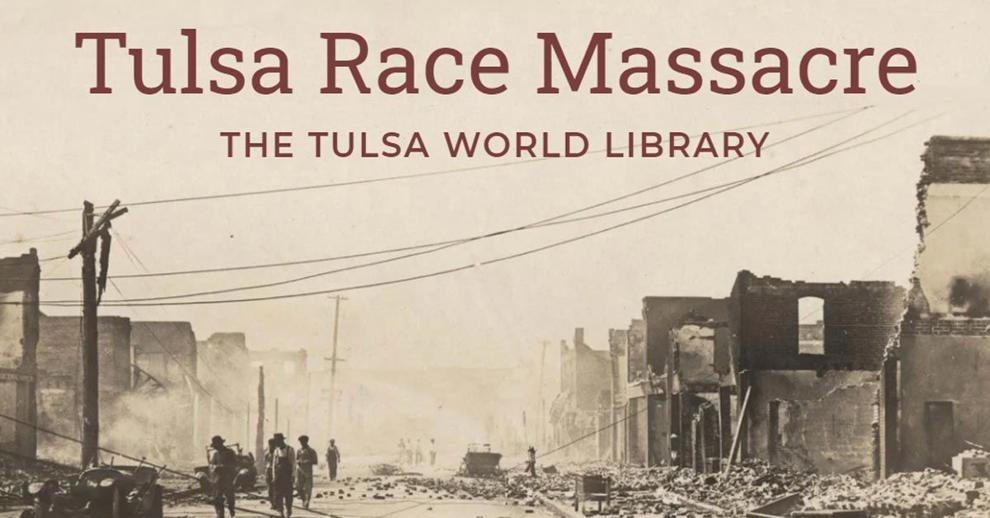 Tulsa Race Massacre: Was 1921 the first aerial assault on U.S. soil?
---
"The first time Americans were terrorized by an aerial assault was not Pearl Harbor," a CBS News story says leading up to coverage this weekend of the 1921 Tulsa Race Massacre.
"Scott Pelley reports on a race massacre in which an estimated 300 people, mostly African American men, women and children, were killed, and aircraft were used to drop incendiary devices on a black neighborhood in Tulsa, Oklahoma. The Greenwood Massacre of 1921 has been largely ignored by history, but Pelley finds a Tulsa community seeking to shed more light on what's been called the worst race massacre in history," a preview reads for a "60 Minutes" story airing 6 p.m. Sunday on CBS.
Context for viewers: Six airplanes circled the Greenwood area during the morning hours of June 1.
What they were doing, and why there were so many, has long been a matter of passionate debate. Many people believe they were used to shoot at people on the ground and bomb Greenwood.
Officials said the small craft, generally thought to be two-seat, single-engine Curtis "Jenny" biplanes, were merely keeping track of activities on the ground and relaying the information through written messages dropped in weighted metal cylinders attached to streamers.
To what extent this explanation was initially challenged is unclear, but in October 1921 the Chicago Defender published a story in which it said Greenwood had been bombed under orders of "prominent city officials."
The story cited a Van B. Hurley, who the newspaper said had given a signed statement to Elisha Scott, a Kansas attorney.
Scott filed dozens of lawsuits on behalf of victims but doesn't seem to have ever entered the Hurley affidavit into the record. There is no record of a Van B. Hurley living in Tulsa around the time of the massacre or that anyone by that name ever belonged to the Tulsa police force.
But that doesn't mean the story did not have substance. Many people believed city officials were behind the burning of Greenwood, and the explanation that the squadron of planes was only used for surveillance struck some as suspiciously thin.
Certainly the planes had a great psychological impact on many. For example, Mary Jones Parrish wrote about them in her account, as did prominent attorney B.C. Franklin in his.
The Defender story said the planes dropped "nitroglycerin on buildings, setting them afire."
But nitroglycerin is an explosive, not an incendiary. It is also highly unstable and dangerous.
That has caused some to speculate that something like Molotov cocktails might have been used, or "turpentine balls" — rags soaked in flammable liquid and wrapped around the head of a stick.
There are several practical reasons why trying to light and throw incendiary devices from an open cockpit airplane of that era would seem a difficult, dangerous and even foolish idea.
But that doesn't mean it wasn't done.
---
---
Tulsa Race Massacre: This is what happened in Tulsa in 1921
Tulsa was home to one of the most prosperous African American communities in the country. Businesses flourished along Greenwood Avenue — dubbe…