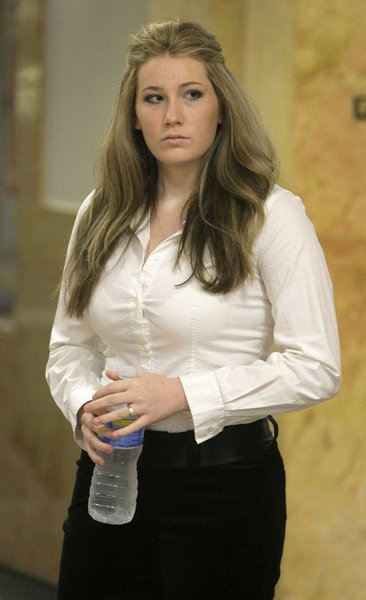 Amber Hilberling waits in a jail cell to find out how much more of her life she'll spend in prison.
Her husband is gone; the state has convicted her of killing him via the reckless shove that caused him to fall from their 25th-floor apartment window.
The Tulsa County jury that convicted her of second-degree murder imposed a sentence of 25 years in prison, and curious spectators of the trial - of which there are legion - seemed to see that as a message.
Twenty-five years for a snap decision made on the 25th floor, during a heated argument that took the life of a young man.
Whether you think Tulsa District Judge Kurt Glassco should modify that sentence at a hearing Tuesday - when he could reduce the time she spends behind bars - likely depends on how you view 21-year-old Hilberling, who surely has become a notorious, hotly debated figure in Tulsa since the day of her husband's death.
Aside from the volatile young couple, no one really knows what happened on June 7, 2011, at the University Club tower.
But that hasn't stopped anyone from speculating.
Scenario No. 1: She is a cold-blooded killer who didn't care what happened to her husband.


This appeared to be the prevailing theory in the court of public opinion when Hilberling started showing up to court hearings in fitted jackets, full makeup and a mane of blown-out blonde tresses. Some Web-commenting legal eagles paid more attention to her outfits than the evidence.
On various websites, they posted photos of her with superimposed text such as: "Hide yo' husband!"
Many felt the prosecution had a slam dunk. Hilberling didn't show remorse, they said, and her husband sought an emergency protective order after ending up in the emergency room with injuries after she threw a lamp at him.
He was packing his bags, trying to get away from his abusive wife, family and friends testified. His mother told a local news station after his death: "When you're trying to leave, that's the most dangerous time."
The "Put Amber Hilberling Away for Life" group has nearly 2,000 "likes" on Facebook.
Many, including family and friends of Joshua Hilberling, are blunt in their assessment of her guilt:
"She PUSHED him, she said it herself... don't get me started on those fake alligator tears ... The jury found her guilty in 3 HOURS!"
They cite her failed drug tests while out on bond as proof of her disregard for the law. They claim her stepfather, a local plastic surgeon, is trying to use his money to influence legal decisions and media coverage.
Two jailhouse "snitches" testified during the trial that Hilberling made frequent jokes about pushing people out windows and told them she "pushed the bastard."
Prosecutors presented witnesses who testified they heard sounds of a struggle in the apartment, including stomping feet headed toward the area of the window. Their theory seemed to be that Hilberling, seven months' pregnant, stampeded her 6-foot-5, 220-pound husband in a fit of rage, pushing him through the glass.
When defense attorneys put Hilberling on the stand to testify that she pushed her husband in self-defense, at least one spectator whispered, "Go, girl!" the moment Assistant District Attorney Michelle Keely began her cross-examination.
Keely made it clear to jurors they did not need to believe Hilberling intended to kill her husband to convict her of second-degree murder - only that her act, "imminently dangerous to another person and evincing a depraved mind," resulted in his death.
At one point during the cross-examination, Keely used purposeful language to describe the outfit that Hilberling was photographed in at the police station in the hours after her husband's death: sweatpants and a white tank top. Joshua Hilberling's blood was on her hands.
Keely called the tank top a "spouse beater."
The defense objected. Keely argued that's what those shirts are commonly referred to, though the more common pop culture slang is "wife beater."
The comment stayed on the record.
Scenario No. 2: It was self-defense; Amber Hilberling is innocent.


There are pieces of evidence in any trial jurors may not see because of rulings by the judge in an attempt to avoid unfairly prejudicing the jury toward either side.
Among several pieces of evidence that Glassco denied use of at trial is a military police report taken at Eielson Air Force Base in Alaska, where Josh and Amber Hilberling lived in January 2011, a few months before they returned to Tulsa.
The couple had married in the summer of 2010 when she was 18, shortly after Joshua Hilberling finished boot camp. They moved to the base in Alaska in October.
On Jan. 2, 2011, base officers took a report from Amber Hilberling alleging her husband had assaulted her.
She told the responding officers she and her husband began fighting after she wanted to order takeout. He said no and "began calling her names," the report states.
She started making dinner, "he got into her face, knocking her drink and dinner plate out of her hand" and "grabbed her right breast and squeezed it, breaking blood vessels and bruising her."
The incident took place in the first trimester of her pregnancy. The report states officers took photos of the wounds for documentation and took Josh Hilberling into custody. No charges were filed.
Five months later, Joshua Hilberling was discharged from the Air Force due to a misconduct for drug use, records show. The World requested both records under the Freedom of Information Act.
The "Amber Hilberling is Innocent" Facebook page - with fewer than 200 "likes" - has discussed those records at length. Supporters have also posted pictures of text messages saved on Amber Hilberling's phone, reportedly from conversations with her husband the day before his death.
Hilberling testified that their relationship was troubled and she had asked for a divorce. The text messages appear to support her claims:
Amber: "I don't believe anything you say anymore, so please don't waste your time."
Josh: "Ten min is all I ask for ill be home!!!"
Amber: "This is not your home, you're just staying here."
Josh: "I wanna have a home with you I'm sorry I been such a s--t I'm done of complaining and always trying to spend my time with my friends when I should spend it with you."
The next day, he broke a smaller window in the University Club tower apartment throwing a laundry basket at her. While a glass repairman inspected the damage from a balcony, the couple tussled again - this time fatally.
Court records filed by her defense attorneys last week include letters from her family and friends who offer an explanation, saying his continued partying was the source of their conflict.
His bags were packed to attend an outdoor music festival in Tennessee, where he planned to use and sell drugs, they said. He was leaving to go party with friends, not to get away from his "abusive" wife, they allege.
The motion and letters ask Glassco to suspend a portion of her sentence.
Amber Hilberling testified that as the argument escalated that afternoon, her husband grabbed her by the shoulders, she pushed him off of her, and he fell backward through the window. He landed on the pavement feet and hands first, his broken body twisted and crumpled.
The tone of the "Amber is innocent" Facebook page has changed from posting sweet pictures of the good-looking young couple in better days to photos of Joshua Hilberling at parties before his death.
They are sprinkled among photos of the couple's cherubic toddler son, Levi, born while his mother was out on bond from jail. Amber Hilberling's mother and stepfather are the child's legal guardians.
Scenario 3: A tragedy, but what is fair?


Prosecutors attacked Hilberling's claims of self-defense at trial with laser-like focus.
Why didn't she claim self-defense on a video taken by police following Josh Hilberling's death, Keely argued.
The video was a key piece of the prosecution's case against Amber Hilberling, one the defense sought to suppress.
It's a recording taken at the Tulsa Police Department of Hilberling confiding in her grandmother just hours after her husband's death, reportedly filmed without their knowledge.
The video was made public because of an Open Records Act request filed by the World.
At one point on it, she tells her grandmother, Gloria Bowers, that her dead husband's parents were right: "They kept saying if we stayed together, I'm going to kill him."
Bowers told her granddaughter: "Patrick and them, you know they are going to come after you. ... You've got to fight for that one (their unborn child) and for yourself."
Hilberling wailed in response: "But who's going to fight for Josh?"
The alternative charge that prosecutors filed against her was manslaughter, which in simple legal terms means someone is responsible for an act of violence that results in the death of another, without malice.
Her husband's death was clearly an accident, defense attorneys argued in court records filed Thursday. Evidence presented at trial showed she was overcome with shock and grief - so much so that first responders worried she might jump from the top of the parking garage where her husband's body was found, they argued.
The police video recording showed her in anguish: "I just want to die. I'm such a bad person. I don't deserve to live. I don't deserve to be a mom," she cried.
One piece of evidence the World requested to view and photograph was the contents of Joshua Hilberling's wallet, specifically a pawn ticket and some love notes exchanged between the couple.
Though the wallet and its contents were opened and examined by attorneys from both sides in open court, it was not entered into evidence and is therefore not a part of the public record, Glassco determined.
When Hilberling's attorneys, Jasen Corns and April Seibert, showed her the notes at trial, she smiled.
Her attorneys declined to reveal the contents of those notes, and Hilberling is not granting media interviews from jail until after the sentencing hearing, they said.
After Tuesday, there is prison, a messy behind-the-scenes probate battle and a pending lawsuit over the strength of the glass windows in the apartment tower.
And there is Levi, the little boy the Hilberlings dreamed of raising together, when they were young and foolish and in love.
After the jury verdict, reporters asked Keely, the prosecutor, what she would tell little Levi.
He will grow up knowing that there are consequences for actions, she said.
---
Sentencing hearing
The jury imposed a sentence of 25 years in Amber Hilberling's conviction for second-degree murder.
Under the law, Tulsa County District Judge Kurt Glassco cannot sentence her to anything longer than the jury's 25 years.
He does have the ability to "suspend" part or all of the sentence under Oklahoma law, so that Hilberling may spend fewer overall years in prison. She could get credit for the 15 months-plus she has spent in Tulsa Jail.
Should Glassco stick with the jury's decision, he could review the sentence in one year and choose to modify it then.
Otherwise, under Oklahoma law, she must serve at least 85 percent of her sentence - 21 years - before she would be eligible for parole.
---
Cary Aspinwall 918-581-8477
Original Print Headline: Public opinion paints 2 views of Hilberling