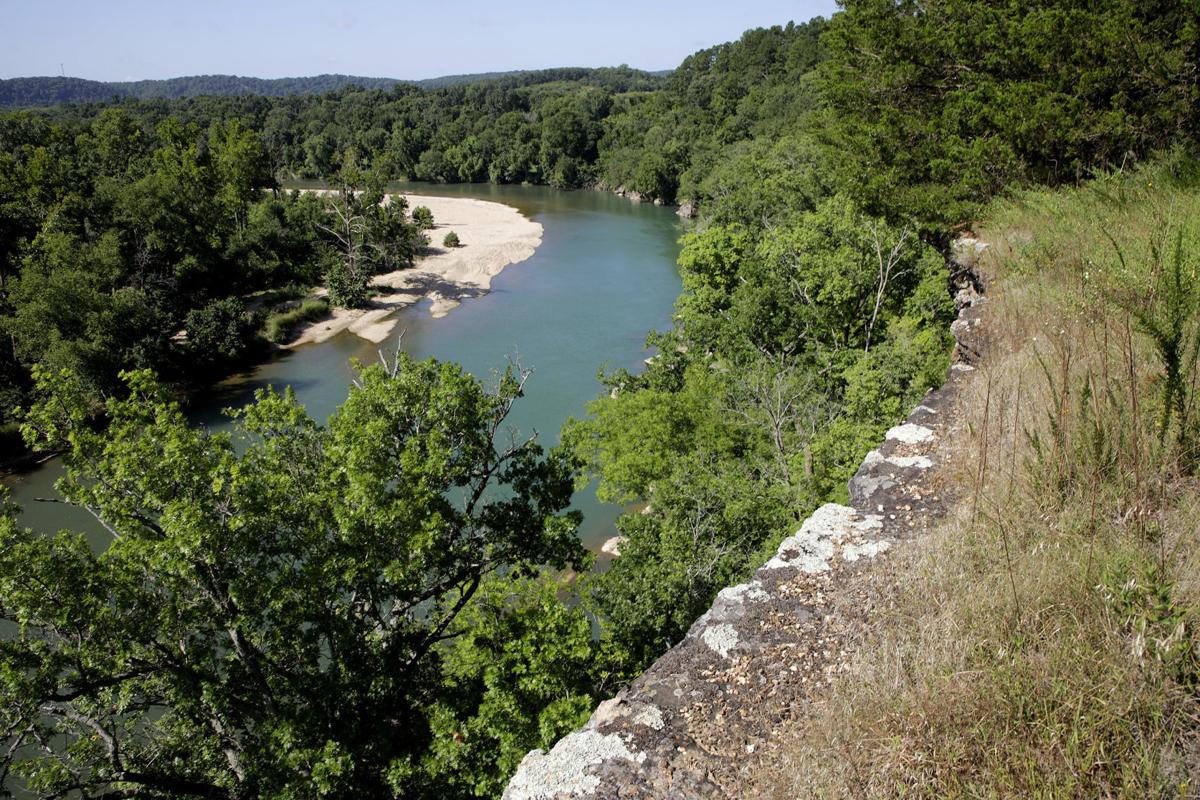 A new way to track water quality that will apply only to three Oklahoma scenic rivers was met with plenty of questions last week, and more are coming.
The new water quality standard, introduced to stakeholders Tuesday in a first-ever Zoom webinar hosted by the Oklahoma Water Resources Board, came with built-in challenges.
Based on a "critical condition" criterion mandated by a two-state agreement, the new standard is a complex concept further complicated by the coronavirus pandemic and restrictions on public meetings. But development of the new metric for the Illinois River and Flint and Barren Fork creeks is of high interest to environmental groups and others participating in the process.
Oklahoma Water Resources Board presenters on Tuesday spoke over web audio with a slide presentation. They took several breaks to address questions written online comment-style from participants as the meeting progressed. Some participants complimented the presentation with thanks for clarity. Others felt the new measurement falls short.
A series of three web-based meetings planned this month and next serve as a sort of continuing conversation, but it is a challenge, said Water Quality Standards Environmental Program Manager Rebecca Veiga Nascimento.
"We put a lot of work into trying to make it translatable for people, but the webinar is no substitute for an in-person stakeholder meeting and we wish we could be meeting with people face-to-face," Nascimento said. "We hope more people will participate in the webinars and we really do want to hear from people. That is so important to us."
The next meetings are set for 7 p.m. on Sept. 22 and Oct. 6 via a link found online at owrb.ok.gov. The timeline for the new regulation will have it up for public comment in December and January, followed by legislative processes through the year and the potential to become law in fall 2021.
The new measuring stick is the latest development in decades of conflicts and cooperative efforts between Oklahoma and Arkansas over phosphorus levels in the watershed that in the past turned the waters from clear to green and cloudy and exploded the growth of algae.
While water quality levels have improved, the rivers continue to regularly violate an agreed-upon 0.037 parts per million phosphorus level, and are listed under the Clean Water Act as impaired waters.
If the proposed new criteria were applied immediately, that status would not change, Nascimento said.
While a creation of a two-state commission and completion of a university study established that 0.037 ppm total phosphorus standard for the three scenic rivers in the Illinois River watershed, the OWRB still needed to lead a multi-agency, dual-states effort to scientifically define a yardstick for measuring water quality progress, or lack thereof.
The new measurement, based on flows labeled "critical condition," attempts to satisfy conditions set by the two-state Scenic Rivers Joint Study Committee established in 2013 and the resulting Joint Principals Agreement signed by the governors of both states in December 2016, Nascimento said.
OWRB and partner agencies focused on the definition for the past year and a half to identify methods and data available to provide a scientific grounding for the Oklahoma water quality standard, she said.
The resulting "total phosphorous criterion revision" creates a standard based on a 6-month rolling average phosphorous level, and sets both annual and 5-year limits on the number of times the 0.037 ppm level can be exceeded.
The streams would remain in impaired status if the limit is exceeded once in a year or three times in five years, according to the presentation.
A key new definition within the revised criterion is that it must be based on water samples collected during periods when the river flows are at "critical condition," Nascimento said.
The states' joint committee defined critical condition as "the conditions where surface runoff is not the dominant influence of total flow and stream ecosystem processes," she said.
While pollutants still will be monitored at all flow levels, and likely applied to other pollution reduction efforts by other agencies, only those readings taken at critical condition will figure into the new metric. Those will be collected when stream gauges are around 55% of average flow, according to the presentation.
That change raised alarms for some listening in to the presentation. High levels of phosphorous are known to run into the river due to fertilizer applications and agriculture practices, as well some urban uses along the river — so-called nonpoint source pollution.
Critics are skeptical of removing those samples from consideration in an overall water quality standard.
Mark Derichsweiler, legislative co-chair of the Sierra Club's Oklahoma Chapter, said removal of high-volume flow from the readings seems to cripple any strategy to improve water quality in the river and Lake Tenkiller.
"If you enforce only during critical flow and now will be excluding the high flow and storm flow, when you get the contributions of pollution from poultry and other agriculture across the watershed, it looks like all the costs and all the burdens to meet that standard are going to fall on the cities and the water treatment plants ... it gets the poultry companies off the hook." he said. "I don't know how this will lead to the river eventually meeting the standards or to protect the lake and the system as a whole."
Removing those high-flow samplings is indeed a departure from how the agency watches the rivers now, but while it limits the data used for the one standard measurement it does not eliminate that data or its use in other ways, Nascimento said.
She assured web participants that the new metric will translate well into regulatory frameworks for state and federal agencies and fold into water quality programs operated by other agencies, such as the Oklahoma Conservation Commission.
Lake Tenkiller is monitored under its own set of parameters because it is a different kind of water body with different kinds of measurements applied, she said.
"This will not place any restriction on monitoring at those levels or programs that conduct high-flow monitoring so we can still understand how it moves through the watershed," she said. "For this particular measurement the sampling just needs to occur when the storm flow is not dominating the river. That was in the recommendation accepted by both governors."
---
---
Video: Fly fishers learn ins and -of Illinois River fishing.
Kelly Bostian
918-581-8357
Twitter: @KellyBostian