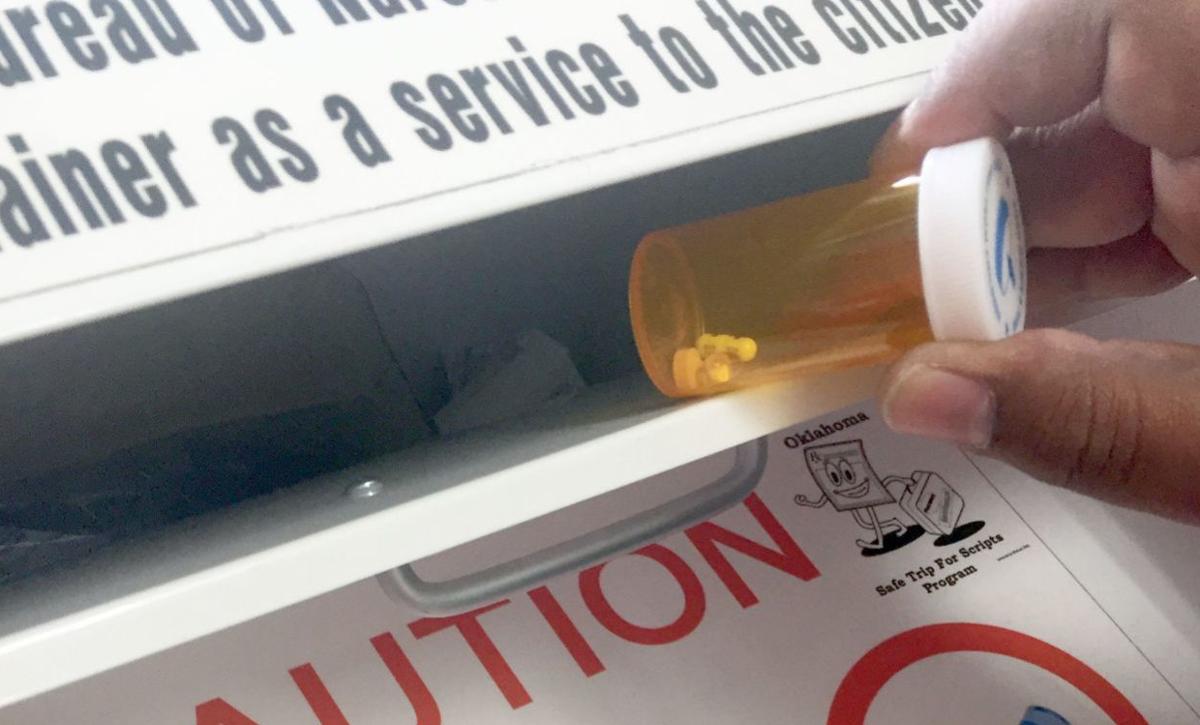 Several Tulsa organizations are joining together Saturday to help properly dispose of unused and expired prescription medication.
A prescription drug take-back event is scheduled for Saturday at several locations across the Tulsa area to keep expired and unused drugs from getting into the wrong hands or causing accidents.
Eight businesses will be participating in the drive-through event from 10 a.m. to 2 p.m., including: Reasor's, 3915 S. Peoria Ave.; Walgreens, 6505 E. 71st St.; Walgreens, 2323 W. Edison St.; The M.e.t. Recycling Center, 3495 S. Sheridan Road; Tulsa Promenade, 4107 S. Yale Ave.; Sand Springs Police Department, 602 W. Morrow Road; Reasor's, 11116 S. Memorial Dr., Bixby; and Reasor's, 2001 S. Muskogee Ave, Tahlequah.
The locations will not accept liquids or inhalers, and only one location, the Walgreens at 6505 E 71st St., will accept needles. Organizers ask residents bringing sharps to place them in sealed hard containers before dropping them off.
Funding for the event was provided by the Substance Abuse and Mental Health Services Administration, the Center for Substance Abuse Prevention, and the Oklahoma Department of Mental Health and Substance Abuse Services, the according to a city of Tulsa news release.
"It is best to properly dispose of medications and not flush them down toilets," the city news release states. "Wastewater treatment plants are not designed to remove chemicals found in many medications, and these chemicals could discharge into streams if medications aren't disposed of properly."
The Tulsa Water & Sewer and Tulsa Police Department have joined with these other organizations for this event: Crime Stoppers, State of Oklahoma, Coalition Against Prescription and Substance Abuse of Tulsa, Metropolitan Environmental Trust (the M.e.t.), Reasor's, Walgreens, Think Smart Oklahoma, Retired Senior Volunteer Program, U.S. Department of Justice Drug Enforcement Administration, AAA of Oklahoma, Sand Springs Police Department, and OSU Tulsa County Extension Service.
Unwanted prescription drugs are accepted at Tulsa Police Division headquarters and the Tulsa County Sheriff's office any time of the year. Locations include: Tulsa Police Gilcrease Division, 3436 N. Delaware Ave.; Tulsa Police Mingo Valley Division, 10122 E. 11th St.; Tulsa Police Riverside Division, 7515 S. Riverside Drive; and Tulsa County Sheriff, 303 W. First St..
The Metropolitan Environment Trust said in a news release surveys show over three in four Tulsa County adults do not dispose of unused prescriptions properly.
"Old prescription medications can be dangerous and must be disposed of properly to protect our health and environment," the news release states. "At the last national Prescription Drug Take Back Day, almost 1 million lbs. of prescription drugs and other medical items were collected. This event is one easy way to address an important public safety and public health issue."
Staff at Saturday's event will be wearing masks and practicing social distancing, The Metropolitan Environment Trust news release said
For more information about Saturday's event, call 918-595-4475.