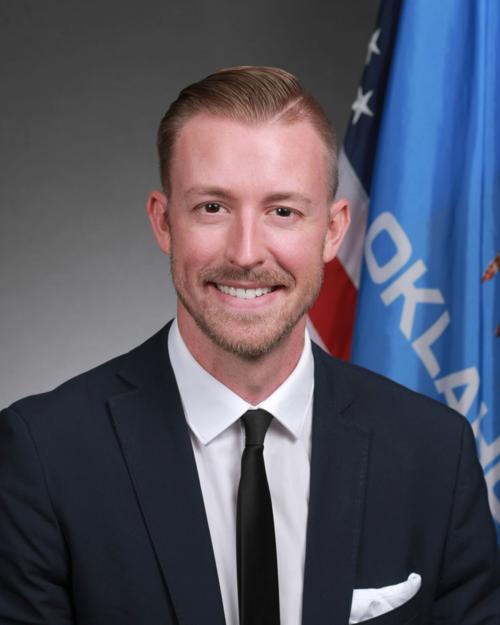 Oklahoma Secretary of Education Ryan Walters may not get all interested parties on the same page in the coming year, but he hopes to at least get them in the same room.
"I would say there is a side (of the job) advising the governor on policy, … and then as a convenor, as a connector with all those different groups that all play such a vital role for our education system," he said.
Gov. Kevin Stitt nominated Walters for secretary of education in September as part of a Cabinet reorganization. It is the first time Stitt has had a Cabinet officer who is solely focused on education.
A McAlester native, Walters taught full time in the McAlester Public Schools for eight years and continues teaching Advanced Placement courses there and in Millwood Public Schools, even after becoming executive director of Oklahoma Achieves, an education initiative of the Oklahoma State Chamber.
He remains chief executive officer of Every Kid Counts Oklahoma, a successor to Oklahoma Achieves.
Walters admits that all of this keeps him busy, but he says all those jobs have the same objective: bringing together parents, businesses and educators to develop the best education system possible.
"That's what we're doing right now is going out to meet with these groups and see if there are commonalities here with all three of these groups," Walters said. "To get together and say, 'We all agree on this, and we think this would help in the education space, so we're going to work toward this.'
"Right now we do a lot of focus group work," he said, "meeting with those groups to try to find what those issues might be."
So far, Walters said, those common interests include teacher training, professional development and a compensation structure that encourages the best teachers to stay in the classroom.
Walters has and still does teach both in the classroom and online and says he recognizes the strain teachers and students are under during the pandemic.
"Has there ever been anything like this?" Walters asked. "I don't think there has been. … Right now we have teachers teaching kids in person. They're teaching kids at home. They're teaching kids in quarantine.
"It's incredible the work teachers are doing, and I think we want to continue to lift teachers up and empower them to continue this innovation. And, again, I think we have to continue to reward them."
---