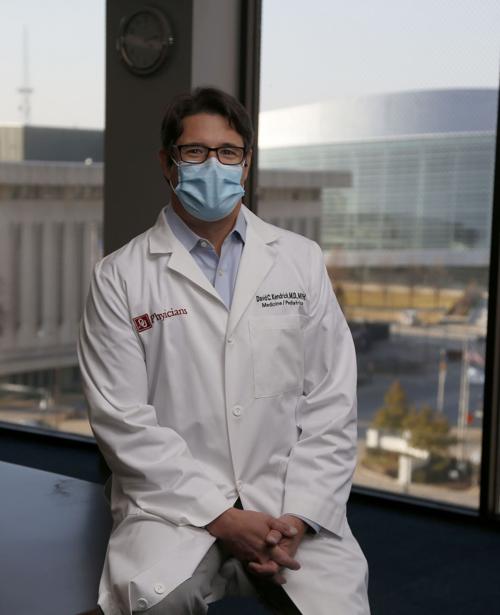 A high school job entering genome sequencing data introduced Dr. David Kendrick to medical science, so it's perhaps not surprising that his career revolves around information systems.
To be sure, there is an M.D. after his name, with specialties in pediatrics and internal medicine. But at the top of a long list of job titles are chairman of the Department of Informatics at the University of Oklahoma Health Sciences Center in Tulsa and chief executive officer of MyHealth Access Network.
That's a mouthful that may not mean much to the average Tulsans — at least not until they wind up in the back of an ambulance or in a hospital emergency room.
Informatics is the scientific use of data, information and knowledge to improve human health and the delivery of health care services.
MyHealth is a statewide informatics network, based in Tulsa, of medical providers and insurers.
In other words, Kendrick and his team make sure every Oklahomans' medical records are instantly available to health care providers treating them.
That's especially important during a pandemic, and it could be just as important going forward.
"MyHealth connects all the laboratories and clinics together," said Kendrick. "The data flows in real time to MyHealth. As soon as the machine finishes processing the test results, it comes electronically into MyHealth.
"The data that Myhealth gets is between 48 and 72 hours newer, fresher than the state gets usually," he said.
"It's also more comprehensive," Kendrick said, "because there are not only the lab tests but also the diagnoses for the patient (and) other lab tests they may have had."
The applications of MyHealth's network and the data it gathers are almost endless but can include distribution of COVID-19 vaccines and tracking COVID-19 patients for continuing health problems going forward.
Already the system has expanded to include a service that helps patients access assistance to such things as food and housing.
"That's actually won a national award this year and is looked at by a lot of folks as the leading model for the country," Kendrick said. "MyHealth is widely recognized nationally as a leader in (informatics)."
---