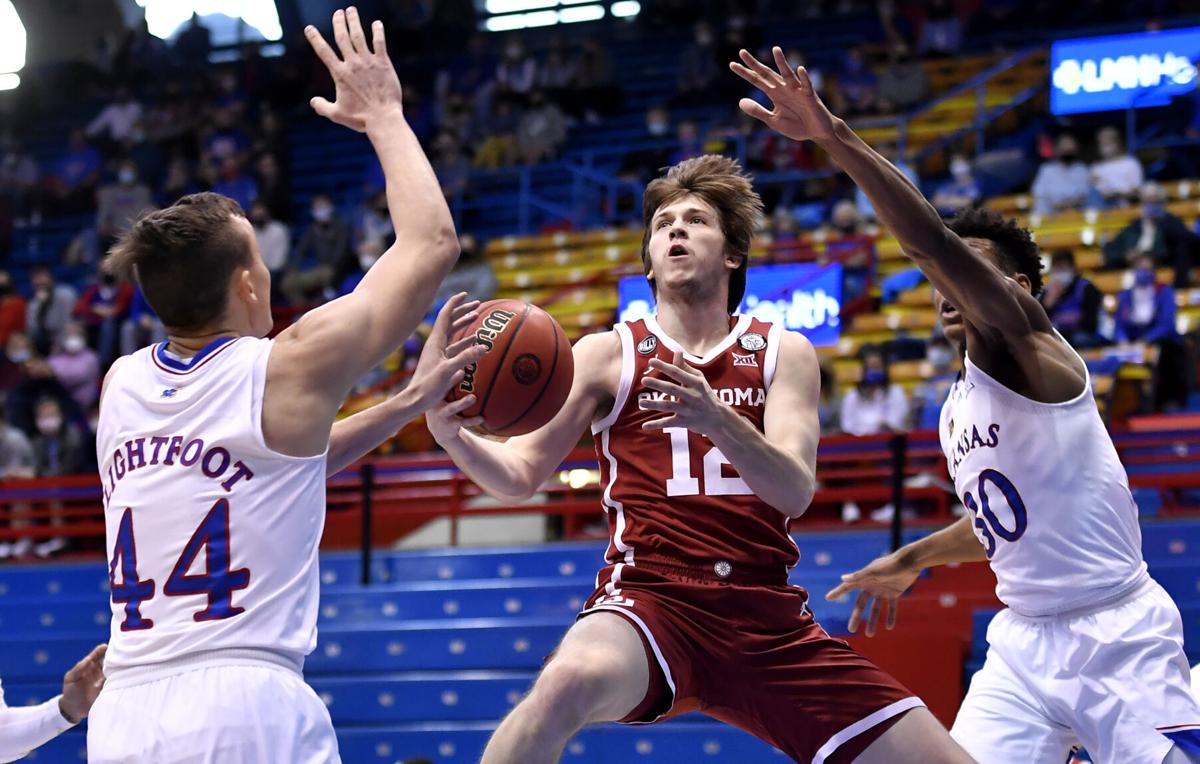 LAWRENCE, Kan. — Oklahoma was bested by the Phog for the 20th consecutive time on Saturday afternoon.
No. 6 Kansas may have captured a 63-59 victory over the Sooners, but nothing came easy for the home team in front of an Allen Fieldhouse fan base that grew nervous as the clock ticked toward zeroes.
David McCormack's short hook shot over OU's foul-plagued Kur Kuath gave the Jayhawks a 58-57 lead with 2:19 remaining, and the scoreboard leaned KU's way the rest of the tight contest.
Following the OU program's 20th straight loss dating back to 1993 in Lawrence, Lon Kruger was asked for any takeaways from the Big 12 contest.
"No. 1, it's the disappointment that you feel in not finishing," Kruger said. "That's probably the biggest thing. As much as that feeling hurts, it also motivates you to get better to avoid that feeling.
"Defensively, we played better for 40 minutes than we have all year. We have to keep improving in that area. There were things offensively where we didn't finish plays."
OU and Kansas were missing key components in Saturday's Big 12 matchup.
The Sooners were without second-leading scorer Brady Manek (COVID-19 protocol) and the Jayhawks didn't have their overwhelming game-day atmosphere. Only 2,500 fans were allowed inside their historic venue.
Kruger said he discovered before Friday's practice that Manek and Jalen Hill would not be available because of COVID-19 issues. Elijah Harkless, who got his first start, was forced to play out of position to fill the role of a versatile forward spot in the Sooners' offense.
"Everything that we run offensively is with Brady or Jalen at that stretch-4 spot," Kruger said. "The menu of things that we run out there was pretty short. I thought our guys handled that really well. Elijah hasn't played a second of the stretch 4 in the last five months. You're not going to expect him to go out there in one practice and understand everything. I thought he did a great job in his role today."
Oklahoma (6-4, 2-3 Big 12) quickly jumped to a 9-2 lead — punctuated by Austin Reaves' 3-pointer — and forced Kansas coach Bill Self to call a timeout.
The Sooners set the tone defensively in the first 20 minutes. They forced 10 turnovers and had nine steals by halftime, which equaled a season high for the team.
"OU was certainly prepared and played very well. They had a lot to do with us not playing well," Self said. "I thought we absolutely stunk the first half. We started off poorly … we spotted them seven to start."
De'Vion Harmon's steal and Reaves' breakaway layup right before the halftime horn gave OU a 33-31 lead at intermission.
"That's been an emphasis in practice to just do things right on the defensive end — help the helper, get inside the big man when the big man goes to block the shot," said Reaves, who led the team with 20 points and nine rebounds. "So it's something that we've really been working on. Like you said, I feel like we can be a really, really good defensive team and keep us in games if we're not shooting really well. It's a big emphasis, something I hope we can keep getting better at."
Reaves played a career-high 39 minutes.
"Austin was great. He's shouldered a lot of things for us all year long, and I thought today he was as efficient as he's been all year long," Kruger said. "He's grinding it out. He fought the fatigue. He did a terrific job not only scoring, but running the show. Nine rebounds was huge, defensively he was really good. He was great."
Kansas (10-2, 4-1) never led by more than seven points. Mitch Lightfoot's hook shot in the paint gave the Jayhawks a 46-39 advantage with 14:09 remaining in regulation.
Kruger called timeout and the Sooners reset things.
OU took a 57-56 lead with 2:41 remaining when Reaves hit a jump shot near the top of the key.
KU would end the game strong with McCormack's hook shot over Kuath, who couldn't pressure strong since he had four fouls. After Umoja Gibson's missed shot, KU's Jalen Hill hit a corner 3 that made it 61-57 with 1:28 remaining.
After a Kuath dunk, the Jayhawks iced the game with another McCormack short hook shot over Kuath to make it 63-59 with 10 seconds left.
"Anytime you have a good battle, you are disappointed that you didn't win it," Kruger said. "You're disappointed in that. But you also have to realize that you've got to keep getting better."
Reaves was the only OU player to finish in double figures. McCormack ended with 17 points to guide the Jayhawks, who avoided back-to-back home losses for the first time since 1989.
The Jayhawks were without Bryce Thompson, a Booker T. Washington graduate who has missed the past three games with a back injury.
Oklahoma finished 1-3 over the past two weeks against top 15 opponents. The Sooners defeated No. 9 West Virginia, but lost to No. 15 Texas Tech, No. 2 Baylor and Kansas.
The Sooners return to action on Tuesday when TCU visits Norman. Game time is 6:30 p.m.