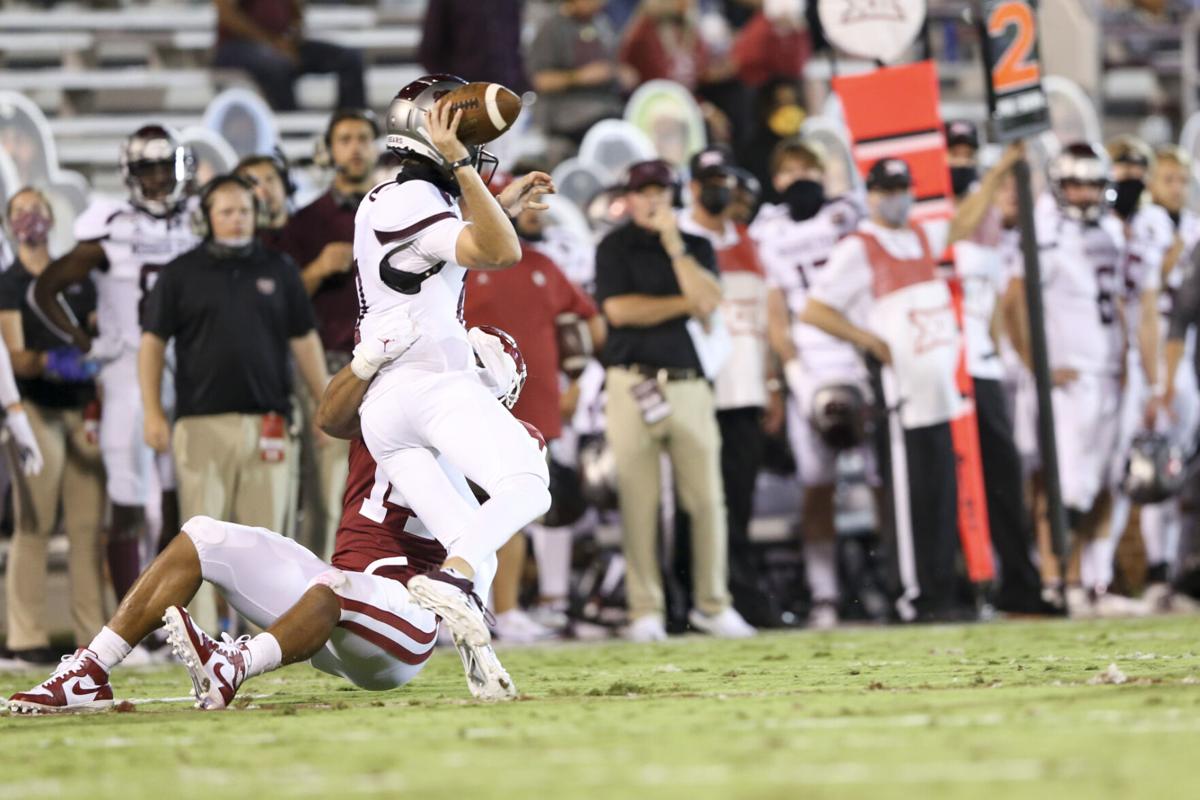 What's the feeling when a defender turns around and sees an opposing quarterback on the ground after a sack?
"You have to love it. Those front seven guys, they get after it," OU defensive back Tre Norwood said. "We tie in together, so with them getting after the quarterback like that, having that pressure each and every snap and being in the quarterback's face, it ties in and makes our job a little bit easier on the back end."
Oklahoma has caused havoc to quarterbacks this season. OU leads the Big 12 with 26 sacks and registered nine sacks against Kansas in their last game. OU ranks seventh nationally with an average of 3.7 sacks per game.
The Sooners will try to maintain momentum when they host Oklahoma State at 6:30 p.m. Saturday.
OU defensive coordinator Alex Grinch knows how much negative plays can impact a game. It's much easier, he said, defending second-and-15 rather than second-and-10.
Sacks are the No. 1 statistic that he looks at following a game.
"I'm a secondary guy by trade but I tell everybody this — the first thing I look at is how many sacks we had and how many TFLs (tackles for loss) did we have," Grinch said following Wednesday's practice. "I already know the outcome of the game, so I don't look at that. That tells a story and paints a picture for how we are playing. It's something that we take a lot of stock in."
Nik Bonitto is tied for the Big 12 lead with 5.5 sacks this season, while Isaiah Thomas sits at sixth with 4.5.
Oklahoma State possesses some of the nation's top skill players in quarterback Spencer Sanders, running back Chuba Hubbard and wide receiver Tylan Wallace.
Bonitto said it will be important to create pressure at the point of attack to slow down the OSU offense.
"I just feel like we got to keep doing what we've been doing — getting pressure on the quarterback and being disruptive up front," Bonitto said. "That ruins a lot of teams' game plans. They have a great two backs in the backfield (including LD Brown) and the receiver that can do a lot of things when he gets the ball in his hands. So, we want to try and make life easier for the back end and try to be very disruptive so we don't give those skill guys a lot of chances."
While the Sooners' front seven draws plenty of attention for the sacks, credit also has to go to the secondary. Coverage has been better in 2020, as evident by the seven interceptions in seven games. Last season, the defense ended with seven interceptions in 14 games.
Sacks are more than what happens up front, OU coach Lincoln Riley said.
"It takes team defense to do it," Riley said. "Obviously, the front's got to get home and anybody else that you're blitzing has to get home at some point. But they certainly haven't all been just there right now. We've had a few of those, but we certainly have had some that have been the more traditional coverage-type sacks, where we've covered people."
Riley was also asked if the uptick in sacks (26 this season compared to 36 in all of last season) is the evolution of Grinch's defense.
"Some could be described as evolution of the system, but the players and coaches make the evolution happen," Riley said. "These things don't happen just because. You gotta go make them happen, and I think players have continued to buy into the way we want to play.
"I think we've been able to have more body types and pieces that fit this scheme and what we're looking for. And I think we're going to continue to add to those and continue to develop the ones we have. It's been exciting to see the progression, and our expectation is that it's going to continue to head in that same direction."
Grinch pointed out the collective element to sacks being equal contributions from the front and back end. He also sounds like a coach wanting more defensive plays made.
"Both of those things have to certainly do their part to equal some of that production, both on the back end with a tipped ball or something like that, it's certainly in the front," Grinch said. "The production, that's something that we want to be a calling card of Oklahoma defense. Negative plays influence drives which ultimately influence points. We've had our fair share.
"There's always meat left on the bone."
Get local news delivered to your inbox!
Subscribe to our Daily Headlines newsletter.