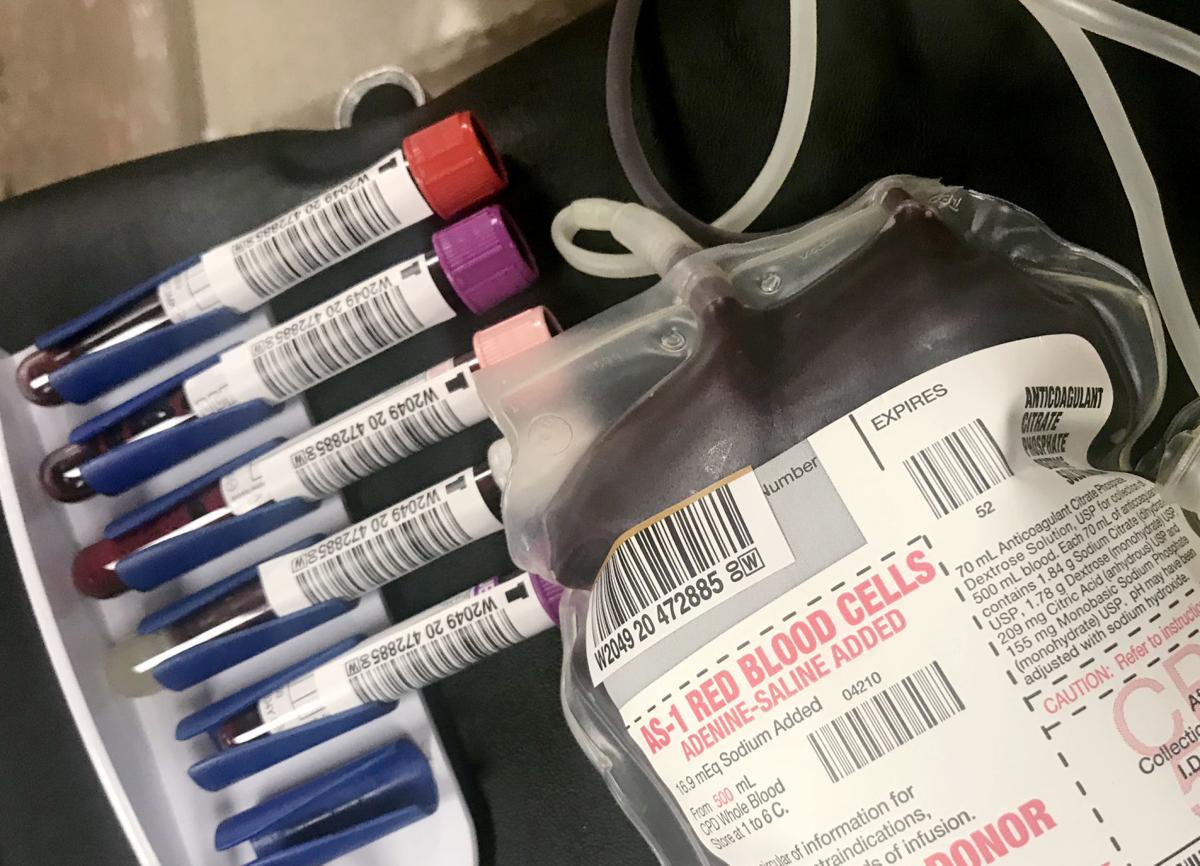 The Oklahoma Blood Institute has forged through shortages before with its go-to playbook, but COVID-19 has stripped the blood collector of its best options to gain back losses.
Dr. John Armitage, president and CEO of OBI, said Wednesday that the situation is the worst to confront the blood bank since its inception in 1977, so the nonprofit is putting out a call for help.
The state practically shut down during the pandemic, and OBI lost more than a month's worth of collections. Blood drives now are often canceled as their dates approach, with concerns for safety cited to avoid potentially spreading the novel coronavirus.
Armitage explained that businesses and organizations understandably are focused on reopening but said a lack of large collection efforts has hamstrung OBI as the need for blood rises.
He said traffic wrecks or industrial accidents will increase as the state ramps up its restart, with more people returning to hospitals, too, for delayed care or elective surgeries.
"The unit that is going to save your life is the one on the shelf," Armitage said. "It's not the one that you go ask for help when it happens. That's going to take a day or two to come through and get tested and all the paperwork done.
"So you always have to be ahead, and we really worry about our ability to stay ahead given the fact the blood drives are eroding on the calendar up to two or three weeks out from the blood drives."
OBI has about a two-day stock of blood currently but prefers to have four days' worth on hand in case of emergencies — such as tornadoes during the spring storm season.
Heather Browne, marketing and media manager, said crisis level is considered to be when OBI is down to a one- or two-day supply.
OBI provides more than 90% of the blood to Oklahoma hospitals and requires 1,200 donors per day to keep a healthy stock, she said. There is no substitute for blood, and it lasts only 42 days, she added.
OBI typically receives about 900 to 1,200 donors a day. Browne noted that it has booked only 25% of its blood drives in May, with numbers down in March and April, too.
She said phlebotomists use face masks and gloves, with donors' temperatures taken beforehand.
"I think now more than ever is the time to donate blood. It's safe," Browne said. "We're taking all necessary precautions, making sure people are healthy. It only takes an hour of your time, and you can save up to three lives every time you give blood."
The American Red Cross also is asking for help, offering a thank-you by providing a special "We're all in this together" T-shirt to donors by mail while supplies last.
"As COVID-19 continues to affect everyday life, people may not be thinking about blood donation," the Red Cross said in a statement. "But blood and platelets are needed daily to help patients battling disease and facing the unexpected. Donating blood is an easy way to care for each other and ensure hospitals have the blood products patients rely on."
Browne said OBI is seeking all blood types, not just the universal O-negative.
Armitage said he understands that businesses and organizations that are reopening aren't going to place blood drives high on their priority lists.
Normally, he said, OBI would work with manufacturing companies, churches and schools to host drives to help shore up needs, but COVID-19 has upended that model.
Armitage said he hopes to instill confidence that it's safe for people to donate. He said OBI's 900 employees have been exposed to tens of thousands of people during the pandemic, with only one who has tested positive for the disease.
"Right now it feels like we're in the fourth quarter, and we're 14 points down and we have no receivers," he said, using a football analogy. "There's nobody running any routes. So we've got no way to get those big wins on the calendar — those big 60-unit drives at manufacturers or schools or churches.
"We're doing a bunch of ground plays — we're getting 20s and 30s. We need the big gainers, and that's why it feels different. We can't go to our playbook and run what works. Our playbook has been taken away, and it's all ground game. So how are you going to make up 14 points in the fourth quarter?"
---
Corey Jones
918-581-8359
corey.jones
@tulsaworld.com
Twitter:
@JonesingToWrite