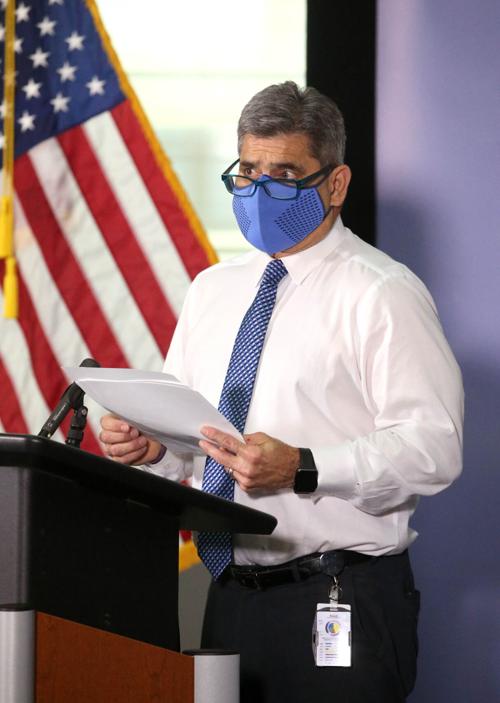 Bruce Dart cheered alongside 89,000 passionate Nebraska football fans watching his favorite team host Iowa during a blustery November afternoon in 2019.
"I was freezing my butt off and having a blast," Dart said with a laugh.
This season, the Tulsa Health Department's executive director won't be found inside a stadium. With COVID-19 numbers remaining unstable, he's choosing to turn down any opportunity to watch a game in person.
"I'm not going," Dart said. "I'm just not. Even though it's outdoors and people are still wearing masks, you know at football games people are screaming and yelling and jumping up and down. Saliva is flying. At this juncture, it's just not the safest place to be."
When Nebraska started its season at Ohio State on Saturday, Dart followed intently. A huge Huskers fan, his mom was born and raised in the state where football is a religion. He talked about his favorite memory, when the school won the 1995 national championship behind quarterback Tommie Frazier.
Dart is looking forward to the resumption of the Oklahoma-Nebraska football series next season and, during an interview with the Tulsa World, reiterated more than once that what we do as a society now will impact the return to normalcy, meaning more fans can watch that rivalry game in person.
What have we learned since football started up in September? Have there been good things and bad things?
"We've learned a lot," Dart said. "It's not realistic to think you can live in a bubble. Testing and contact tracing really will help us suppress disease transmission. It's important that that continues.
"As much as people want to get back to normal, I'm not sure (that) normal will ever look the same again. This has also taught us that we have to redefine our perception of what normal actually is."
Is this a balancing act for Dart, weighing his passion for college football versus a pandemic that's gripped the globe?
"Not really," Dart simply answered. "I love football but I also think staying healthy is the No. 1 and most important thing. You have to put your personal feelings aside to do the right thing. Here, at the Tulsa Health Department, we try very hard in regard to how we personally feel about things to do the right thing for the community in terms of modeling behavior and passing along recommendations that keep people safe.
"While this reality is what it is and I'm not happy about it, we all have to adjust to it … we'll go back to being able to eventually be in our stadiums and cheering our teams. We have to be patient. We have to stay healthy so that we can get back to that point someday where we are back in the stadium. Those days will come. Just continue to be vigilant and continue to be patient. Enjoy your team on TV because we still get to watch football."
While the Big 12 and SEC have limited fan attendance at football games, the Big Ten does not allow any fans in the stands.
While that may be proactive, Dart is concerned that fans could pack somewhere to watch a game in close quarters (sports bars or watch parties) where disease transmission could occur.
There should be caution taken. And, just like in everyone's daily routine, if you do have a football ticket but aren't feeling well, it's best to stay home.
"Football is here to stay. It's going to go on forever," Dart said. "Missing one game is not going to be the end of the world. Exposing some people could be.
"I know it's a tough decision because I know how everyone loves to watch football. I love to watch football. If you aren't feeling well, stay home and watch it on TV. Just feel good in the fact that you are doing the right thing for yourself and for anybody around you."
When OU started its football season on Sept. 12, many wondered if it would be able to play a complete season. The Sooners are halfway there after five games.
Did Dart think football would get this far?
"I knew they were, as much as they could, keeping their players in a bubble. They are testing their players regularly," he said. "I thought they had a chance to do it if they continued to follow protocol. The universities are doing a great job of following protocol and keeping players safe and quarantining players when they've been exposed and isolated players when they've been infected.
"They're trying to do the right thing. They're testing enough to quickly identify, especially asymptomatics, and doing contact tracing and mitigating. You follow these recommendations and, for the most part, the right things happen."
As opportunistic as the virus is, if there is a slight opening, it can cause a problem, so adherence to the protocols is critical.
That means everyone doing their part.
"The more patient we are now, the sooner we're going to be at the opposite end of this thing. So patience right now and being vigilant right now is incredibly critical to getting us to the other side," Dart said.