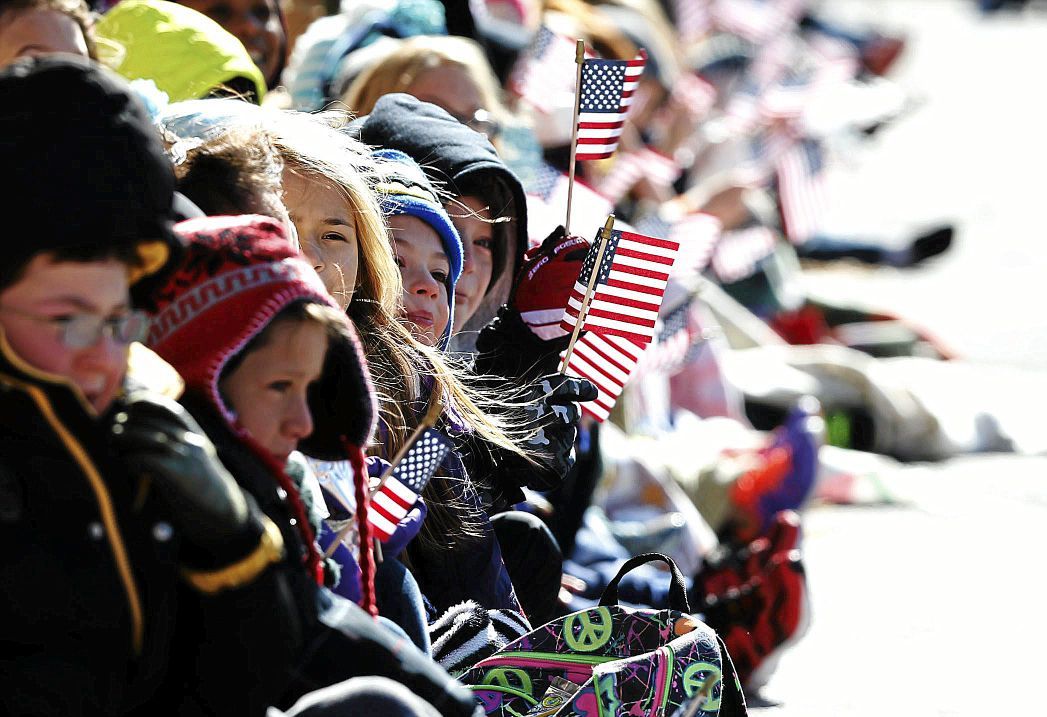 The Wednesday Tulsa Veterans Day Parade will have a new element this year: controversy.
The controversy erupted when it became public that the Oklahoma branch of the Council on American-Islamic Relations will have a float in the parade.
"It's been unbelievable," said Patsy Varnell, vice president of the Tulsa Veterans Day Parade Association.
"Lots of phone calls, predominantly protesting (the inclusion of CAIR)," she said.
"Let's put it this way, this has been a year of firsts," she said, a first to have CAIR in the parade, and a first to have controversy.
"It's a shame," she said. "The parade is not about religion. It's not about politics. It's to honor our veterans."
Varnell said the application from CAIR was accepted because CAIR has a constitutional right to be in the parade, and the parade will go on as planned. She said police will handle any security issues.
A Turn Your Back on CAIR Rally was held Sunday afternoon at the Jones Riverside Airport. State Rep. John Bennett, R-Sallisaw, an outspoken critic of Islam, was one of the scheduled speakers. He could not be reached Monday to verify that he spoke.
The controversy surfaced Oct. 30 when Larry Williamson, a member of the Tulsa 912 Project, a conservative pro-American organization marching in the parade, protested CAIR's participation.
He said CAIR is linked to Muslim Brotherhood terrorism, a charge that CAIR denies. The Muslim Brotherhood is a transnational Sunni Islamist organization that is considered a terrorist organization by several Mideast nations. Williamson called it "atrocious" to ask veterans to "march alongside people who represent our enemies in a current war."
Ronda Vuillemont-Smith, president and founder of Tulsa 912 Project, said her group will march in the parade "for our veterans." She said she is not encouraging anyone to protest the Muslim float, which will not be near their float, and she has not heard of any protests planned.
CAIR representatives are taking the controversy in stride.
Raja'ee Fatihah, an Army Reservist who serves on the CAIR-Oklahoma board of directors and will be on the CAIR float, said he found the controversy "ridiculous" and "more amusing than upsetting."
"The people who have a problem are the same little group of people every time. I don't think they represent a majority of people by any means," he said.
"Whenever this happens, there are always people who come out and show their support, and they always outnumber the detractors.
"We're pretty disappointed that this is getting this much attention. There are other issues more important to veterans than a float in a parade," he said.
Fatihah is an Army Reservist in the 486th CA (civil affairs) Battalion, a native Tulsan, and a graduate of Rogers High School and the University of Oklahoma. He lives in Tulsa with his wife and three children, and works as an investigator for the Department of Human Services.
Adam Soltani, executive director CAIR-Oklahoma, said he has been surprised at the outpouring of objections to a Muslim float in the parade.
"We did not expect this. We registered quietly. We're not seeking any attention, other than our civic participation."
He said he thought it was "silly" that a few "hateful people" could stir up such a controversy.
Soltani said the float would carry American flags and signs honoring and thanking veterans who served in the military.
"The message will be pretty consistent with what others will be having," he said.
Responding to criticism that religious organizations should not have floats in the parade, he said that CAIR is not a religious organization, but a civil rights organization. The parade has two Christian schools among its more than 100 participants.
Ibrahim Hooper, national communications director for CAIR, said Oklahoma, Florida and Tennessee are the three most Islamophobic states.
He said it is not uncommon for CAIR chapters to participate in Veterans Day parades as part of their civic involvement, and he could not recall another city in which that participation had caused a controversy.
"It's another one of those manufactured controversies that takes on a life of its own in the social media," he said.
CAIR has "any number of veterans" serving in its leadership, he said.
Bill Sherman 918-581-8398
Get local news delivered to your inbox!
Subscribe to our Daily Headlines newsletter.