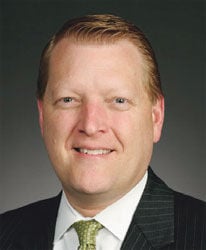 VINITA — Grand River Dam Authority directors voted a $45,000 raise for Chief Executive Officer Dan Sullivan on Wednesday, bringing the former legislator's annual base pay to $270,000 a year.
Director Ed Townsend, who made the motion recommending the increase, said Sullivan was being rewarded for "specific accomplishments," including his "dealings with staff," his handling of a $390 million bond issue and "his ability to deal with important agencies in Washington."
Under Sullivan, the state-owned utility's operating revenues have grown from $411 million in 2012 to a projected $483.8 million for 2015. The GRDA has also contracted to build and install what engineers say is likely to be the most efficient electric generation plant in the United States, with construction scheduled to begin next month.
On Wednesday, GRDA entered into a water quality initiative that is unprecedented for an agency that historically has given low priority to such considerations.
But Sullivan also had his problems this year. In September, the GRDA agreed to pay $925,000 to settle two lawsuits against Sullivan and the agency, one alleging sexual harassment and the other alleging wrongful termination.
Ironically, Sullivan became a finalist for the GRDA job in late 2011 after the leading candidate dropped out because of a statutory limit on the position's salary. Legislation since then allows all state agencies complete discretion in how much they pay their chief executives.
Earlier in Wednesday's meeting, directors approved what is thought to be the largest single contract for a state agency — a $296.7 million engineering, procurement and construction agreement with TIC Kiewit to build the GRDA's new gas-fired Unit 3 at the Grand River Energy Center near Chouteau.
The plant will feature a $50 million, 495 megawatt Mitsubishi J-series gas turbine, the first of its kind in the United States and expected to be 60 percent more efficient than the GRDA's two 30-year-old coal-fired plants.
Sullivan said ground will be broken on the new plant Jan. 23.
Financing for the $450 million project, including the sale of the $390 million in bonds, was completed Wednesday morning prior to the board meeting, he said.
Also Wednesday, the board agreed to a five-year, $2 million agreement with the University of Oklahoma to develop a program to address current and prospective water-quality issues. The decision was largely driven by a 2011 blue-green algae scare that virtually shut down Grand Lake on the July 4 weekend and an approaching relicensing by federal regulators.
Darrell Townsend, assistant general manager for ecosystems and lake management, told the board that environmental issues will be important to the licensing process. He also said recurrences of the 2011 algae outbreak and the bacteria culture that caused a stretch of Grand Lake beach to be closed last summer are likely to have serious economic impact.
Director Ed Townsend, who is not related to Darrell Townsend, said the agency should "not be bashful" about addressing water-quality issues.
The board approved the 2015 budget, which projects operating revenue of $483.8 million. That includes a 25 percent increase in industrial sales, suggesting that substantial growth is expected at Pryor's Mid-America Industrial Park, which is virtually the GRDA's only industrial customer.
Operating expenses are projected at $358.2 million, for a net income of $132.4 million.
Of that, $78 million is committed to debt service and $33.7 million to capital improvements.
Randy Krehbiel 918-581-8365