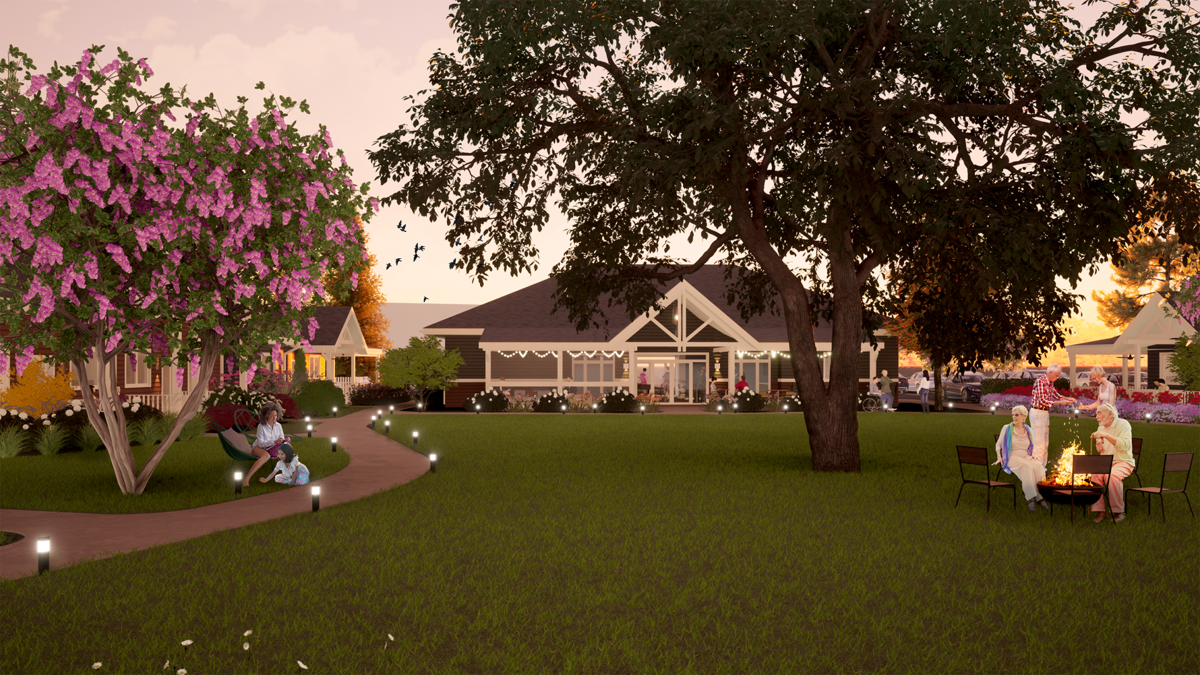 About 11 years ago, Pat Darlington's sister went for a long hike from Kentucky across the state line into western Virginia, where she stumbled across a rather unusual suburban neighborhood along the Creeper National Recreation Trail, a 35-mile walking path through beautifully wooded hills.
ElderSpirit, as the community was called, looked more like an old-fashioned village than a newly built housing development. But it was actually both — a new development designed like a very old one, with traditional little houses grouped around a "commons" and a sort of meeting hall in the middle.
Built specifically for senior citizens, ElderSpirit was one of the country's first "co-housing" projects, where residents didn't just buy a home but became part owners of the whole development and shared communal areas, including a large kitchen where most meals would be eaten.
When her sister described it to her, Darlington got so excited that she helped organize an effort to build a co-housing neighborhood in Stillwater. Oakcreek, reserved only for residents over the age of 50, broke ground in 2011 and became the first project of its kind in Oklahoma. In fact, the first in the entire Midwest.
"It's more than a group of houses," Darlington told the Tulsa World at the time. "It's a group of people."
Now the idea has come to Tulsa.
Heartwood Commons, a $14 million co-housing project at 7141 S. Quincy Ave., broke ground last week with plans to include 36 individual homes along with a large "common house" that will have a gourmet kitchen and a "great room" where everybody can get together.
Other communal areas will include community gardens, a wood shop, a greenhouse, a contemplative space and a pet park, all set within a sort of village that's specifically designed to encourage residents to get out of their own little houses and mingle with each other.
"In co-housing, neighbors become friends," said Suzy Sharp, who will be among the first residents when Heartwood opens in late 2021 or early 2022. "It has been intentionally designed to create a rich, interconnected community."
The question, of course, is why can't every neighborhood be "intentionally designed to create a rich, interconnected community?"
A typical modern housing development seems intentionally designed to prevent a rich, interconnected community. You come and go straight through your own garage and the only interaction you have with neighbors is waving to them from the driveway.
Like the co-housing projects in Virginia and Stillwater that inspired it, the one in Tulsa will be reserved exclusively for senior citizens, with the idea being that residents can help each other as they age. Think of it as a kind of retirement co-op.
But what about the rest of us?
---