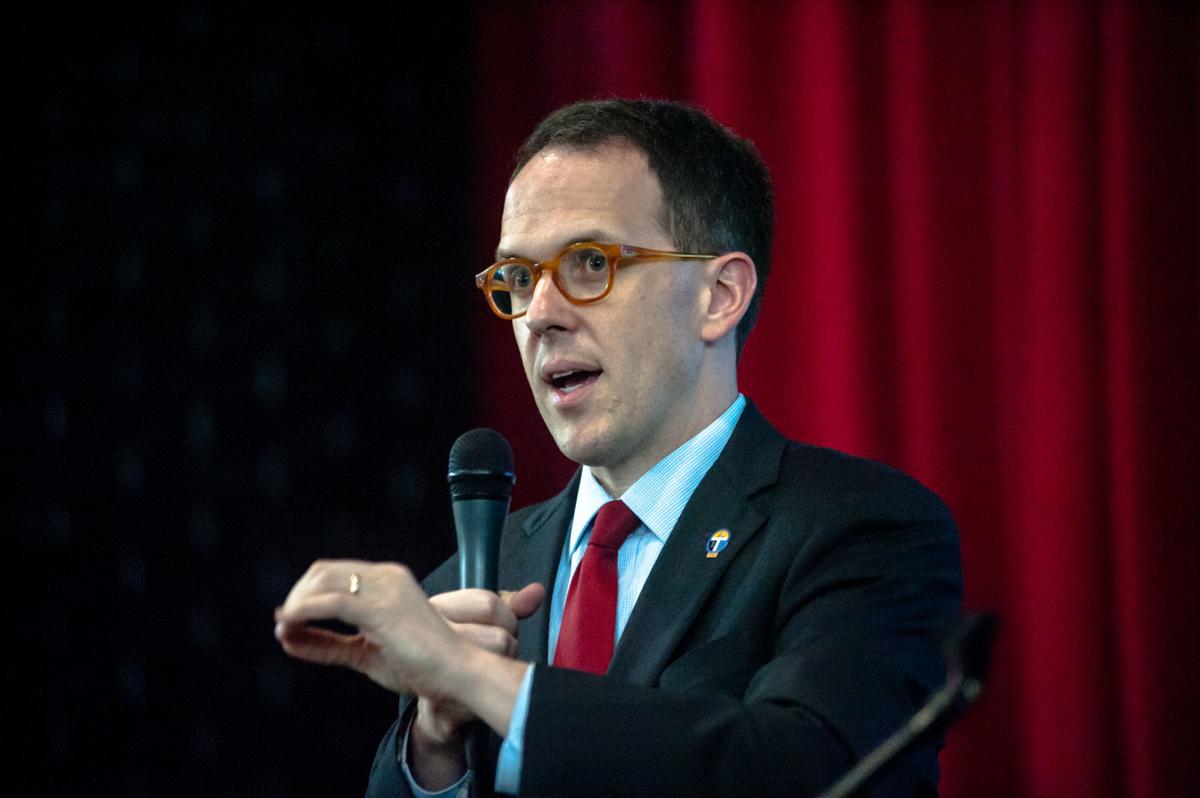 Mayor G.T. Bynum is scrapping his police oversight proposal and hopes to present an alternative to the City Council later this month, councilors were informed by email Friday evening.
"It has become evident to me in the weeks since presenting the proposal that it does not enjoy a consensus of support on the council," Bynum wrote. "I am also mindful that it has been subject to criticism by community advocates who believe an OIM (Office of the Independent Monitor) existing within our current legal framework won't do enough to earn trust in the community."
Bynum told councilors he and his team are working to create a program that "will address similar goals through a less divisive vehicle" and asked for the opportunity to present it to them Sept. 25.
The OIM proposal had been scheduled for a vote Wednesday. At the mayor's request, it has been pulled from the agenda.
Bynum first proposed creating an Office of the Independent Monitor in January, saying it would help establish trust between police and the community they serve through outreach and independent reviews of use-of-force incidents.
But it was met with immediate opposition from the police union, and nine months later, it does not have the support of all nine city councilors.
Councilors Kara Joy McKee and Vanessa Hall-Harper said last week they would like to see the powers of the OIM expanded. A similar sentiment was expressed by about a half-dozen Tulsa residents who spoke at the City Council's public hearing on the oversight proposal.
At least three city councilors — Ben Kimbro, Connie Dodson and Cass Fahler — oppose the mayor's proposal as it is currently written.
In a recent email sent to Tulsa Republicans, Fahler urged them to oppose the OIM, calling it a "government creation to satisfy a very vocal activist group of liberals."
"It rewards those who are not willing to take responsibility for their actions, and lay the blame upon the providers of justice, our wonderful Tulsa Police Department," Fahler wrote.
Bynum presented a draft ordinance creating the OIM to city councilors in late July. It calls for the office to have three primary responsibilities: to follow up on citizen complaints about police and review Tulsa Police Department Internal Affairs' investigations of use-of-force incidents; review best practices for police and make policy recommendations; and conduct community outreach.
Nearly all of the pushback and consternation surrounding the proposal has been centered on the OIM's oversight role in police use-of-force incidents.
According to the draft ordinance, the independent monitor would have 10 days from the completion of an Internal Affairs's use-of-force investigation to complete his review. The reviews are intended to ensure that Internal Affairs investigations are done properly and thoroughly.
The monitor would have access to all information and evidence used in the IA investigation — but not until after the probe is done.
The independent monitor would have no disciplinary authority.
The Fraternal Order of Police Lodge 93, which represents Tulsa police officers, has said it does not oppose oversight but that it believes the Oklahoma State Bureau of Investigation is best suited to provide a truly independent review of IA investigations.
Hall-Harper and McKee say they want to examine whether the monitor can begin his or her oversight duties at the start of the Internal Affairs investigations.
"I think they should be able to monitor in real time the complaints," Hall-Harper said. "Not just sitting back waiting to give a response to what the Internal Affairs investigation chooses to share with them."
She added that she would also like the OIM to have the authority to initiate its own investigations.
McKee said she believes giving the independent monitor access to IA investigations from the time they begin would help build confidence in the police force.
Real-time oversight would allow the monitor to support and assist the police in whatever capacity might be available, she said.
"We really want this to be supportive of the Police Department and to not just do something that is actually not going to be helpful at all," McKee said.
Hall-Harper has reached out to the National Association for Civilian Oversight of Law Enforcement to identify experts on police oversight who could review the city's proposed OIM ordinance and its contract with officers.
"We don't have that expertise in-house, so I want to talk to people who have consulted, who worked on these systems where oversight was implemented and get their feedback," she said
Bynum told the Tulsa World on Friday morning that the OIM proposal he presented represents his best effort to provide oversight within the constraints of the city's collective bargaining agreement with its police officers.
"Our legal department has advised that such interference would be a change in working conditions for our police officers, and a change in working conditions must be negotiated through the collective bargaining process," Bynum said. "I cannot support something that violates a contract with our employees."
---
Kevin Canfield
918-645-5452
kevin.canfield
@tulsaworld.com
Twitter: @aWorldofKC