---
Proponents of State Question 820, which is on the ballot Tuesday and asks Oklahoma voters whether they want to legalize recreational marijuana, understand that the state's medical cannabis patients might have concerns about potential negative effects on the program if recreational marijuana is also legalized.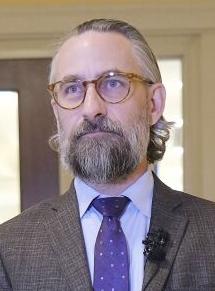 Ryan Kiesel, the senior adviser to the campaign, said he is a patient himself and has seen the same stories out of California that scare medical marijuana card holders. But Kiesel, a former state representative from Seminole, said SQ 820 will not disturb the patient experience.
"It only strengthens it by making sure that the good, law-abiding, compliant-minded businesses have more consumers that are able to demand their product," Kiesel said. "And it's going to keep a lot of these dispensaries in business, and it's going to keep the innovation moving in Oklahoma."
Currently, about 2,800 dispensaries serve nearly 380,000 patients licensed through the Oklahoma Medical Marijuana Authority. Kiesel noted that another 100,000 Oklahomans report that they are consuming cannabis outside the program.
Regardless of whether SQ 820 passes Tuesday, he said, those people are consumers, and if people are really concerned about the black market, legalizing adult-use marijuana is the first way to give the criminals "a direct competitor."
"A lot has been made of all of the illegal grows," he said. "Nobody in the state wants to put the illegal grows out of business more than me."
Kiesel said he's heard the argument that "big marijuana" will take advantage of Oklahoma's recreational marijuana law, but he pointed out that SQ 820 was built around OMMA's two-year moratorium, which began in August, on new grower, processor and dispensary licenses. The time period deters new out-of-state investors while allowing state authorities to continue weeding out bad actors, he said.
One argument Kiesel can't live with, he said, seems to have actually been fabricated by the opposition: "the idea that State Question 820 will make it harder for courts to remove kids from dangerous environments."
Legal adult-use marijuana would not change existing laws about child custody and child neglect, Kiesel said. The phrasing being pointed out from SQ 820 is "exactly the same" language in current statute, he said.
"All it says is that the police can't come kick down my door and take away my kids just because I'm a legal and responsible marijuana consumer," Kiesel said, "just like the police can't kick down your door and take away your kids just because you might have a pack of Coors Light in your fridge."
He pointed out that the courts are directed to consider only whether a child's welfare has been affected, and the language included in SQ 820 just reiterates that protections for users exist in situations that pose no danger to children.
"If somebody is getting drunk while they're taking care of their kids, well, that's dangerous," Kiesel said. "If somebody is getting so high they can't take care of their kids, well, that's neglect, and courts can intervene — and they should intervene."
What really infuriates him is that the argument suggests that someone who admits to "legal, responsible marijuana use" deserves to have their children taken away.
"The current law says no, and regardless of whether 820 passes or fails, that will still be the law," Kiesel said.
---
Tulsa World Opinion podcast: Getting into the weeds on marijuana