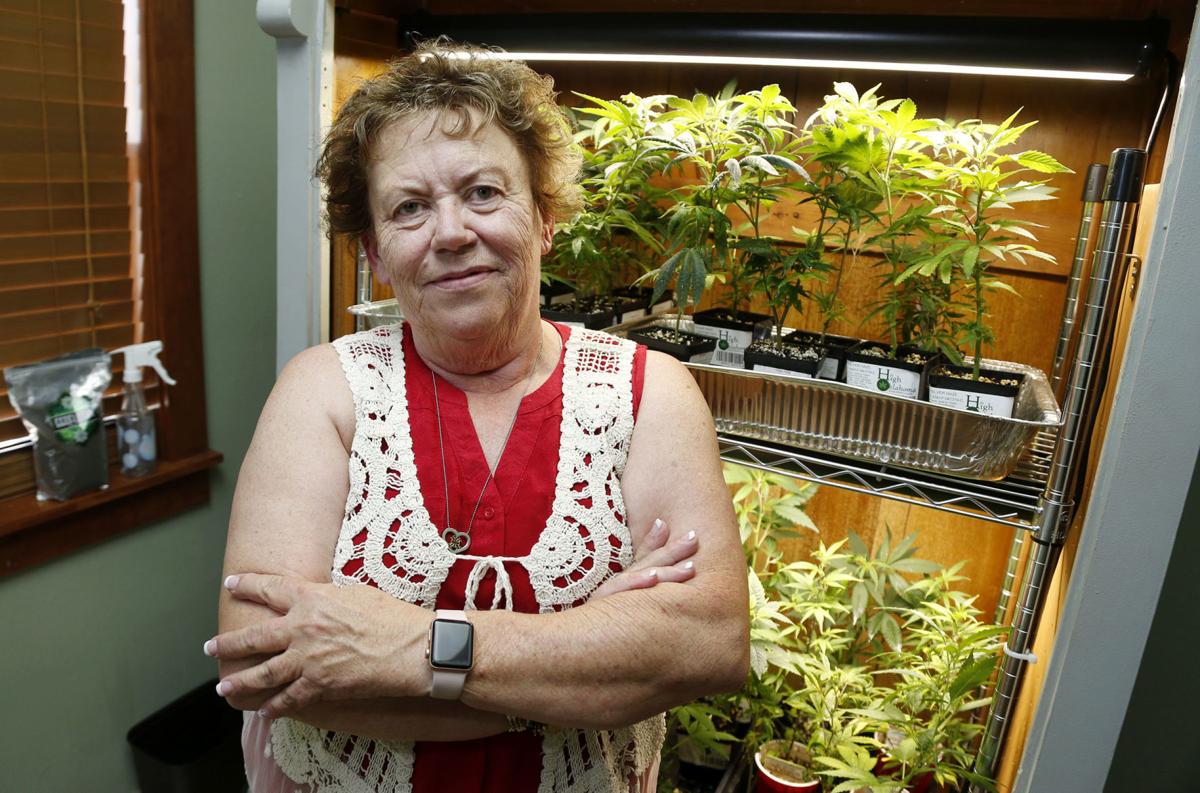 A third constitutional initiative petition has been filed seeking to legalize recreational marijuana in Oklahoma, but organizers expect to withdraw and refile it by next week after some problems were identified in the language.
A group of cannabis advocates including Danna Malone, owner of Ye Olde Apothecary Shoppe dispensary in Tulsa, filed State Question 811 on Tuesday.
"We wanted to protect medical; we don't want recreational, but that bell's been rung, and we can't unring it," Malone told the Tulsa World on Thursday. "If we don't do something to stop (state questions) 807 and 808, we're going to get free-for-all recreational and no medical."
The text of SQ 811, which would be entered into the Oklahoma Constitution, says it would "heal the damage created" to the state's medical marijuana program. It specifically lists some burdens business owners have noted after the Unity Bill went into effect, including obtaining certificates of compliance from local governments and installing often-unnecessary equipment.
"We strongly believe our state government is trying to run this industry out by over-regulating," Malone said.
Tulsa attorney Ron Durbin says the draft has small wording problems, such as some clauses lacking the word "not," as well as big problems like the language unintentionally revoking all current medical marijuana licenses and preventing growers from watering their crops.
Malone said We Are 788 would be sitting down with Durbin and others to make amendments and corrections to refile the state question next week.
Under the law that SQ 811 would create, patients would no longer pay tax on medical marijuana; only recreational users would be subject to taxes, which would include a 25% excise tax imposed by the state. Only patients would be permitted under the measure to cultivate marijuana at home; those doing so without a patient license would be subject to criminal penalties and fines.
"A huge team of many business owners, many patients, many activists have read and helped work on this, and I want everyone to know that we're not gonna make everybody happy," Malone said.
The measure would allow for medical marijuana to be donated, a change from current law, to allow for patient-assistance programs. Malone runs a program through her dispensary to help terminally ill patients and those in greatest need to access a highly concentrated cannabis medication called RSO (Rick Simpson Oil). SQ 811 would allow patients and license holders to donate their cannabis toward those kinds of programs.
Employee protections for patients was another emphasis for the group, and they included language in SQ 811 that would prevent employers or prospective employers from testing license holders for THC metabolites. The measure includes a new definition for safety-sensitive jobs, an issue that advocates say needs clarification after the Unity Bill empowered employers to fire some workers who argue their job wouldn't be affected by their medication.
"A Safety-Sensitive job is any job that includes tasks or duties that the employer can articulate clearly and concisely and show the position is a dangerous position and can provide evidence that medicating while on the job could affect the safety and health of the employee performing the task or others," SQ 811 reads.
Malone pointed out that the current law is being interpreted inconsistently, with some CPAs and lawyers being considered safety sensitive positions at one employer but not another.
Durbin says the definition of safety-sensitive jobs still needs work as it leaves too much to be interpreted, but he respects the group's efforts.
"They meant to fix problems that are occurring time and time again across the state of Oklahoma," Durbin said.
Malone said We Are 788 also filed SQ 812, which would decriminalize marijuana with retroactive application.
As the petitions seek to amend Oklahoma's constitution, nearly 178,000 valid signatures are required for the state question to be placed on a ballot this year.
Other details from SQ 811
Patient licenses would cost $20 for two years, with 100% disabled veterans paying nothing.
OMMA would be required to add barcodes to patient identification cards that would reduce data entry errors at point of sale.
Imprisoned and detained individuals with patient licenses would be guaranteed access to medical marijuana while incarcerated.
Any licensed Oklahoma medical professional would be able to sign recommendations for medical marijuana patients, meaning nurses, pharmacists and anyone in the field with a license.
The measure includes Oklahoma Safe Banking legislation for cannabis businesses and requires that bank service charges not exceed $250 a month.
Gallery: Local ordinances regulating patients, cannabis industry
As some ordinances shut out marijuana businesses, see how Oklahoma cities are regulating patients, cannabis industry
Cushing

Shawnee

Grove

McAlester

Tulsa

Broken Arrow

Yukon

Sulphur

Weatherford

Collinsville

Moore

Sand Springs

Muskogee

Stillwater

Elk City

Okemah

Alva

Eufaula
Sallisaw
Comanche

Enid

Bartlesville

Woodward

Luther

Oklahoma City

Ardmore

McLoud

New Cordell

Prague

Pawhuska

Midwest City

Slaughterville

---
Anna Codutti
918-581-8481
anna.codutti
@tulsaworld.com
Twitter: @annacodutti