After covering the High Times Oklahoma Cannabis Cup last weekend, it was obvious that organizers — at least on Saturday — were unprepared to host the thousands who attended, nor could they quickly adapt to the unpredictable weather.
But High Times social media channels show no acknowledgement of any problems I observed: lines at least four hours long, lack of food and water and the mud that made it difficult to safely travel to vendor booths.
EMSA spokesperson Lara O'Leary told me there were eight transports to area hospitals on Saturday from the Lost Lakes Entertainment Complex in Oklahoma City for needs such as cardiac issues, fainting or heat-related illness. The heat index that day rose to the mid-90s with little to no wind.
High Times contracted with a company for first responder services, but O'Leary said a lack of easy access to water at a "mass gathering" in a concentrated area generally can increase the likelihood of medical issues.
"Dealing with High Times, they told us they had pre-sold about 4,000 tickets. So everything was staffed through them for about 4,000 tickets," Skeen said. "It ended up being about 10,000 people showing up. Four-thousand people is easy; 10,000 people would have been easy, too, but we didn't expect that."
Lack of adequate food, water to accommodate crowds
Arriving in Oklahoma City around 1:30 p.m. Saturday with my fiancé, JD, who photographed the Cup as a Tulsa World correspondent, the first thing we said was, "Where are we going to park?"
All we could see leading up to the Lost Lakes entrance were vehicles parked at least a mile deep on both sides of Northeast 10th Street, and traffic moved slowly. We didn't see anyone directing vehicles to parking areas until we approached the entrance, where a worker told us we could not park. A nearby lot had spots available for $20.
It wasn't until nearly 3 p.m. that we received our media wristbands, had our bags searched by security and got inside the event. But I consider myself fortunate to have been able to make it past the gates at all.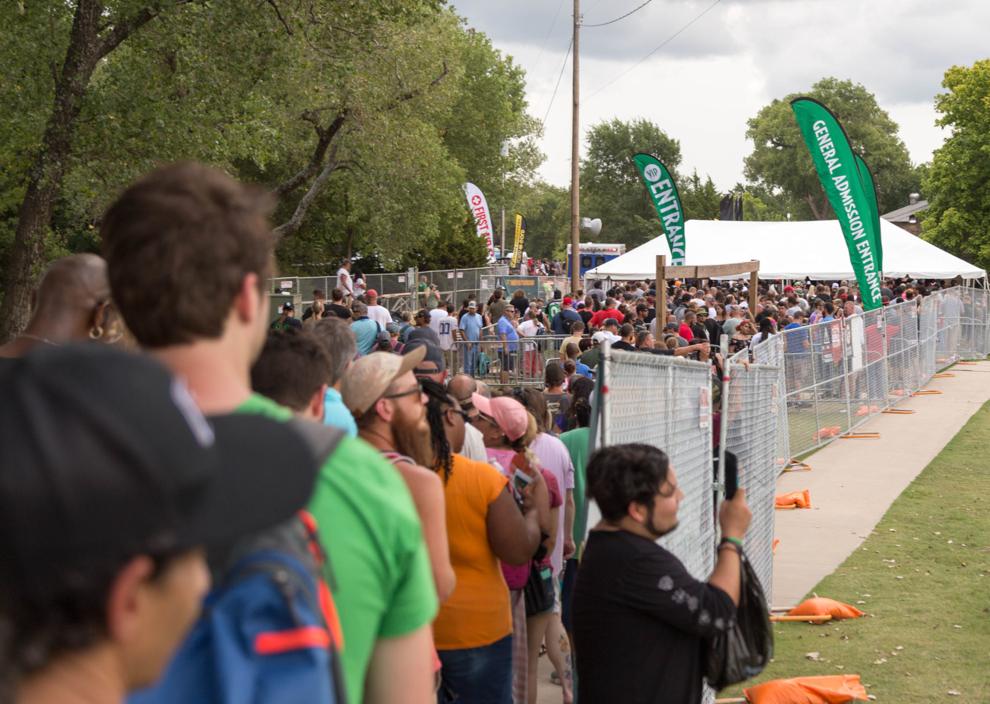 Jessica Morrison of Tulsa, who I spoke to on Saturday, told me at about 5 p.m. that she was leaving because she realized the line was so long she wouldn't get in before the event concluded at 8 p.m. By that time, there was one single-file line each for VIP tickets and general admission.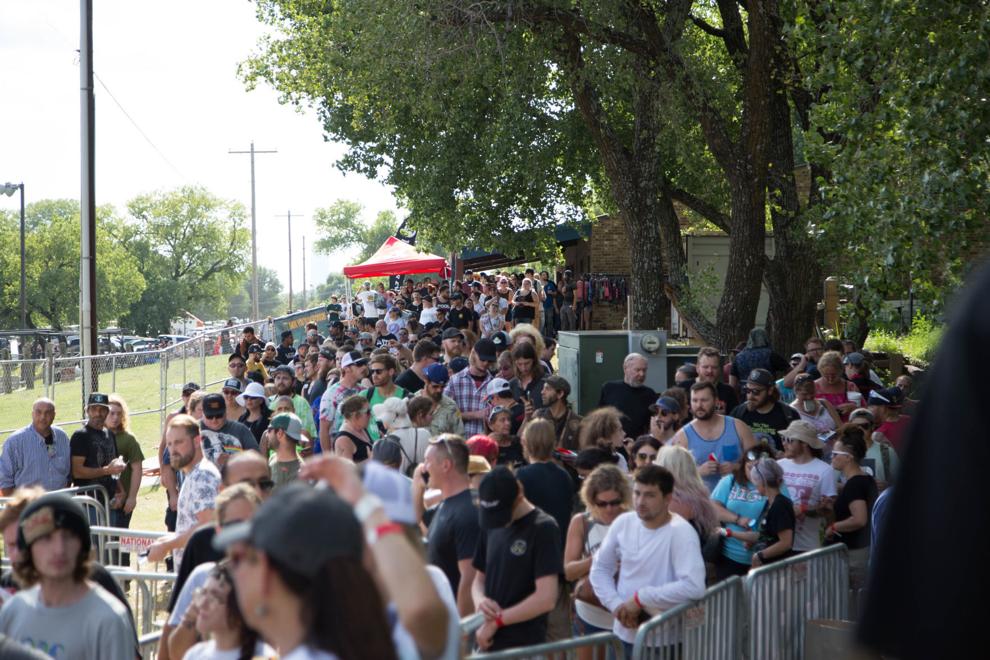 JD tried to buy us water when we arrived but was told there was none available, so we bought multiple bottles of Powerade before we started our work. By 3 p.m. Saturday, the ice melted inside containers with free water bottles in the VIP lounge, leaving those attendees only with lukewarm or hot water.
For those who didn't get inside the gates, their best hope typically came from Good Samaritans passing out bottles to those in line. I later observed at least one vehicle with wraparound CBD Plus USA branding making runs to bring in bottled water in bulk late Saturday afternoon. (CBD Plus USA and its Oklahoma dispensary arm, Lotus Gold, were among the title sponsors of the Cup. Click here for a list of winners and here for the judges' manual.)
Skeen said organizers attempted to make food available for those in the vendor village, where cannabis consumption was allowed. However, he said the local health department said food sales could not occur in the same area where medical cannabis products would be used.
Accessibility struggle
JD photographed the muddy path between the vendor village and the concert section on Saturday, along with a shuttle to transport people on the half-mile trek between the two. We noticed numerous patients who use wheelchairs, canes or other mobility aids struggling to travel back and forth.
Ron Durbin, a Tulsa attorney who has clients in the cannabis industry, said the image of the muddy terrain was concerning and showed a clear safety risk. The middle of the path was too muddy for many to cross without slipping, relegating travelers to walk almost single file along the grassy edges. At times, even the shuttle operators appeared to have difficulties driving.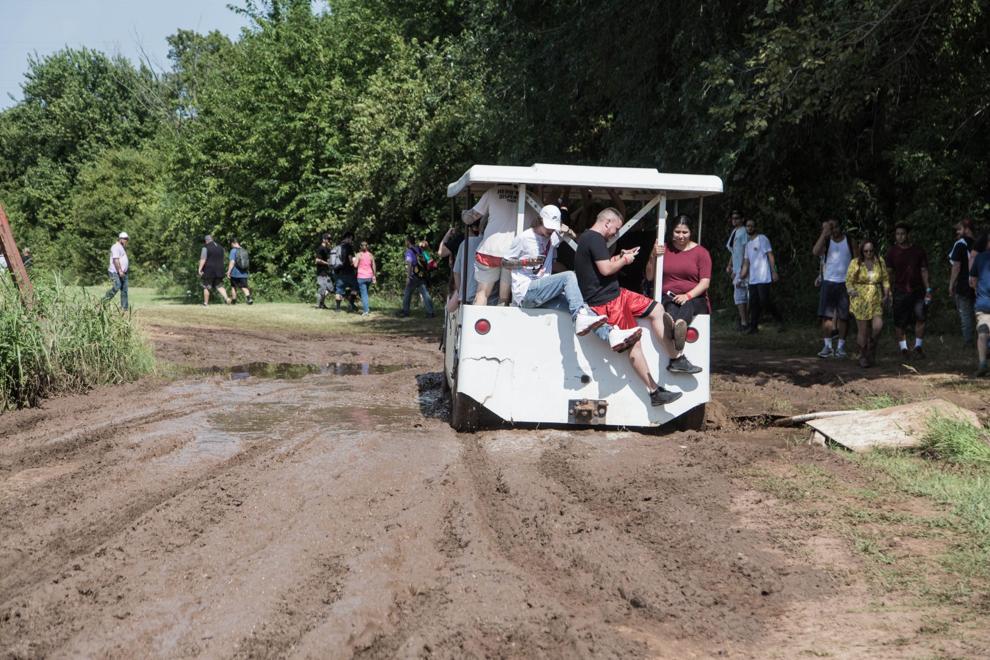 "Priority one should be ensuring medical patients with accessibility issues can safely get into the event and around once inside the event," Durbin said Saturday. "If one more person says 'Those people (with disabilities) should stay at home,' I may lose my mind."
Patient advocate Lawrence Pasternack, who helped create the Oklahoma Cannabis Liberty Alliance, said the handling of the event "makes a mockery of authentic medical needs." He pointed out that the audience for this event, patients using cannabis medically, may be in too poor of health to sit or stand outside for hours without access to food or water.
While in the vendor village, we observed patients repeatedly asking business owners for bottled water because they could not purchase it in the area themselves.
"They made an event only for those healthy enough to withstand their rules," Pasternack said online Saturday. "If they understood what they were doing as providing entertainment for people with medical needs, the picture would have been very different."
Skeen told me the venue allocated a parking lot for travelers with disabilities but said: "The weather is one thing you cannot control. It rained Friday and Sunday." However, he said the experience Sunday was a "night and day" difference from what took place Saturday, which had prompted a "big meeting" with High Times personnel to make adjustments.
"The issue was the line took longer than people wanted," he said of the first day. "When you have a walk-up that's double the size of your pre-sale tickets, that's crazy."