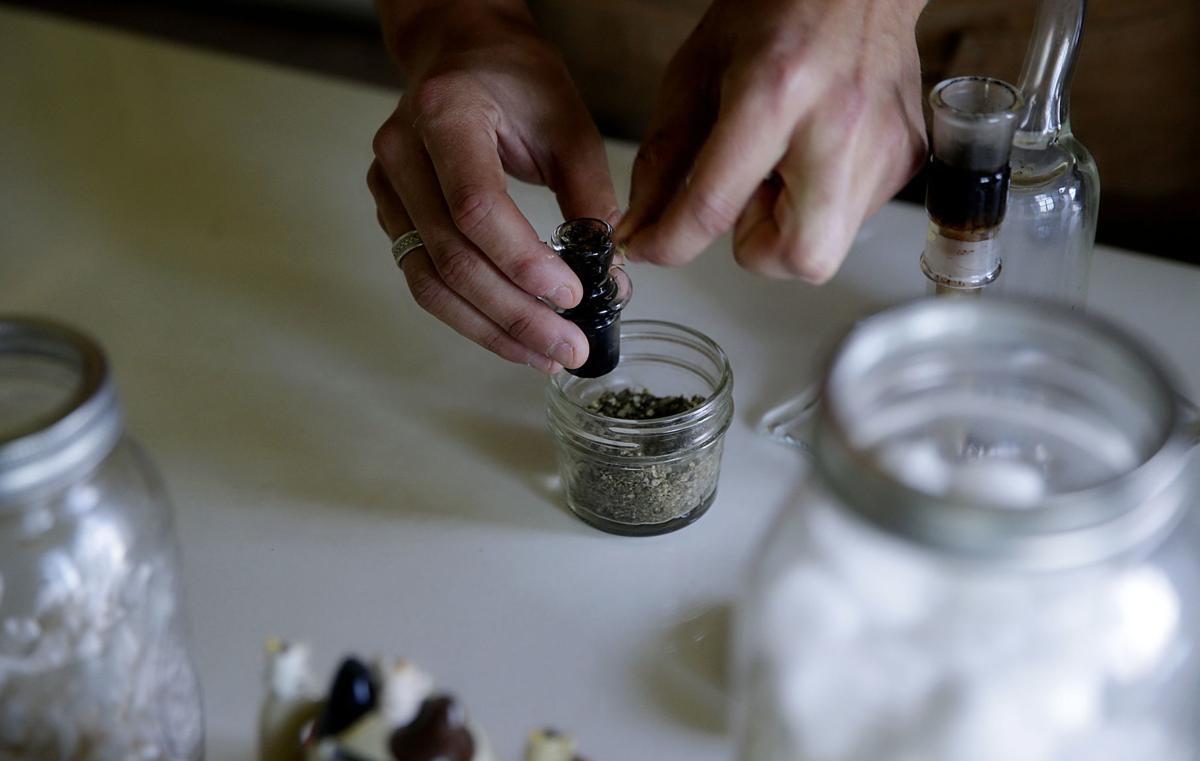 ---
The Oklahoma State Department of Health has kept intact proposed limits on the potency of medical marijuana in its most recent iteration of proposed rules regarding State Question 788, but medical industry leaders, in asking for additional restrictions, wouldn't rule out a lawsuit in their mission to ban the sale of smokable products.
In the newest emergency draft rules, which were updated Sunday, the Health Department has determined that medical marijuana products processed or dispensed shall not have more than 12 percent tetrahydrocannabinol, or THC, while mature marijuana plants cannot be processed for sale if the THC content exceeds 20 percent.
Those limits, which appeared in at least one previous draft, had the support of the medical industry but not most of the public, according to letters submitted to the agency during the public comment period about the draft rules last week.
During a live-streamed news conference in Oklahoma City on Monday, a host of medical professionals also urged the removal of provisions that allow patients to receive prescriptions in smokable form, citing what they believe are safety risks associated with smoking. The Board of Health will vote Tuesday on whether to adopt the proposed emergency draft rules.
"We have worked so hard on the issue of smoking and its detrimental, costly effects on Oklahoma health, and so that for us is a line in the sand," Jean Hausheer, a Lawton-based ophthalmologist who is president of the Oklahoma State Medical Association, told the Tulsa World on Monday afternoon.
"That is not a negotiable point. That is really a demand on our part that it be pulled from the dispensaries."
Craig Jones, who leads the Oklahoma Hospital Association, said it is "ludicrous" for people to suggest that the medical industry isn't supportive of medical marijuana, but he maintained that it is important for the Health Department to establish proper regulations.
Hausheer pointed out multiple times that the proposed rules outline parameters for growing medical marijuana at home, to which she said, "What you do in your own home is your business." However, she said it is wrong to allow dispensaries to provide smokable products to consumers.
The Health Department has determined that home-grown medical marijuana plants should be kept behind a fence at least 6 feet tall under lock and key and not be visible from any street. Those who are prescribed smokable medical marijuana, according to the draft, would be subject to the same restrictions on public consumption as those who smoke tobacco, with an added provision banning use in the presence of a minor.
Medical groups also advocated Monday for having pharmacists either stationed at dispensaries or on call for regular consultations to ensure that medical marijuana is dispensed and kept properly.
Jones asked for a limit of 50 dispensaries statewide for the foreseeable future to mitigate market over-saturation, which he said could increase the chance that companies would engage in unsafe practices to beat their competition.
When asked about potential legal action regarding SQ 788, Hausheer told the World that "we're prepared to do whatever it takes to get that pulled" if the Board of Health keeps smokable medical marijuana in the emergency rules. She said, though, that she hopes litigation won't be necessary, as she thinks "it's within the purview of the Board of Health to do the right thing" during its meeting Tuesday.
"We know that there's many forms of this product of medical marijuana that can be administered very well in terms of dosages, which is what … licensed physicians are used to doing," Hausheer said. "We would like to have measurable-type dosages because we know that smoking of any kind anywhere is unhealthy. That evidence really isn't refutable, in our opinion."
Proposed regulations
State Question 788 will become law July 26, and the Oklahoma Medical Marijuana Authority — under the umbrella of the Health Department — is set to begin accepting applications as early as Aug. 25 for growers, processors, transporters, dispensaries and patients.
The most recent working draft says commercial license applications would be accepted no earlier than 60 days from when the state question was approved. Applicants would have to show that the proposed business location is at least 1,000 feet from a school or church.
Commercial license applicants are also expected to register with the Oklahoma Bureau of Narcotics and Dangerous Drugs Control because state law still categorizes marijuana as a controlled dangerous substance.
Commercial license holders would not be authorized to have seedlings until Sept. 3, and they, along with patient license holders, wouldn't be able to have mature plants until Oct. 26.
Dispensaries, when established, would have to have a manager who dispenses products in accordance with applicable rules, advises patients and tracks inventory, the draft states.
Physicians who anticipate recommending patients receive prescriptions would be required to register with the Health Department before such recommendations are made, according to the proposed draft rules, and they would have to review their recommendations at least once annually. They also would have to screen patients for substance abuse and mental health issues, as well as whether the patient presents a "risk for the diversion of marijuana."
Physicians would not be able to recommend a woman of childbearing age for medical marijuana prescriptions without first performing a pregnancy test. If the woman is pregnant, the physician could still make a recommendation if he or she determines that the benefits of medical marijuana use outweigh the risk of harm.
Recommendations for a minor patient, according to the draft rules, would have to come within 30 days of each other from two pediatricians or a doctor who is board certified in a pediatric specialty. If approved, minors would not be allowed to use smokable or vapable medical marijuana products.
Meanwhile, activists with Green the Vote are still accepting signatures for about four more weeks for State Questions 796 and 797, which would enshrine the right to use medical and recreational marijuana, respectively, in the Oklahoma Constitution. Each would need about 124,000 valid signatures in order to make it onto the November ballot.
In a Facebook post on Sunday, Green the Vote announced that SQ 796 had nearly 73,500 signatures, while SQ 797 has garnered just more than 81,100 signatures.