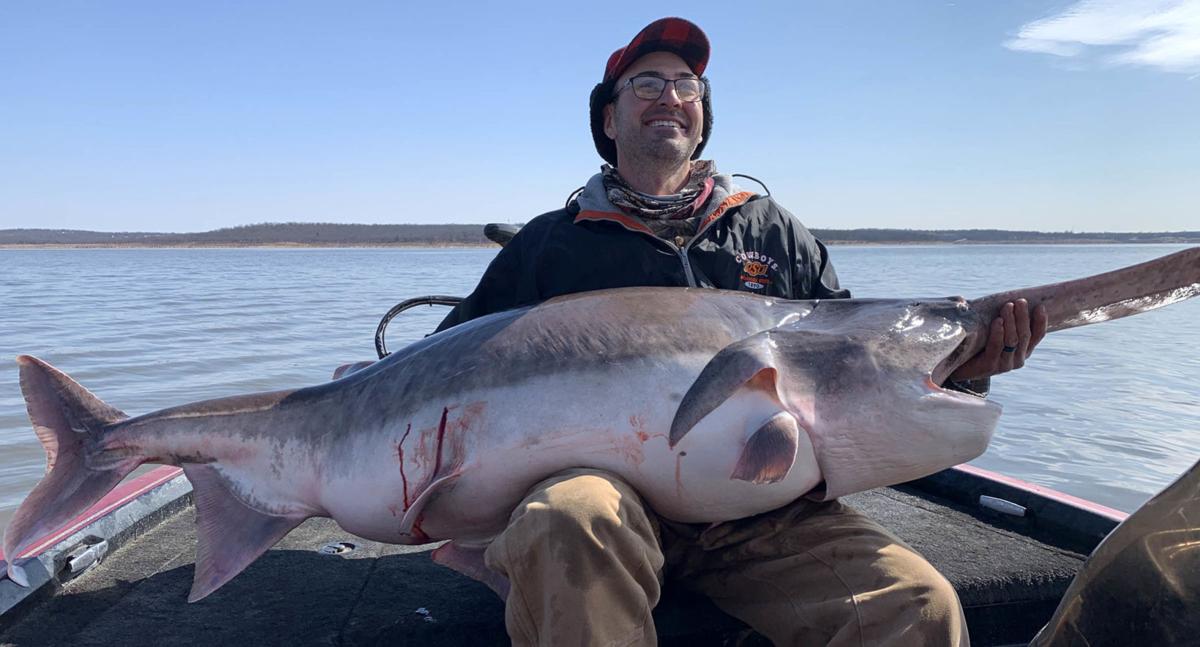 Keystone Lake could be days away from producing a new state record paddlefish if a Tulsa firefighter has some better luck in days to come. The Reel Good Time Guide Service had a real heartbreaker on Valentine's Day.
Jeremiah Mefford, a new part-time guide on the lake who has a new technique for landing the Oklahoma monsters, already put what likely was the biggest ever caught in the boat.
But the 157-pound weight of the fish — hefted on a brand-new set of scales on his boat — is unofficial because it was caught on Friday with client Justin Hamlin, and state regulations required the fish to be released immediately.
State regulations for paddlefish allow anglers to keep only one paddlefish in a day's fishing and they must stop fishing as soon as one is kept. The annual limit is two — which must be reported online — and Fridays and Mondays are catch-and-release only.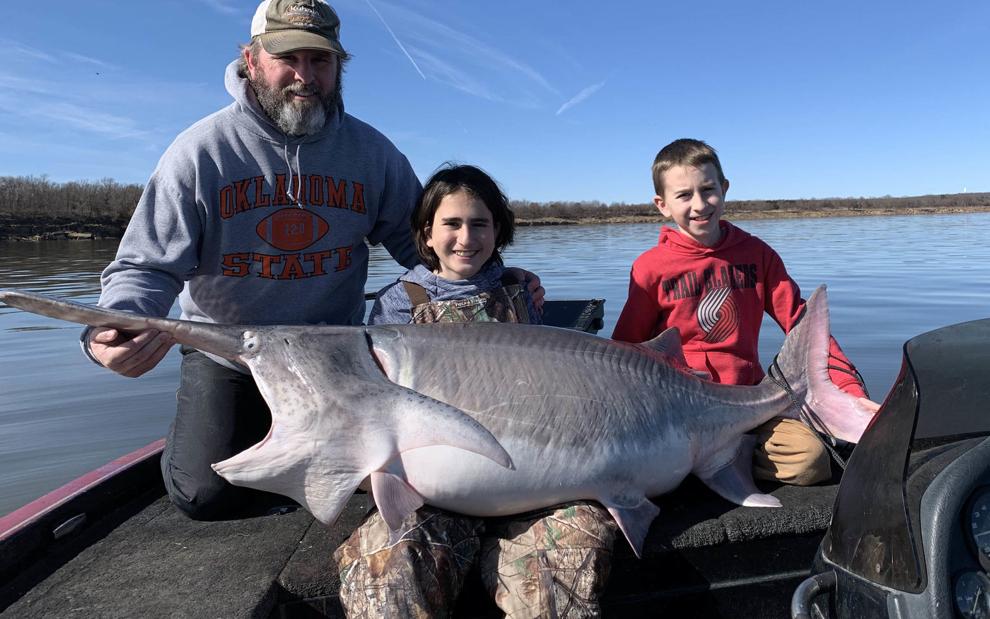 The current state record was caught in the Arkansas River upstream from Keystone Lake in April 2018. Larry Dale Morphew's fish was 132 pounds 8 ounces, was 65 inches from eye to the fork in the tail and sported a 39-inch girth.
Mefford said the 157-pounder was 60.5 inches tail-to-eye and 45¼ inches around.
"We shattered the state record but we couldn't keep it to take it for an official weight because Fridays and Mondays are catch-and-release only days." Mefford said. "It was a monster, a monster fish, so that was a heart-breaker."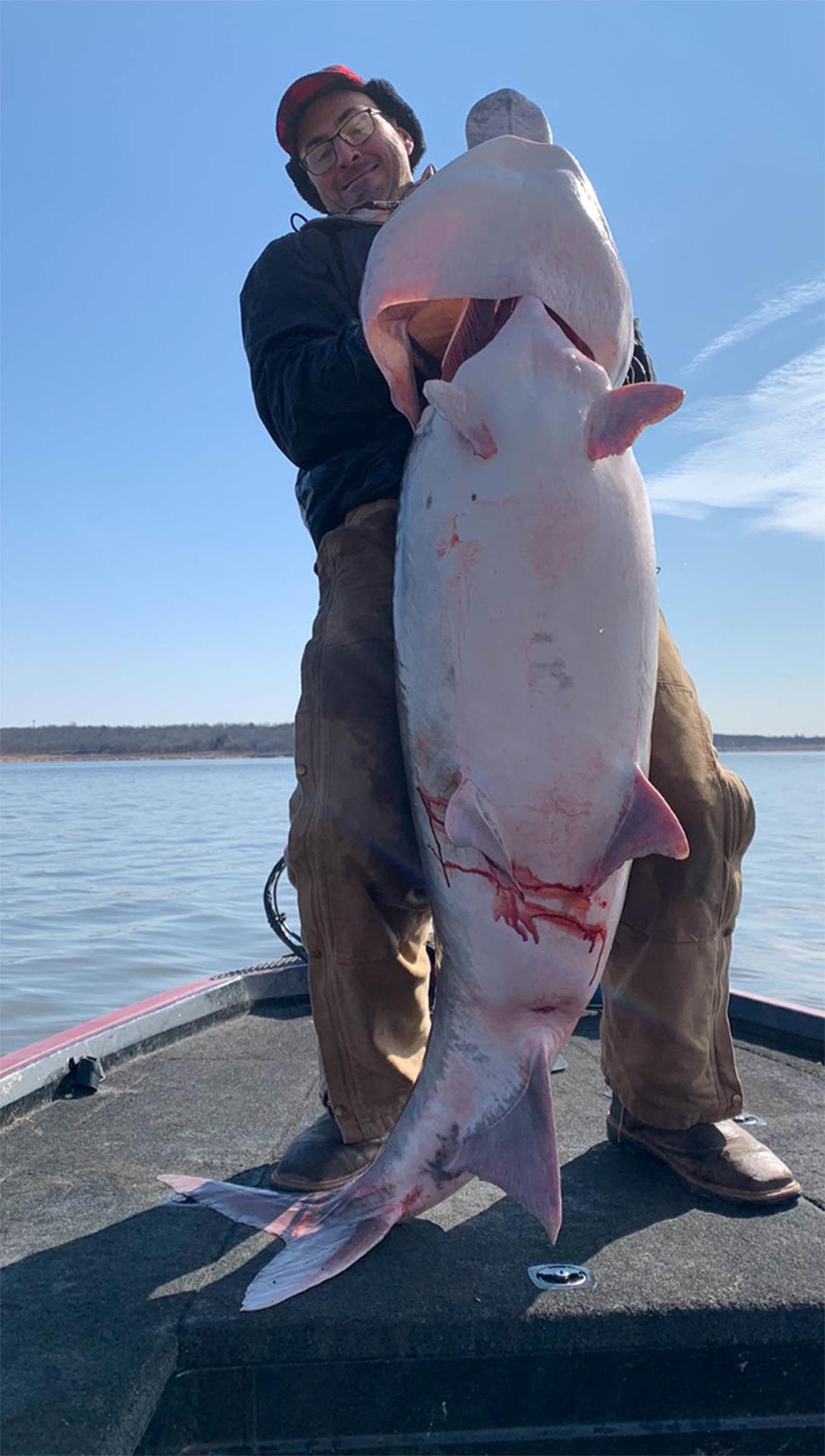 Mefford should know what a 100-pounder feels like by now. In about a month and a half after developing a new technique using scanning sonar called LiveScope from Garmin, he's put more than a dozen paddlefish over 100 pounds on his boat — several of which he couldn't weigh properly because his first set of scales couldn't handle the weight.
On Feb. 2 he guided 12-year-old Case Rowland and his father, Jake, to some big paddlefish, including Case's new Keystone Lake record 125.8-pound paddlefish.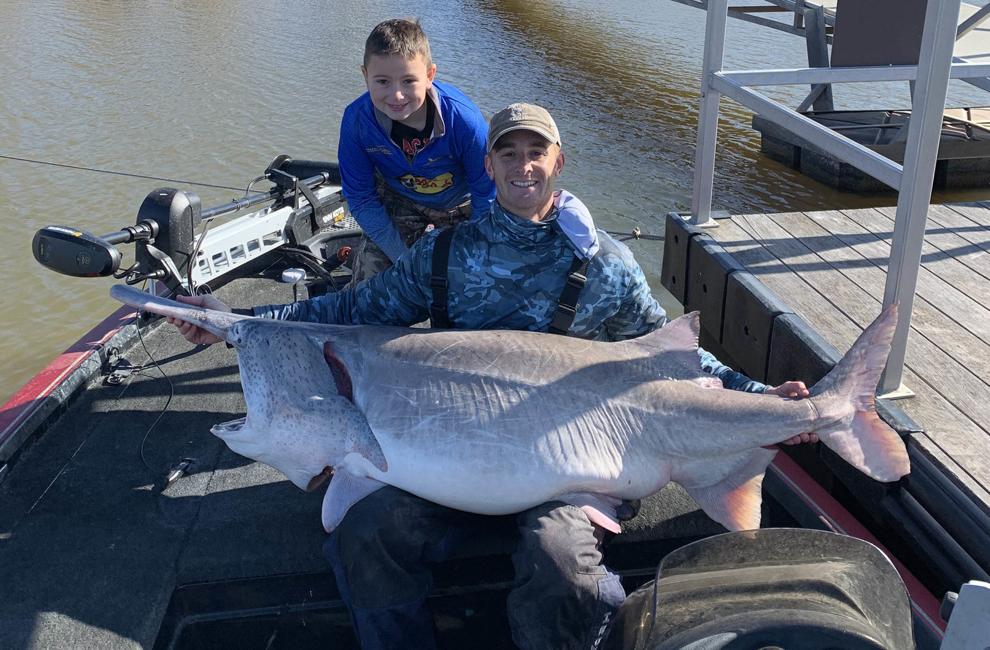 "When you catch them you basically hold on until they tire out," Jake Rowland said of his son's big battle. "They start pulling the boat and you catch up with the trolling motor and keep the line tight. You'll get them up close to the surface where you can see them and they run again."
Mefford said he suddenly has a lot more company on the lake than he used to have. But he said the technique he developed, with help learning more about Livescope with pro crappie angler and guide Josh Jones, has given him an edge no one else has — so far.
"They're crushing my spots out there right now but nobody does it like I'm doing it," he said.
Brandon Brown, paddlefish biologist for the Oklahoma Department of Wildlife Conservation, said he spoke with Mefford and doesn't doubt the catch — he just can't verify it.
"It really sounds like he has them dialed in," he said. "I wouldn't be surprised if he catches a record pretty soon."
Brown said Keystone Lake and the Arkansas River has fewer paddlefish than the Grand River system but they are larger on average, perhaps because of the fertility of the system. The fish there have not been as successful in reproducing, however.
Hamlin said on his Friday trip — a Valentine's outing with his wife — they caught five fish other than the 150-plus pound monster. The other five ranged from the mid-50 to mid-70-pound range. He was excited by the catch as the fish pulled braided line off his reel down into the monofilament backing line three times before he brought it in.
"It would come up to where you could see it and it would take off again," he said.
Weight-wise, he compared the fish to 50-pound sacks of grain he's used to tossing around.
"It was about all we wanted, I can tell you that," he said of the weight. "I could say it was easily like lifting three bags of grain."
The lost record and the released fish are not a problem, he said.
"The good part of it is because of that rule it's probably why I got to catch it, because there are limits on what people can take, so I'm glad that rule is there. I wanted it to go back in the water anyway. I didn't want it to die."
---
Kelly Bostian
918-581-8357
Twitter: @KellyBostian