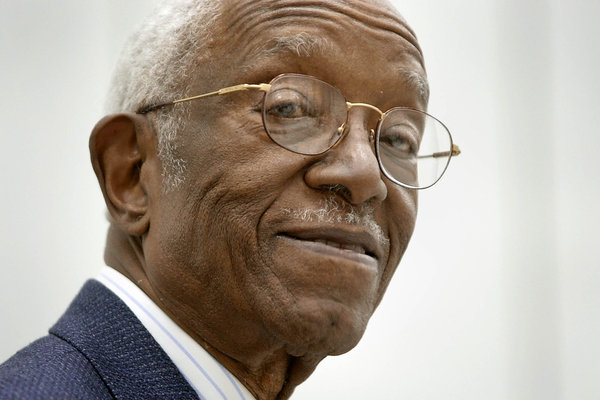 ---
View Duke University's site dedicated to the life of John Hope Franklin. Read about his accomplishments, view a gallery of videos and photos and leave your condolences.
---
John Hope Franklin, whose Tulsa childhood helped shape an internationally acclaimed career as a scholar, writer and lecturer, died Wednesday morning in a Durham, N.C., hospital. He was 94.
A Rentiesville native who grew up in Tulsa and graduated from Booker T. Washington High School, Franklin achieved international fame in 1947 with the publication of his book "From Slavery to Freedom," a seminal study of the black experience in America.
The book has sold more than 3.5 million copies in eight editions, the most recent issued in 2000.
"He had a tremendous influence," said Julius Pegues, chairman of the John Hope Franklin Center for Reconciliation. "You could not come away from a conversation with John Hope Franklin and not be a better person for it."
President Barack Obama said in a statement that "because of the life John Hope Franklin lived, the public service he rendered, and the scholarship that was the mark of his distinguished career, we all have a richer understanding of who we are as Americans and our journey as a people."
Franklin turned out a steady stream of books and articles until the last few years of his life. His final book, the autobiographical "Mirror to America," was published in 2005.
Oklahoma Gov. Brad Henry called Franklin a "brilliant scholar" and "proud Oklahoman." Tulsa Mayor Kathy Taylor said he was "a true statesman (who) will forever be remembered for his words and his works."
One of Franklin's last public appearances was in Tulsa for the dedication of the John Hope Franklin Reconciliation Park last fall. The park, planned as a memorial to Tulsa's 1921 Race Riot and to promote community reconciliation, is scheduled for completion in late summer.
"Colleagues have told us he was very pleased about the park and the reconciliation center," said Lee Johns of the John Hope Franklin Reconciliation Center, a nonprofit organization formed to support the park.
Pegues said he remembered Franklin's return to Booker T. Washington for a lecture when Pegues was a student there in the 1950s.
"He was a tremendous speaker," Pegues said. "He motivated us, and he inspired us to do bigger and better things. He was just a great person."
Known for both gentleness and courage, Franklin often told a story about what happened to him the night before he received the Presidential Medal of Freedom in 1995.
Franklin said he was standing in a hotel lobby when a man handed him some keys and asked him to get his car.
"I patiently explained to him that I was a guest in the hotel, as I presumed he was, and I had no idea where his automobile was," Franklin said. "And, in any case, I was retired."
Franklin played an important role in bringing together various viewpoints at the outset of the Tulsa Race Riot Commission's work in the mid-1990s.
"He played the role that he's played his entire life," said Oklahoma Historical Society Executive Director Bob Blackburn. "He went beyond telling us what happened to telling us what is important and why it is relevant."
Franklin was born Jan. 2, 1915, in Rentiesville, where his father, Buck Colbert Franklin, was an attorney, farmer, newspaper editor and postmaster. His mother, Mollie Franklin, taught school. Caught in a town feud between the local Methodist and Baptist churches, B.C. Franklin moved to Tulsa in early 1921 with the intention that his family would soon follow.
Those plans were interrupted by the race riot, which occurred on the very week that John Hope Franklin, his mother and his sister were to join B.C. Franklin in their new home. The house he had picked for them was destroyed, and it would be four years before the Franklins were fully reunited.
The conflict in Rentiesville and the Tulsa riot seemed to make a deep impression on Franklin. He spoke of them frequently, and Blackburn said they seemed to infuse his writing.
"Everything he wrote carried the idea that we've got to get over tribal feelings," Blackburn said.
After graduating from Booker T. Washington High School in 1931, Franklin went to Fisk University, where he graduated magna cum laude, and to Harvard, where he earned a master's degree and doctorate in history.
Franklin's early work attracted the attention of the Alfred A. Knopf publishing house, which asked him to produce a book on black history. His research for the book essentially established the field's foundation.
Franklin went on to a distinguished academic career that included stops at Howard University, the University of Chicago, Brooklyn College and Duke University.
"John Hope Franklin lived for nearly a century and helped define that century," Duke President Richard H. Brodhead said in a statement. "A towering historian, he led the recognition that African-American history and American history are one."
Blackburn said Franklin owned a rare ability to understand history on both a large scale and a personal level. He recalled his first meeting with Franklin.
"He was looking through the records of the Chickasaw freedmen and suddenly said, 'There's my aunt! There's my uncle!' You'd think someone of his stature would not have become so excited, but a tear came to his eye."
Franklin died of congestive heart failure following several lengthy hospital stays.
He is survived by his son, John Whittington Franklin; a daughter-in-law, Karen Roberts Franklin; a sister-in-law, Bertha W. Gibbs; a cousin, Grant Franklin Sr.; and a large extended family that includes a nephew, Waldo Jones of Tulsa.
A celebration of Franklin's life and that of his late wife, Aurelia Franklin, is scheduled for June 11, the 69th anniversary of the couple's marriage, in Duke Chapel on the Duke University campus.
No local services are planned.
---
randy.krehbiel@tulsaworld.com SUBHEAD: A great career as a scholar and writer was shaped by his Tulsa days. nut graph here and here and here three lynes pleeze.