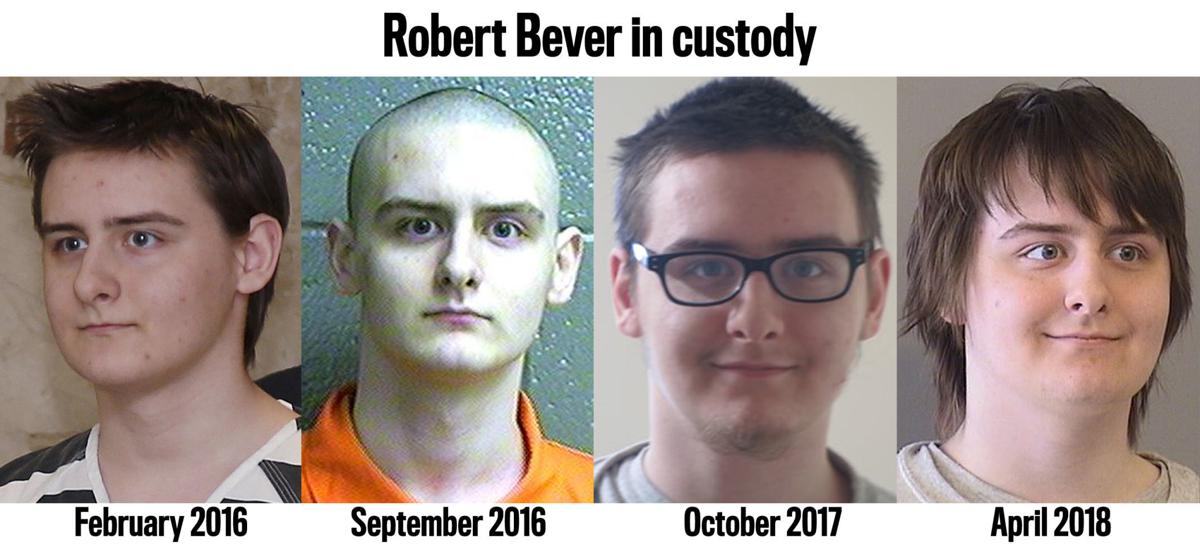 Found hiding in a dry creek bed about 300 yards behind the Broken Arrow house where both of his parents and three siblings had been slaughtered that night, then-16-year-old Michael Bever walked back to the scene handcuffed with his T-shirt in tatters from a police dog's bite.
"I hope they're OK," Bever told his arresting officer, Sgt. Brandon Tener, as the family's home came into view through the thick woods, Tener testified Monday.
"You hope who's OK?" Tener asked Bever.
"The people in the house," Bever replied.
Once in the backseat of a patrol car, Bever complimented Broken Arrow police on doing a good job in the investigation, Tener told District Attorney Steve Kunzweiler on the sixth day of the teen's murder trial.
"We didn't expect you to get here this fast," Bever said, according to Tener's testimony. He described Bever's tone as having "very little emotion. No anger, no sadness, just flat."
Tener's conclusion drew criticism from Assistant Public Defender Marny Hill, who countered on cross-examination.
"You don't know what he sounds like when he's frightened, do you?" Hill asked the officer. "You don't know what he sounds like when he's angry, do you?"
While prosecutors continued to emphasize Michael Bever's alleged role in the killings, defense attorneys have put the blame mostly, if not entirely, on his older brother, Robert Bever, who's now serving multiple life sentences without parole after pleading guilty in 2016, a year after the killings. Robert Bever was brought from prison to the Tulsa County jail on Friday and is listed as a possible witness in his brother's trial.
Michael Bever's trial began April 16 with jury selection, and testimony began Friday afternoon with jurors hearing a 911 call placed by 12-year-old Daniel Bever just after 11:30 p.m. July 22, 2015. The boy can be heard saying that "my brother's attacking my family" and telling someone, "Please don't murder me," shortly before being stabbed.
In an ambulance on the way to Saint Francis Hospital that night, paramedic Charles Schumann tried to keep Michael Bever's then-13-year-old sister talking to help her stay conscious. Her throat had been slashed, and her intestines were spilling out of a gaping wound in her stomach, Schumann testified.
"What happened, and who did this?" Schumann asked the sister, identified in court by the initials C.B.
"She stated her brother Robert," Schumann told the court.
C.B. on Friday did not say Michael Bever attacked her but detailed her memory of Robert Bever slitting her throat and repeatedly stabbing her. C.B., however, said she heard screaming in the house from April and Daniel Bever after she collapsed in the front yard during an attempt to reach a neighbor's house to get help. Someone dragged her back into the house before police officers arrived, but she said she could not identify whom it was.
During cross examination from Chief Public Defender Corbin Brewster, Schumann reiterated that C.B. never mentioned her brother Michael during the ambulance ride, during which paramedics had to insert a needle directly into her lung to help her breathe.
Earlier that night, however, after Broken Arrow officers had kicked in the front door and found C.B. in a pool of blood near the entrance, she had identified "both my brothers" as the assailants, according to testimony from Tener and Detective Matthew Barnes, the first two officers to enter the house.
Bever's mother, 44-year-old April Bever, was still alive and reached toward Barnes. Tener, the first officer inside, said he saw her hands and arms moving at her sides in the Bevers' family room.
But by the time officers carried C.B. out for the paramedics and returned for April Bever, the mother no longer showed signs of life, Barnes testified.
Several witnesses described walking through the blood-soaked Bever house that night, first to search for suspects, then to check on the victims. The jury repeatedly viewed crime-scene photos, including several pictures of the deceased that left at least one juror in tears, prompting a sheriff's deputy to offer a box of tissues.
Tener told Hill the home was the bloodiest scene he had seen in his 15-year career.
Officers kicked in a locked bathroom door expecting to find a suspect but instead saw the bodies of two children, Officer Christopher Walker told Assistant District Attorney Sarah McAmis. Seven-year-old Christopher Bever was lying in a fetal position near the sink, while 5-year-old Victoria Bever was in a pool of blood next to the toilet. Both were wearing blood-soaked pajamas.
"It was definitely not an easy thing to see," said Jarod Moore, a Broken Arrow paramedic who entered the house that night to confirm that the family members were dead. "I relied on my faith, said a prayer to God and went in and did what we had to do."
One of the suspects, who Moore later learned was Michael Bever, "smirked" at the paramedic as he was led past in handcuffs, Moore testified.
On cross examination, Brewster asked a series of questions about that person's height and weight, suggesting that Moore's description of the suspect was inconsistent with Bever's appearance.
Testimony will resume in District Judge Sharon Holmes' courtroom on Tuesday.