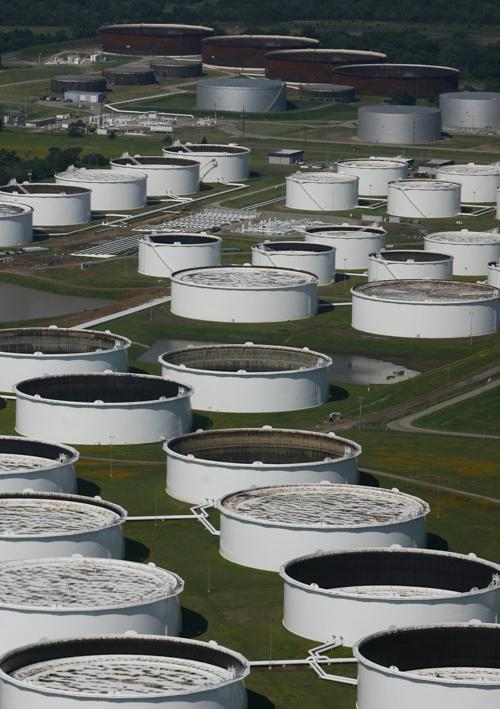 Correction: The two bridges with minor cosmetic damage after the Pawnee earthquake were found to be structurally safe by the Oklahoma Department of Transportation.
As earthquake swarms continue to pop off in Oklahoma, experts are turning their attention toward critical infrastructure and what sort of long-term damage may be inflicted by frequent, low-level shaking.
But it's not just the swarms — Oklahoma's seismic activity in general is enormous compared to the historic tectonic level of only a couple of 3.0 quakes a year. For example, a Stanford University study published in December 2016 found that the seismic energy released the prior eight years was equivalent to "more than 1,900 years of naturally occurring energy."
Consequently, soil, concrete and steel structures are "susceptible to fatigue and other unique failure modes" under these conditions that were never considered during design, according to an article in the May volume of Leading Edge, a publication of the Society of Exploration Geophysicists.
"The long-term, low-level shaking associated with repeated minor to moderate magnitude earthquakes exposes infrastructure to possible failure modes not normally considered in design," the article states.
The Society of Exploration Geophysicists is based in Tulsa and is hosting a forum Aug. 24-26 in Stillwater. The purpose is to engage engineers and geoscientists in round-table discussions on the issues and develop written products for distribution and publication.
"I know that it is really a huge issue that we are facing," said Dwain Butler, lead author of the Leading Edge article. "We tend to take the infrastructure that we have around us that we depend on for granted."
The most recent quake swarm was about 7 or 8 miles north and northeast of Crescent.
From Sunday through Wednesday, the Crescent area experienced two 4.0 quakes and a 4.1, according to U.S. Geological Survey preliminary ratings. Another four were in the 2.5 to 3.0 range.
The Oklahoma Geological Survey reviewed the data and revised the 4.0s down to 3.8, 3.7 and 3.6.
Through Thursday morning, Oklahoma has experienced 80 earthquakes of 3.0 or greater this year. Four of those are 4.0 or greater, with the strongest being a 4.6 near Perry in April. The peak year was 2015, with 903 quakes of 3.0 or greater and 27 that were at least 4.0.
Butler, president of Applied Geophysics Consultancy in Mississippi, hopes the August forum will help scientists better communicate with engineers and policymakers the issues at hand and how to be "very observant" of critical infrastructure — such as bridges, dams, oil pipelines and water treatment facilities.
A single, small earthquake will have no effect. But, he explained, over time a structure can begin fatiguing and cracking, which would allow rusting that otherwise might not happen. Small separations could open between concrete joints and weaken a structure.
In particular, Butler singled out Cushing, known as the "Pipeline Crossroads of the World." There are 300 storage tanks there, too.
Kenneth Erdmann, vice president for engineering with Tulsa-based Matrix PDM, in October 2016 told the Tulsa World that visual inspections of the Cushing tank farm had found minor damage to fittings, but none to the major infrastructure. A certain amount of low-level seismicity has long been factored into Cushing tanks.
Regarding major pipelines that span several states, Butler said anecdotal evidence to him suggests there is about one leak a year on each such pipeline. He then noted that Cushing's many pipelines intersect and cross, significantly upping the risk of a leak via long-term fatigue from Oklahoma's ongoing low-level shaking.
"Generally it may be relatively innocuous, because if you find it quickly you can repair it quickly," Butler said. "But it's still a risk."
The Oklahoma Department of Transportation uses ShakeCast, a software program created by the USGS to quickly determine which bridges to inspect first after an earthquake. The program evaluates several factors, including bridge condition, age and proximity to the epicenter, along with seismic movement data and magnitude rating.
In August 2017, the transportation department declared the state's transportation infrastructure had been withstanding "very well" the record numbers of quakes — including the most powerful ones.
Department spokeswoman Kenna Mitchell said bridges are designed to national standards to withstand movement from traffic vibrations and to expand and contract due to weather changes.
"Since 2011, we haven't identified any bridge damage caused by earthquakes," Mitchell said. "The only incident attributed to an earthquake on our system was in 2011, following a 5.7-magnitude quake near Prague. Minor damage was found on US-62 and repaired at a cost of about $1,000."
Inspectors found minor cosmetic damage to two bridges in 2016 after the 5.8-magnitude quake by Pawnee. Mitchell said both were found to be structurally safe and didn't need to close.
Brannen Parrish, spokesman for the Tulsa District of the U.S. Army Corps of Engineers, said they haven't observed any negative seismic-related impacts to their dams. Seismic activity within certain distances of their structures triggers additional inspections, he said.
"Keep in mind our dams are large, massive structures capable of withstanding significant stress from external forces," Parrish said. "They have performed well in some of the most challenging conditions, such as the severe flooding that occurred in recent years."
Corey Jones
918-581-8359
Twitter: @JonesingToWrite