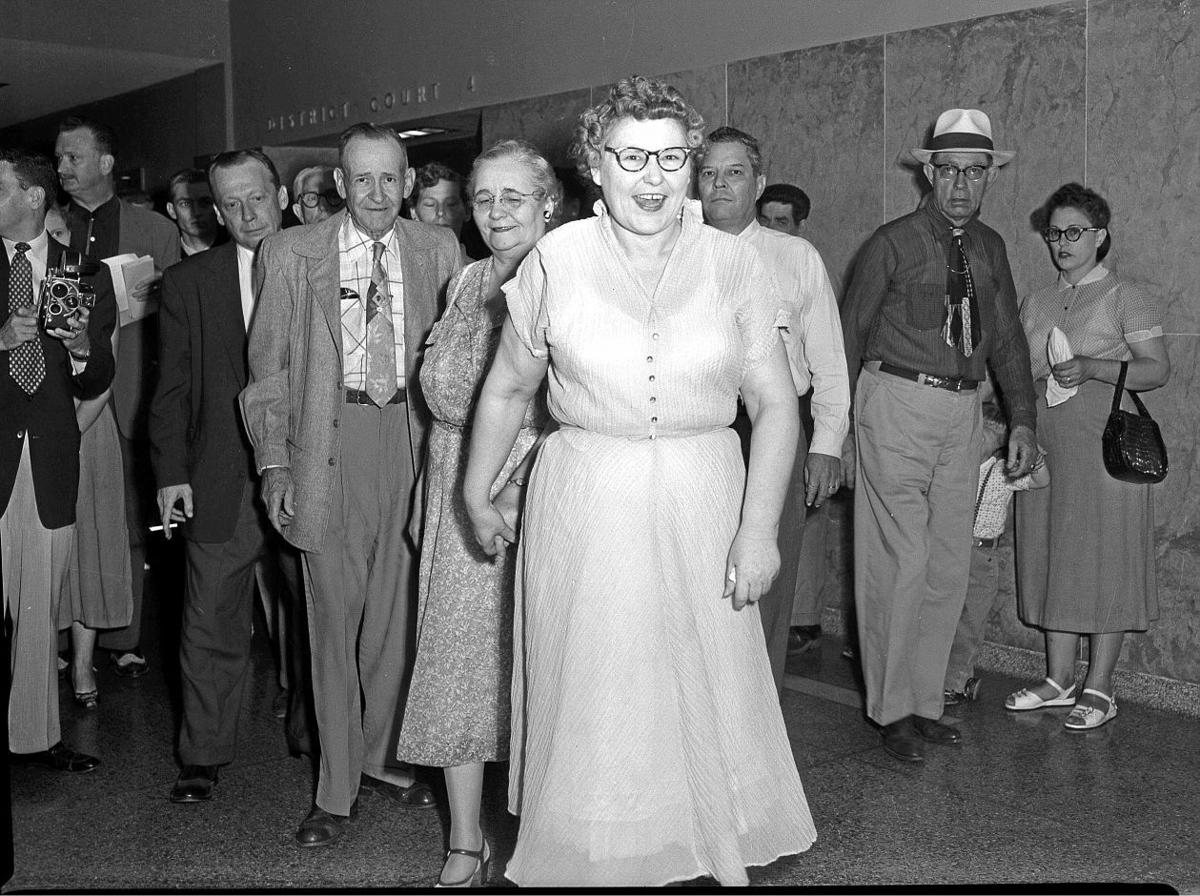 ---
"He sure did like prunes. I fixed him a whole box full, and he ate them all."
Nannie Doss, who confessed to killing four husbands with rat poison, became Tulsa's most notorious serial killer in 1954.
The plump, genial, 49-year-old grandmother dominated the headlines in Tulsa World and Tulsa Tribune by smiling for photographers and chatting easily with reporters who supplied every detail of the incredible story to eager readers.
Nannie met two of her husbands, including Samuel Doss of Tulsa, through "lonely hearts club" magazine ads.
Sam Doss was sickened but survived after she laced his prunes with poison. After his release from the hospital, she served him coffee containing a large dose of arsenic. He died the next day.
'He got on my nerves'
Nannie allowed an autopsy after her husband's doctor got suspicious. That's when her murderous crime spree ended. Tests showed Doss "had enough arsenic in him to kill a horse."
In her confession, Doss said she killed Samuel "because he got on my nerves."
She said he wouldn't let her read true detective magazines, have a radio or visit neighbors to watch television.
A police stenographer who took down Nannie's confession said, "She was a calm and composed as she might have been if she were being baptized."
Publicity about the case went nationwide, and authorities soon realized their prisoner had left a string of suspicious deaths in Alabama, North Carolina and Kansas.
'Merry widow' murders
Only her first husband, Charley Braggs of Alabama, got out of wedlock with Nannie alive.
When Samuel Doss died, the "merry widow" was apparently lining up her sixth husband, a North Carolina dairy farmer to whom she had sent a cake.
Husbands and others who died mysteriously while being around her included:
Two daughters, aged 1½ and 2½, from Nannie's first marriage, whose bodies reportedly turned black shortly after they died in Alabama in 1924. Nannie collected $500 each on their life insurance policies.
Frank Harrelson, of Jacksonville, Alabama, her second husband who died in September 1945 after Nannie put rat poison in his corn liquor. Insurance policies paid Nannie $2,000.
Arlie J. Lanning, 54, husband No. 3, of Lexington, North Carolina, who died of poisoning in 1952. Nannie collected $1,500 on his insurance policy and another $1,000 in fire insurance when her home burned down.
Mrs. Sue Hazle, 73, Nannie's mother, who died in 1953 in North Carolina while under Nannie's care. An autopsy revealed arsenic poisoning.
Richard L. Morton Sr., 69, of Emporia, Kansas, husband No. 4, who died May 19, 1953. They had met via a "lonely hearts club" ad. His life was insured for $1,500. His last words were, "I shouldn't have drunk that second cup of coffee."
Samuel L. Doss, 58, of Tulsa, who died Oct. 10, 1954, of poison mixed with a bowl of prunes and a cup of coffee. His life was insured for $1,400.
Nannie denied poisoning any of her blood relatives but confessed to killing four of her husbands, saying, "My conscience is still clear."
Jury found her sane
She told investigators she poisoned Harrelson, her second husband, because he got drunk and tried to make her go to bed with him.
"So I put rat poison in his rotgut whiskey," she said.
Investigators believed that Doss committed the murders for convenience and money.
Relatives said she seemed to enjoy planning the burials and writing the epitaphs of some of her victims. Among her belongings were found 27 pictures of Doss at funerals taken by photographers she hired.
Psychiatrists who observed her for 90 days at Eastern State Hospital in Vinita said Nannie was mentally defective, but a Tulsa County jury ruled she was sane.
Doss sold Life magazine the rights to her life story to help pay for her defense.
She pleaded guilty to the Tulsa murder and on June 2, 1955, was sentenced to life in prison, where staff described her as a model inmate.
The Doss case resulted in the Oklahoma Legislature passing a law requiring an examination by a medical examiner of all individuals who die without being attended by a physician.
Good-humored to the end, Nannie told a World reporter who visited her in prison:
"When they get shorthanded in the kitchen here, I always offer to help out, but they never let me."
She died of leukemia on June 2, 1965, exactly 10 years after entering prison.
---
Debbie Jackson 918-581-8374
Hilary Pittman 918-732-8182